Stocks for a recession have been on the minds of investors recently. The U.S. Bureau of Economic Analysis (BEA) estimates that Gross Domestic Product (GDP) fell 1.4% in the first quarter after adjusting for inflation. Most investors commonly consider a recession to be two straight quarters of declining GDP.
Experts from the National Bureau of Economic Research (NBER) decide whether the U.S. is in a recession. NBER considers monthly data like employment, personal income, as well as quarterly GDP. So, two straight quarters of GDP declines may play a role in a recession, but it is not the official definition.
The stock market may not care about the definition in the real world. Bad headlines can cause stock market investors to sell off stocks. If that happens, the stock market could fall even if NBER experts don't think the U.S. is in a recession.
If you think the U.S. is headed for a recession by any definition, now might be a good time to think about stocks for a recession. You could protect your accounts from stocks that might do poorly in a recession by investing in 'recession-proof' stocks.
Stocks will not likely do well in a recession. However, stocks for a recession may do better than the stock market if the U.S. economy enters a downturn.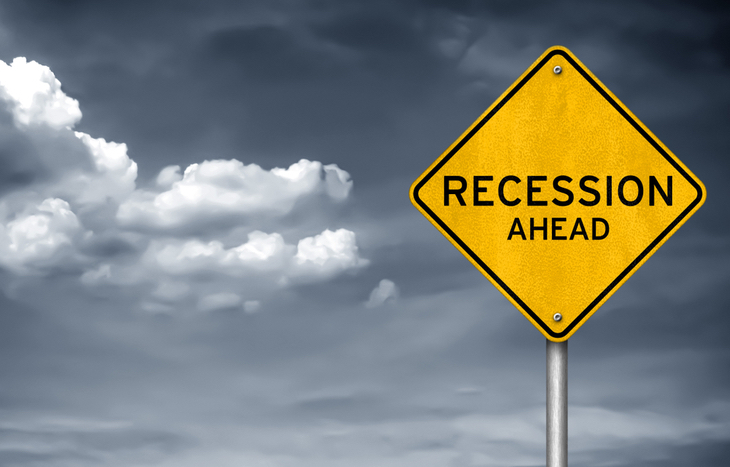 Best Stocks for a Recession
Coca-Cola (NYSE: KO) and Proctor & Gamble (NYSE: PG) are two stocks for a recession that investors should consider. The two stocks are in the consumer staples sectors. Consumer staples stocks sell products that customers need no matter what. These stocks are defensive, meaning they could do better than the market in a downturn.
Coca-Cola
The company sells its famous soda in the red can that customers around the globe love. If money is tight for U.S. consumers, they will still likely have Coca-Cola on their shopping list. According to its 2009 annual report, Coca-Cola's sales only fell 3% during the recession from 2008 to 2009. In addition, earnings per share actually increased from $2.49 in 2008 to $2.93 in 2009. This year, the stock is up 9%, much better than the S&P 500 stock index. Coca-Cola stock pays a dividend yield of 2.72%.
Proctor & Gamble
PG sells a long list of branded consumer staple products. A few of the branded products include diapers, laundry detergents, paper towels, toilet paper, hair care, dishwasher detergent, toothpaste and skincare. Many of the products are must-haves for its customers. According to its 2009 annual report, Proctor & Gamble's sales only fell 3.2% during the recession in 2008 and 2009. Earnings per share rose from $3.64 to $4.26. The stock is down about 9% this year and pays a dividend yield of 2.46%.
Two Stocks for a Recession and Bear Market
Dollar General (NYSE: DG) and Walmart (NYSE: WMT) are two stocks for a recession and bear market. The two companies are value retailers. Value retailers sell their products at the lowest prices. If a recession happens, consumers usually look for the best bargains for the dollar. Dollar General and Walmart could benefit from people being thriftier in a downturn.
Dollar General
This is one of the largest discount sellers in the U.S. The company's small-box stores sell everyday needs that customers come back for repeatedly. Some of the products that Dollar General sells include paper towels, soap, toothpaste, trash bags, cleaning supplies, milk, eggs, bread and pet food. This year, the stock is down 3% and pays a dividend yield of 1%.
Walmart
According to Walmart's last annual report, it helps people worldwide save money and live better, anytime and anywhere. That motto could come in handy for customers that want to stretch their dollars. The chances are good that you've been to one of Walmart's more than 10,500 stores. Its stores are located in the U.S. and countries around the world. The company's international stores could also benefit if countries outside the U.S. also enter a recession. This year, Walmart stock is down 11% and trades at a P/E ratio of 27x. It has a dividend yield of 1.74%.
Two Health Care Stocks for a Recession
Novo Nordisk (NYSE: NVO) and Pfizer (NYSE: PFE) are two health care stocks that could hold up well during a recession. If a recession does work its way through the U.S. or countries worldwide, people will still need to take their medicine.
A recession may cause folks to cut back on things like travel or dining out, but their health is not something they can cut back on. In addition, many times, prescription drugs are paid for by insurance. If that is the case, a recession might not hurt these healthcare companies as badly as others.
Novo Nordisk
According to its latest annual report, Novo Nordisk is a worldwide leader in diabetes care. It has one of the broadest diabetes portfolios in the industry. Novo Nordisk also sells treatments for obesity. The company also sells therapies for hemophilia and growth hormones. This year, the stock is flat and pays a dividend yield of 1.5%.
Pfizer
Pfizer's COVID-19 vaccine increased sales and profit massively last year. The company expects another great year for the vaccine and higher sales from its COVID-19 treatment in 2022. Pfizer plans to use the bump in profits to buy other drug companies to fuel its growth over the next several years. The stock has a P/E ratio of 12x and pays a dividend yield of 3%.
Risks Associated with Them
Though there are signs that the U.S. may be facing a recession, it is not a guarantee. If the U.S. were to enter a long recession, it would not be good for stocks. On the other hand, if the U.S. does not enter a recession and stocks jump, buying stocks for a recession may limit the growth of your portfolio.
Inflation has been at higher levels than we've seen in 40 years. At the same time, employment and consumer spending are strong. There are many things to think about when predicting a recession. Being incorrect about a recession could hurt your account.
---