Swing trade stocks are a nice transition into day trading. Or to get into trading in the first place. They take some emotion off the trader a bit. And swing trades can reap the faster profits of trading over long-term investing.
It is important you know what you're doing when making any kind of trades. It is very easy to lose a lot of money in a short amount of time. So, make sure you do your due diligence on the stocks you want to trade.
Also, educate yourself through reading and practice. Below are some of the best swing trade stocks.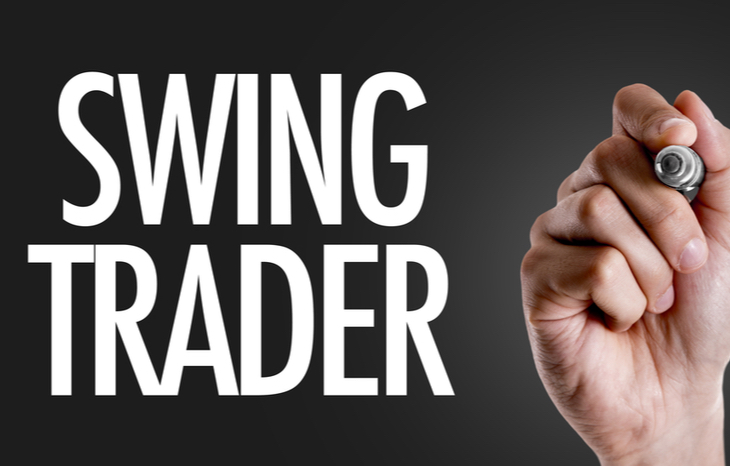 Best Swing Trade Stocks Right Now
Kellogg (NYSE: K)
Caterpillar (NYSE: CAT)
Apple (NASDAQ: AAPL)
Stanley Black & Decker (NYSE: SWK)
Kohl's (NYSE: KSS)
NextEra Energy Partners (NYSE: NEP)
Mata Platforms Inc./ Facebook (NASDAQ: FB)
Kellogg
Market Cap: $21 billion
Kellogg is a food manufacturer that's been around since 1901. Over the life of Kellogg's stock, it tends to move slow and steady. Which would make a good swing trade stock for beginners.
Plus, if it turns into a long-term investment, Kellogg offers some nice dividends.
Caterpillar
Market Cap: $107 billion
Caterpillar is sure to benefit from the new infrastructure bill. They offer high quality large equipment. That equipment is essential to building roads, bridges, and other infrastructure. And they produce more of it than anyone in the world.
This would make a great swing trade stock. They're a Fortune 100 company with a large market cap. And along with their large equipment sales and production, they offer insurance services.
Being founded in 1925, Cat is an old company who knows what they are doing. Stock keeps climbing in waves.
Apple
Market Cap: $2.8 trillion
Apple has always been the stock to invest in and trade. And it's easy to see why. It's a very healthy company with large profits. The stock keeps going up. It had phenomenal growth at the beginning of its life.
And they've figured out how to keep that incredible growth sustained. It founded in 1976, and they know what the hell they're doing. The business model and products keep their customers coming back for more.
And as the years go by, that stock chart keeps getting steeper and steeper. Making it a great swing trade stock in the past, and a great one now.
Stanley Black & Decker
Market Cap: $29 billion
Stanley Black and Decker makes a great swing trade stock. It founded all the way back in 1843, and has been growing slow and steady ever since. They are a great company who knows their target, knows what they're doing, and keeps growing.
It's a Fortune 500 company who creates and sells tools. Plus, they also offer houseware and a few related miscellaneous items.
Stanley owns about 23 or more different brands. They all offer something a little different, but they hold a main theme. And that theme centers around tools.
This swing trade stock pays dividends, too! This isn't a make-or-break deal for those looking to swing trade. But, you could happen to own some Stanley Black & Decker while you're in the middle of your swing trade. If so, you might make out with a nice extra chunk of cash.
Kohl's
Market Cap: $7 billion
Kohl's is a swing trade stock with stores in every state except for Hawaii. They are a nationwide retail chain, and carry clothes and houseware.
They've been around for a long time, since 1962. Adapting to e-commerce retail was a smart move for any large company. And they've done well with their ecommerce. Plus, contactless shopping and in-store pickup.
NextEra Energy Partners
Market Cap: $7 billion
NextEra is the world's largest producer of solar and wind energy. They've returned 945% to shareholders in the past 15 years. And they're helping the U.S. pull away from its dependency on other countries for energy.
It's obvious they will be profiting from the energy bill in 2022. And they say so on their website. They have at least $50 billion in projects planned for the coming year.
This is not a company that's been around for a long time. They founded in 2014, but stock has continuously gone up. Of course, it's had its downward corrections.
But, with such great performance in the past, it looks like a great swing trade stock. Plus, with huge plans for 2022, it may be a very profitable choice.
Meta Platforms Inc./Facebook
Market Cap: $928 billion
With Facebook's new rebranding as Meta, investors can expect this swing trade stock to increase in price. Because, once again, they are opening new technologies to the world. And that grabs attention and money.
Facebook has historically had nice big upward swings. Of course, it has had its losses and low points. But that comes with any healthy stock.
And overall, it's gone up, corrected downward a little, then gone up again. And it keeps repeating this cycle.
That makes for a great swing trade stock, and maybe even some nice day trading, too.
Facebook (or Meta) will likely experience some growing pains. But that creates great opportunity for traders and investors to get in on a low price.
Investing in Swing Trade Stocks?
Swing trade stocks are stocks that are good for medium length trades. You see, there is long-term investing. That is holding a stock over a year. Then there's trading. That's holding a stock less than a year.
And there are three different trading lengths, too. There's long term. This holding time will be closer to the one-year mark.
There's short term trading. It's also called day trading. And that's because the stock is usually bought and sold within the day. Or sometimes that happens a couple days apart.
And then there's that holding time in between. Medium-term trading is also called swing trading. And assets are usually held between a few days to a couple months.
So, swing trade stocks can be any stock that is swing traded. But, there are certain things to look out for to find the best swing trade stocks.
How to Find the Best Swing Trade Stocks
When looking for swing trade stocks, it's best to find those stocks that are established companies. This is because you're looking for something predictable. Also, going off that, you want to check out the actual stock chart. It makes life much easier if you can find something with steady patterns.
And even better, find something that consistently goes up in waves. Strong companies are great for swing trading. They are usually older with experience in the market. Well-known companies with high profits and bigger market caps tend to have these strong, upward climbing waves.
---
Vanessa Adelman graduated with an Interdisciplinary degree. She majored in Entrepreneurship, Painting, Music and Film. Shortly after, she received a copywriting mentorship with Mark Morgan Ford. Then, she earned her AWAI Verification. Now, Vanessa freelances in the financial direct response industry. She's been investing since 2016. In her free time, she enjoys books about money and wealth. She loves being with her boyfriend, hunting, fishing and going on outdoor adventures.