In this video transcript, IU Einstein Karim Rahemtulla highlights three of the best value stocks for 2022.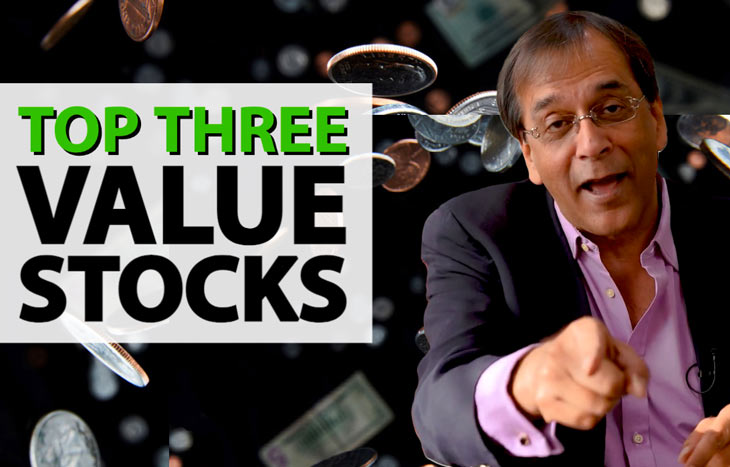 [Begin Transcript 00:00:15]
3 of the Best Value Stocks for 2022
Hi, this is Karim Rahemtulla, Head Fundamental Tactician for The War Room and co-founder of Monument Traders Alliance. I've got three picks for you for this year, and this year is gonna be a really different year than what you're used to, I think, okay.
This is gonna be a year for value stocks, okay? When I talk about value stocks, I'm talking about companies that are gonna be reporting very strong numbers this year and for very different reasons.
You've gotta pay attention, because there might be a huge rotation, especially in the first quarter from growth stocks, like tech stocks, right into these value stocks, because these guys are really, really hitting their groove at the right time.
Read on for Karim's list of the 3 best value stocks for 2022…
[00:00:58]
#1 – Wells Fargo & Co (NYSE: WFC)
So the first one is Wells Fargo. So you think, "Wells Fargo, wasn't that the company that had all that problems with fake signups?" Maybe you got a card that you didn't order, or maybe you're sitting on a mortgage you're paying for that you didn't have.
But anyway, Wells Fargo's gotten past that and they are the cheapest of all the major banks. So why would you get into a bank stock?
Well, with interest rates rising banks make more money. And when banks make more money, that means the share price should go even higher. And Wells Fargo share price right now is still depressed, compared to the peers like JPMorgan, like Bank of America.
So you've got a chance to get into a very strong stock that's gonna earn a lot of money in 2022. And one of the insiders had an idea about it because they bought shares back during the crash in 2020 at around 25 bucks, and guess what, we did too.
So this is a company you should pay attention to. If you think interest rates are gonna move up, which I think they are this year, you're gonna do well with Wells Fargo.
Watch the Video of the Best Value Stocks for 2022
[00:01:54]
#2 – United Airlines Holdings Inc (

Nasdaq: UAL)

The second best value stock for 2022 is United Airlines. You think, United Airlines? Why the heck do you have an

airline stock

? Well, people want to get out of their house and they wanna travel. And even through the second iteration of this virus, people are still at the airports, packing the planes, still traveling.
Can you imagine what that's gonna be like in 2022, when you get into the summer season, when transatlantic picks up and when Pacific picks up and that's where United makes a ton of its money.
So you're looking at a company that has a potential to earn five to $10 a share over the next year or two, and it's trading in the 40s. That's a real value pick.
[00:02:28]
#3 – ViacomCBS Inc (

Nasdaq: VIAC)

The third one, and this one is a stealth play is a company called Viacom, okay? Symbol is V-I-A-C. So Viacom is an entertainment company. It's also a streaming company, but it's valued at a fraction of a company like Netflix.
And even though it's growing really at a stronger rate right now, and it's making money. So Viacom is one of these companies that should be a stealth play, a value play. It's trading at probably eight times next year's earnings which is ridiculous for a company that's growing as fast as it is. I'm looking at Viacom as one.
So those are my three best value stocks for 2022. Good luck with them. I think we're in for a great year for value.
---