Droughts in California, historical lows at our country's reservoirs, and global warming all make a strong case for investing in the best water stocks.
Water is our most precious resource. Right now, it's becoming more valuable than ever before, and nobody even realizes it.
However, it's becoming scarcer and scarcer.
Analysts have reported that we currently have drought conditions across 99% of the Western United States. That's up from 63% one year ago. In total, 59.2 million Americans are now living in drought-stricken areas.
As of July 31, the volume of water in California reservoirs stood at just 53% of its historical average. And on August 16, the U.S. declared the first-ever water shortage at the Lake Mead reservoir. In response, a total of 10 Western governors appealed for federal drought disaster aid.
It's a crisis, and it's getting worse by the day. In response, water futures are soaring and nobody seems to realize it.
This is a great time to get in on water plays seeing as water prices keep rising, and nobody is saying a word.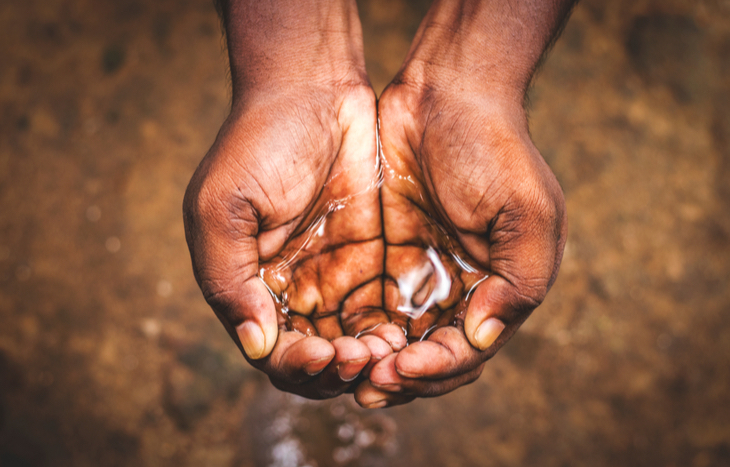 Best Water Stocks
Invesco Global Water ETF (Nasdaq: PIO)
Invesco Global Water ETF invests in businesses equipped to conserve and purify water for homes, businesses and industries. The stock is already up 21% this year.
With one investment in Invesco Global Water ETF, you'll own some of the best water stocks in the world. This alone makes a great case for why many investors believe it to be one of the best water stocks. For example, here's a list of its top ten holdings:
Danaher (NYSE: DHR)
Ecolab (NYSE: ECL)
Ferguson (LON: FERG)
Geberit (SWX: GEBN)
Pentair (NYSE: PNR)
Roper Technologies (NYSE: ROP)
Waters (NYSE: WAT)
American Water Works (NYSE: AWK)
Veolia Environment SA (OTC: VEOEY)
Ideanomics (Nasdaq: IDEX)
There are worsening supply and demand imbalances, unmistakable proof of climate change and a hesitancy to address water conservation and purification upgrades. So, it's no wonder why many investors believe Invesco Global Water ETF is a stable and consistent way to profit.
American Water Works Company Inc (NYSE: AWK)
American Water Works is the largest and most geographically diverse U.S. publicly traded water and wastewater utility company. Specifically, it employs more than 7,000 professionals. Those professionals provide regulated and market-based drinking water, wastewater and other related services to more than 15 million people in 46 states. The company provides safe, clean, affordable and reliable water services to its customers.
Because of the geographic diversity, the company is able to hold out against the challenges that could surface from inclement weather conditions, such as the drought in California. The company is committed to customer service, operational excellence and delivering high-quality, safe drinking water along with many other water-related services.
American Water Works management team has implemented its growth-through-acquisition strategy. Its profit and cash flow have noticeably grown and the stock has beaten the market significantly over the past decade. On average over the past three years, the company has generated annual operational cash flow that's 39% of its overall revenue.
American Water Works added more than 11,000 customers through acquisitions in the first half of 2021. It's continued to expand operations through acquisitions. And the company plans to add another 87,000. Over the past 10 years, it's more than doubled its bottom line, outperforming its peers. Management expects consistent profit growth, forecasting earnings per share to rise from 7% to 10% from 2021 to 2025.
American Water Works is a stock that appeals to many types of investors. And overall, the company has an impressive growth strategy. Due to its profit growth and cash flow, it's certainly a name to add to your list of best water stocks.
American States Water Co (NYSE: AWR)
American States Water Company has grown significantly since it was founded in 1929. Today, it's the parent of Golden State Water Company, Bear Valley Electric Service, Inc. and American States Utility Services, Inc. The company serves over one million people in nine states.
Through its water utility subsidiary, Golden State Water Company, the company provides water service to 261,000 customer connections. Its located within more than 80 communities in Northern, Coastal and Southern California. Through its electric utility subsidiary, Bear Valley Electric Service, Inc., it distributes electricity to 24,000 customer connections. American States Water also has a contracted services subsidiary, American States Utility Services, Inc. Through that subsidiary, it provides operations, maintenance and construction management services for water distribution, wastewater collection and treatment facilities. Those operations and services are located on eleven military bases throughout the country. The operations and services are also under 50-year privatization contracts with the U.S. government. These defense contracts aid American States Water long-term revenue growth.
American States Water has gained 22.2% in the last six months and has a surprising 4.35% Q4 earnings. During the first quarter of 2021, the company invested $75 million and expects to spend around $125 million for the entire year. The spending is going towards regulated utilities. The company also filed a general rate case application for all water regions and has requested a capital budget of $450.6 million for 2021-2024. It is one of few water companies investing in enhancements, upgrades and maintenance.
Many analysts and investors believe American State Water to be one of the best water stocks to invest in. Its enormous growth prospects and solid customer base paired with its long-term defense contracts make it a solid investment for investors.
California Water Service Group (NYSE: CWT)
California Water Service Group is the third-largest publicly traded water utility in the United States. It provides high-quality water and wastewater services to more than two million people in over 100 communities.
On July 29, the company released its Q2 results. Moreover, the executive team announced a net income of $38.2 million, a $32.9 million increase from its Q2 net income of $5.3 million last year. And its operating revenue increased 21.4% in Q2 of this year. According to Martin A. Kropelnicki, President and CEO of California Water Service Group, he is pleased with these results as well as the company's reactivation of the drought response team that helped make them a leader during the last drought.
The company has done an excellent job making critical water system improvements to reliability and safety. In addition, its focus on protecting low-income and low-water-using customers has proven successful. The conservation program that was put in place to partner with its customers has only made the company more reliable and favorable to customers and investors alike. Its conservation program is in place to set water-use reduction targets just as it did during the last drought.
Recently, California Water Service Group released two new programs to provide additional support for its customers in conserving water. These landscape and irrigation system programs will make it easier for them to reduce water use and save money. This company not only wants to succeed, it wants what's best for its customers. California Water Service Group is not only profitable, it's innovative and has immense growth potential, making it a name you will want to add to your best water stocks list.
Investing in Water Stocks
With water futures on the rise and water becoming more and more valuable, it's time to add water stocks to your investment portfolio. In fact, the water companies listed above are some of the best in its industry. Now is a great time to get in water plays, but to ensure you are set up for success… it's smart to do your research and decide what would be best for you financially.
For expert advice on the stock market and insight on an array of industries, sign up for Trade of the Day… a FREE e-letter providing you with everything you need to know to about the market. Expert traders Bryan Bottarelli and Karim Rahemtulla have been discussing the best water stocks along with many other investment opportunities. So join Trade of the Day right now to start receiving your FREE daily market insight!
---