Lumber prices fell 6% today as mortgage rates reached a 14-year high. When the COVID-19 pandemic started in 2020, practically every market was affected in one way or another. Possibly none more so than the lumber market. From the start of 2020 to May of 2021, lumber prices increased over 333%. Suppliers, lumber companies and individuals are all asking "when will lumber prices go down?"
Last summer the lumber market tested levels below 500 only to spike again months later. Prices have since dropped more than 50% back to those lower levels…but will they continue to fall?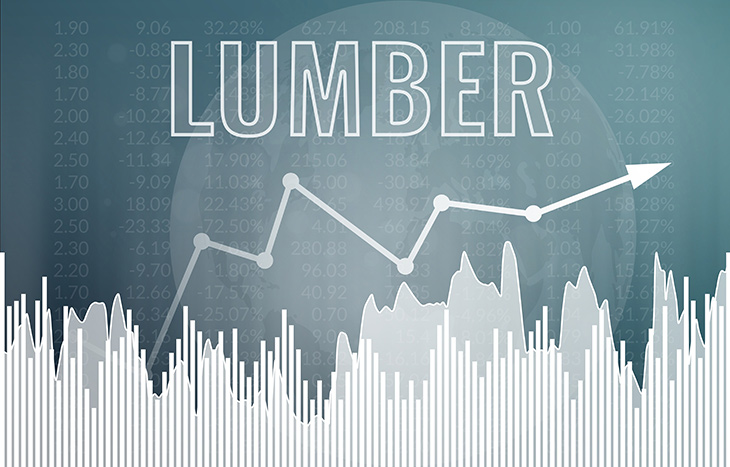 When Will Lumber Prices Go Down?
You know it's bad when you're driving down the road and you see billboards for composite decking advertising that they are "cheaper than wood". But that is exactly how things have been over the past few years.
If you monitor lumber prices in general, you know they typically start falling around Labor day and reach their yearly low around Thanksgiving. This could present a good buying opportunity for individual buyers, companies and investors.
So when will lumber prices go down? Historically, the answer would be "now" or "over the next 2 months." But as we've seen, the last two years have done anything but follow historical precedent.
Top Lumber Stocks
In a recent Investment U article about lumber stocks, Brian Kehm highlighted two stocks with unique opportunities for future profits.
Weyerhaeuser (NYSE: WY)

Kehm highlights Weyerhaeuser as one of the largest forest product companies in the world. Owning more than 11 million acres, Weyerhaeuser is shielded from localized forest damage. The company also has solid balance sheets and impressive cash flows.
Weyerhaeuser stock has more than doubled since the start of the pandemic…but those profits have not benefited all of the employees. In fact, as we speak Weyerhaeuser employees in Oregon and Washington are on strike, citing low wage increases and high health care premiums.
"All our members want is their fair share of the profits they earned for the company, keep up with the cost of living, and make the gains that a good employer should offer, in light of the success they have reaped off the labor of their employees," the union said in a statement.
Negotiations are expected to continue on Friday.
Rayonier (NYSE: RYN)
Rayonier is another company Kehm highlighted. With revenues reaching $1.11 billon in 2021, they have certainly benefited from rising lumber prices. And while Weyerhaeuser's timber segment only represents 24% of the overall business, Rayonier's timber segment is nearly 3/4ths of all business operations.
Because of the company's lack of diversification into the real estate and manufacturing segments, their ups and down over the past 2 years have not been as dramatic. Rayonier's revenue has dropped more than 15% year over year, but the $860 million from 2021 went a long way towards meeting any debt payments.
Currently offering a 3.32% dividend yield, the company recently declared a third quarter cash dividend of $0.285 per common share. The dividend is payable on September 30, 2022, to shareholders of record on September 16, 2022.
The Company also announced a third quarter cash distribution of $0.285 per operating partnership unit. The cash distribution is payable on September 30, 2022, to holders of record on September 16, 2022.
When Will Lumber Prices Go Down to Pre-Pandemic Levels?
Prior to the pandemic, lumber was selling anywhere from $300 – $400 US per 1,000 board feet. It is quite possible we will not see those prices ever again. This is now the second time since the pandemic started that the market has tested the $500 level. As inflation, supply chain issues and labor shortages continue, we could see another large price increase after Thanksgiving.
Currently, there is another supply chain issue brewing in the form of a railroad worker strike. This "could add further volatility to the price of lumber and other commodities that rely on freight trains."
When will lumber prices go down? For the answer to important questions like this, sign up for one of our free daily newsletters. Just hop on over to our best investment newsletters page and sign up for free today. Our goal is to find the best investment opportunities around and deliver them to you as quickly as possible. Sign up today to become a smarter, more profitable investor.
---