Beyond Meat stock is on the rise. In fact, shares have skyrocketed more than 60% in the first three weeks of 2020. The Los Angeles-based company is enjoying a market spike due to the recent push for more plant-based meat substitutes by restaurant chains.
Beyond Meat (Nasdaq: BYND) is making its way into menus of major chains across the country. Moreover, rival Impossible Foods is falling behind after its Burger King "Impossible Whopper" took a sales hit.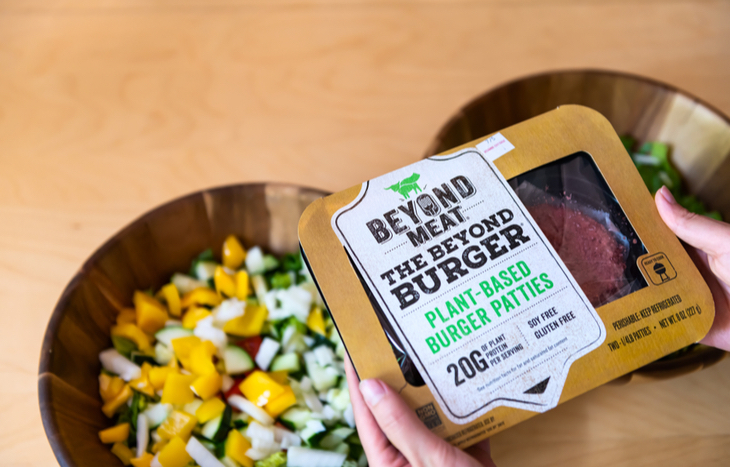 Why is Beyond Meat Stock Flourishing?
Partnerships are the key to the success of Beyond Meat stock. Recently, sit-down restaurant chain Denny's announced it will serve Beyond Meat burgers in more than 1,700 locations across the U.S. and Canada. In addition, Starbucks announced that it will explore plant-based menu options as well.
Outside of the Denny's expansion, Beyond Meat also has partnerships with:
A&W in Canada
Carl's Jr. and Hardee's
Del Taco
Dunkin'
KFC
Subway
Tim Hortons
TGI Fridays.
A&W has a breakfast roll with Beyond Breakfast Sausage. Carl's Jr. and Hardee's have Beyond Burgers. KFC is testing Beyond Fried Chicken in Atlanta. Subway has had its own Beyond Meatball sub since September 2019. TGI Fridays has a Beyond Cheeseburger. As you can see, more chains are joining in on the fun. You can also find Beyond Meat meals at Disney World!
The biggest play comes at the hands of fast-food giant McDonald's, which looks to also be partnering with Beyond Meat. It is currently testing a Beyond Meat patty at 52 locations in Canada.
As a result, rival Impossible Foods announced it would no longer attempt to partner with McDonald's. An exclusive report by Reuters noted that Impossible Foods cannot produce enough of its plant-based meat to partner with the world's largest fast-food chain.
This isn't the most recent setback for Impossible Foods, as Burger King recently dropped the price of its "Impossible Whopper" due to a slip in sales. The Los Angeles Times reported a drop to about 28 daily sales per store. This was down from 32 previously.
Where is Beyond Meat Stock Currently?
At market close on January 27, Beyond Meat stock was sitting at $124.75. For some perspective, it closed at $75.60 on New Year's Eve, just over three weeks ago.
Investors are taking notice, including banking giant Commerzbank. In the final quarter of 2019, the major German bank bought 207,355 shares of Beyond Meat stock. That's more than six times its original holdings of 40,382 shares.
How Did Beyond Meat Stock Fare in 2019?
In 2019, Beyond Meat was one of the most volatile stocks on the market. At one point late in the year, Beyond Meat had a 52-week low and high ranging from $46 to $239.
It was at its highest through the end of July and into early August. However, it quickly began to decline throughout the remainder of the year.
This is why it's important to take this surge in 2020 with a grain of salt. While the current market prices are encouraging, last year was a complete roller coaster.
Investing into the New Year
Investing in Beyond Meat is still a risk at this point. Yet sometimes taking the risk pays off heavily. One thing is crystal clear: More restaurant chains are entertaining the idea of meat substitutes than ever before.
Make 2020 a year of great investments. Sign up for our daily e-letter below for the latest tips and trends in the stock market. Our group of experts will keep you up to date with tech stocks, bond investing, crypto and many more investment opportunities.
With Beyond Meat stock surging into the New Year, now can be your time to take advantage of the biggest gains in the market. You can also learn more about Beyond Meat stock and the growing craze for plant-based meat substitutions on the company's website.
---
Corey Mann is the Content Manager of Investment U. He has more than 10 years of experience as a journalist and content creator. Since 2012, Corey's work has been featured in major publications such as The Virginian-Pilot, The Washington Post, CNN, MSNBC and more. When Corey isn't focusing on Investment U, he enjoys traveling with his wife, going to Yankees games and spending time with his family.