Would you like to invest in the open waters or some of the best boat stocks? If you're passionate about boating, this can be a great opportunity because it's easier to follow something you're passionate about.
While boating isn't the most up-and-coming industry, there are a few stocks that stand out. The upside potential may not be quite what it is for electric vehicle stocks, for example, but it's still possible to see modest growth over time.
Here are some of the best boat stocks to buy:
Boat Stocks to Buy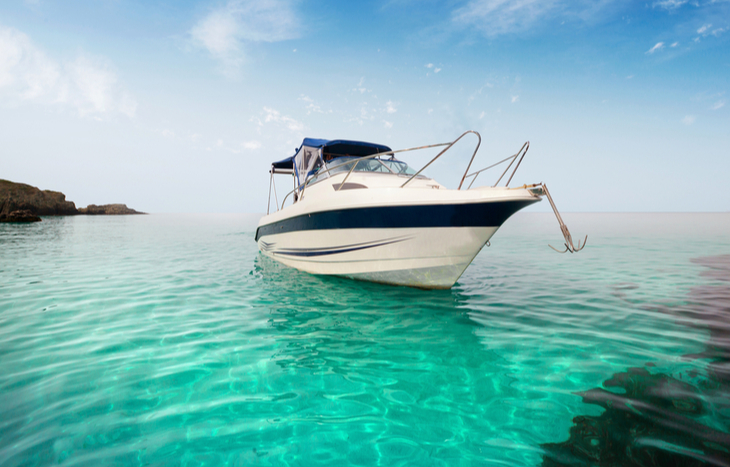 MarineMax, Inc. (NYSE: HZO)
Malibu Boats, Inc. (Nasdaq: HBUU)
Brunswick Corporation (NYSE: BC)
Marine Products Corporation (NYSE: MPX)
MasterCraft Boat Holdings, Inc. (NasdaqGM: MCFT)
Vision Marine Technologies Inc. (Nasdaq: VMAR)
Why should you invest in these boat stocks? Let's take a closer look at each of them.
MarineMax, Inc.
First on the list is MarineMax, Inc. This company sells new and used sport boats, sport yachts, sport cruisers and fishing boats. In addition, it provides maintenance and repair services, plus storage. It is based in Clearwater, Florida, and has dealer locations throughout the eastern U.S., the Southeast and the Midwest.
MarineMax has a market cap just over $1 billion and is one of just two stocks on this list with a P/E ratio below 10. This stock is high-quality and undervalued, according to multiple analysts. That's even after its big run up in price. The stock was below $10 in April 2020 and is now trading at nearly $50. With its high quality rating and strong price growth, this stock could continue to rise going forward.
Malibu Boats, Inc.
Malibu Boats sells recreational boats, specifically those for wake surfing, wakeboarding and waterskiing, as well as water ski towboats. Its boats are used both recreationally and as part of wakeboarding and waterskiing events. The company was founded in 1982 in California and now has locations throughout the U.S. and Canada.
As one of the best boat stocks, Malibu Boats has a market cap of around $1.4 billion and a P/E ratio of around 13. There's a bearish outlook at the moment with the stock price correcting over the past six months. Although, it still has strong growth stability and might be a better buying opportunity. Look for continued growth from Malibu Boats.
Brunswick Corporation
Brunswick Corporation is a company with a long and storied history; it was founded way back in 1845. It has produced a variety of products over the years, including billiard tables, bars for saloons and bowling balls. Today, it calls itself the leader in recreational boats, marine engines and marine parts and accessories. It is based in Lake Forest, Illinois and its main brand is Mercury.
Its stock, too, is undervalued, despite a bearish outlook. This boat stock is significantly larger than others on this list with a market cap of $7 billion. And its P/E ratio comes in at around 12. It also has a dividend yield of close to 1.5%. When stocks fell in April 2020, it was around $25; now, it is trading around $90.
Marine Products Corporation
Marine Products Corp. manufactures and sells recreational fiberglass powerboats in the sport boat, cruiser, deck boat and sport fishing markets. Its brands include Chaparral, Robalo and Vortex. The company was founded in 1965 and is based in Atlanta, Georgia.
Its market cap is around $430 million and its P/E ratio comes in at about 15. Its outlook is mostly bearish at the moment, but it is nevertheless a high-quality stock. It also pays a dividend yield of 3.8%, so this stock can provide some consistent income. If you're looking for income stocks, check out these monthly dividend stocks under $5.
MasterCraft Boat Holdings, Inc.
MasterCraft designs and manufactures recreational powerboats through its four brands: MasterCraft, NauticStar, Crest and Aviara. With these brands, MasterCraft is one of the leading boat stocks that's in some of the fastest-growing boating segments—performance sport boats, pontoon boats and outboard saltwater fishing. The company was founded in 1968 and is based in Vonore, Tennessee.
The company's market cap is right around $500 million. And its P/E ratio is close to 9. That means MasterCraft joins MarineMax as the only other stock with a P/E ratio under 10. Needless to say, then, the stock is considered undervalued. It is also a high-quality stock. Since April 2020, its share price has grown from around $5 to over $25 per share today. Thus, we can look for continued growth from MCFT.
Vision Marine Technologies Inc.
Vision Marine is a bit of a wildcard but it's worth a mention because it is one of the many up-and-coming EV boat stocks. Electric boat stocks are bound to become more common in the years ahead, and Vision Marine Inc. raised over $27 million in its November 2020 IPO. The company designs and manufactures electric powertrains and electric boats. It was founded in 1995 and is based in Canada.
For now, the company remains small with a market cap of around $50 million. Its share price has about cut in half since its IPO and trades for about $7 today. It is also considered overvalued, so this is a better stock to keep on your watchlist than to rush out and buy today. Still, boat EV stocks are something to keep on your radar as electric boats, and electric vehicles more broadly, continue to grow in popularity.
Are Boat Stocks a Good Investment?
As we have seen throughout this list, many boat stocks are high-quality, have strong fundamentals and are undervalued right now. They may have a bearish sentiment, but most have seen steady growth since the bottoming-out of the broader market in March and April 2020.
However, boat stocks can also have their ups and downs. For instance, MarineMax, which is considered the highest-quality stock on this list, has been on a slightly downward trend since July and hasn't seen consistent growth since May. Thus, boat stocks can be seen as a way to diversify your portfolio with some high-quality, undervalued stocks that could grow in the future. Some also pay dividends, so they can provide some income in the short term.
If you're looking for more investing opportunities, sign up for Liberty Through Wealth below. It's a free e-letter that's packed with tips and tricks. You'll hear directly from investing experts.
---
Bob Haegele is a personal finance writer who specializes in investing and planning for retirement. His hefty student loan burden inspired him to pay off his loans, and now he's helping others get their finances in order. When he's not writing, he enjoys travel and live music.