Many investors are curious about the long-term Boeing stock forecast as the company consistently makes headlines. If ever there was a company that's had a series of unfortunate events, it's Boeing (NYSE: BA). However, it's not all bad. Boeing stock gives investors access to one of the largest defense contractors in the U.S. Its competitors include: Lockheed Martin (NYSE: LMT), Raytheon (NYSE: RTX), General Dynamics (NYSE: GD) and Northrop Grumman (NYSE: NOC).
For reference, the United States spent a record $447 billion on defense contracting in 2020. This places defense-contract spending just outside of the top 10 in terms of the biggest industries in the United States.
When it comes to its business, Boeing is a jack-of-all-trades. It designs, manufactures and sells airplanes, rotorcraft, rockets, satellites, telecom equipment and missiles. Furthermore, Boeing is the second-largest defense contractor in the world and the largest exporter in the U.S. by dollar value. It's also a member of the Dow Jones Industrial Average, which is reserved for the 30 largest companies in the U.S.
That being said, Boeing has also been bleeding money over recent years. Due to this, many investors are hesitant about the future of the company. This article will conduct a quick Boeing stock forecast and examine where Boeing stock is headed.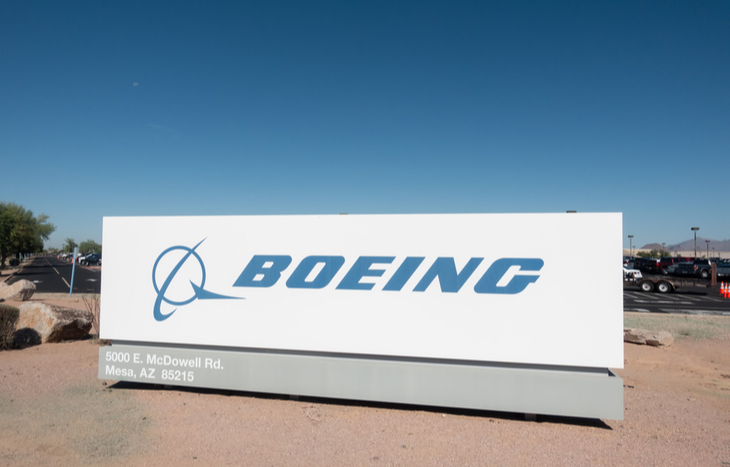 NOTE: I'm not a financial advisor and am just offering information and commentary. Please do your own due diligence before making any decisions. 
Boeing Stock Forecast Impacted by 737 Max Issues
Boeing's troubles started in 2018 when its 737 Max aircraft crashed for the first time. After a second crash in 2019, the aircraft was grounded in 2019. These crashes killed a combined 346 people and Boeing later admitted that two former employees misled regulators about the plane's safety. In addition to being tragic and a PR disaster, these events were also a killer for Boeing's business.
The 737 Max aircraft was grounded for 20 months, and Boeing had thousands of orders for the aircraft delayed or canceled altogether. The 737 Max has since returned to the skies but is still grounded in the world's largest airplane market: China. Before the issues involving the aircraft, China accounted for 25% of Boeing's plane sales.
These delayed orders took a significant bite out of Boeing stock price and impacted revenue. Additionally, they also raised concerns about Boeing's commitment to safety and its ability to manufacture aircraft.
As if one crisis weren't enough, Boeing's 737 Max issue rolled right into the COVID-19 pandemic…
Effect of Pandemic Crisis on Boeing's Business
During 2020, businesses were artificially separated into "winners" and "losers" based on their industry. For example, Amazon (Nasdaq: AMZN) helps deliver essential goods in a contactless way that complied with lockdown regulations.
And with a 70% surge in its stock price during 2020, Amazon was definitely a coronavirus winner. On the other hand, Boeing mainly manufactures and sells aircraft. Since traveling was heavily restricted in 2020, Boeing stock was one of the biggest coronavirus losers. It was down about 36% in 2020.
In total, Boeing lost an amazing $11.87 billion during 2020. This was almost a direct inverse of 2018, when the company posted a total profit of $10.46 billion. However, while the company is down big, does that mean Boeing stock forecast is downhill completely? 
Resurgence of Post-Pandemic Travel
Like many other companies, the success of Boeing's stock in the short term will rely almost entirely on the resurgence of travel after the coronavirus. If vaccine rollouts are effective and travel returns to normal, Boeing's stock will be in a much better place.
One thing to note is that, even when travel reaches pre-pandemic levels, Boeing will still be a secondary beneficiary.
By this, I mean that when travel rises, it will boost airplane traffic, which will then create a need for newer planes. Airlines like United Airlines (Nasdaq: UAL) or Southwest Airlines (NYSE: LUV) will benefit directly from a travel boom. (Here are some of the top airline stocks to consider.)
Plane manufacturers like Boeing will be secondary beneficiaries because they won't get paid for new airplanes until a year or so after a resurgence in travel. This delayed payment is another risk factor for Boeing stock because orders could easily be canceled in the event of another COVID-19 outbreak.
So far in 2021, travel has been on the rise. The TSA has been screening approximately two million people per day. This number has rebounded significantly compared with 2020 numbers but is still below 2019 numbers. Boeing stated in its most recent presentation that it doesn't expect this number to return to pre-pandemic levels until at least 2023. 
So what's the forecast for Boeing stock?
The Bottom Line on Boeing Stock Forecast
As mentioned, Boeing has been down big recently. However, the Boeing stock forecast is looking up for the future.
For the 737 Max, it recently delivered more than 130 planes and secured another 280 orders since the aircraft was ungrounded. Boeing seem to have worked out the kinks, and the aircraft is back up in the air almost all over the world. Pending another disaster, it appears that the worst of this crisis is behind it.
Despite the pandemic, orders are also beginning to trickle in again for commercial planes. Boeing recently received orders from both United and Southwest to grow their backlog to 4,155 planes, which is valued at $285 billion. Furthermore, travel should eventually pick back up as people go back to the 'norm' post-COVID. This will give Boeing the opportunity to deliver on existing orders as well as start earning new ones.
Outside of commercial airplanes, Boeing is also playing a larger role in the space industry. This industry is starting to gain much more media attention with private companies like SpaceX, Blue Origin, and Virgin Galactic pushing the boundaries of space travel.
At the end of the day, Boeing is one of the biggest players in one of the most important industries in the United States. Prior to the pandemic slump of 2020, Boeing stock was up about 500% from 2010 to the start of 2020.
Despite taking a few punches in recent years, it seems to be getting its feet back underneath it. Furthermore, since the United States is unlikely to slow down defense spending anytime soon, Boeing's stock forecast is probably brighter than the last few years indicate. That being said, where you decide to invest your money will always be a personal decision.
---
A University of Miami grad, Teddy studied marketing and finance while also playing four years on the football team. He's always had a passion for business and used his experience from a few personal projects to become one of the top-rated business writers on Fiverr.com. When he's not hammering words onto paper, you can find him hammering notes on the piano or traveling to some place random.