It's finally here: the Bumble IPO! Rumors circulated last year after investors heard the company had filed confidentially. Now, those filings are public, and Bumble stock is officially coming to market in 2021.
But is Bumble a good investment opportunity? Here's what we know…
Bumble IPO: The Business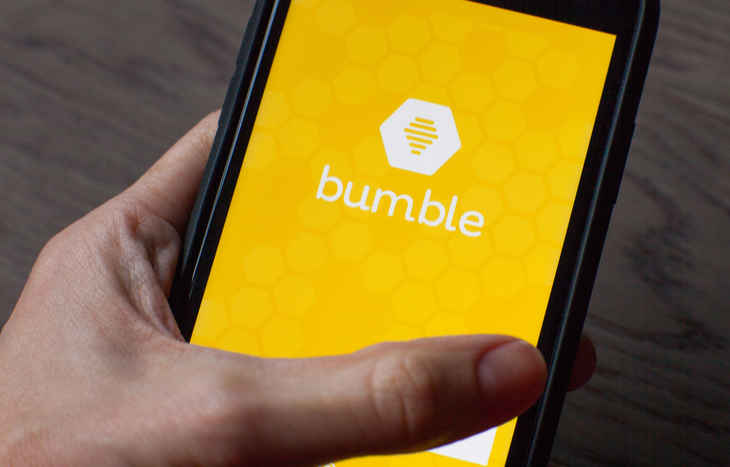 Whitney Wolfe Herd, co-founder of dating app Tinder, founded Bumble in 2014. It's a location-based dating app known for its main quality: women must message first. Users are able to swipe on potential matches. If both people swipe right, it's a match. Then, the woman can start a conversation. For same-sex relationships, either party can message first.
According to Wolfe Herd in the prospectus…
Healthy relationships are the foundation of a happy life. Without them, we can't reach our full potential. I founded Bumble to empower women to build healthier and more equitable connections in an effort to improve relationships for everyone… We remain committed to the major opportunity ahead of us to make dating healthier and more equitable around the world, not only for women, but for people all cross the gender spectrum. We will continue to build into platonic professional, and other areas of connection, which has always been core to our mission.
Bumble Date is the most popular of Bumble's services, with more than 100 million users. But the company also offers Bumble BFF and Bumble Bizz. It's the second-most-popular app, behind Tinder. And although Bumble is a free app, additional features can be unlocked for a price.
Plans for a Bumble IPO were announced in 2020. However, the company recently made public the paperwork for a Bumble stock offering. So let's take a look at what it says.
Bumble Stock: The Market Opportunity
The world of online dating is growing. With apps like Tinder and Bumble, where all you have to do is swipe, it's one of the easiest ways to meet someone. According to the Bumble IPO prospectus, about 40% of new couples meet online as of 2017. This ranked it ahead of other top sources like bars, restaurants and friends.
OC&C Consulting estimates that North America (the U.S. and Canada) is the largest online dating market. It has about 44 million monthly active users (MAU). They represent $2 billion of the market in 2020. On the global scale (not including China), there are 190 million MAU. They represent close to $5.3 billion of the global market as of 2020. Projections estimate the market will grow at a rate of 11% for the North American market of $3.4 billion and 13% for the global market, which is projected to reach $9.9 billion in 2025.
Bumble also breaks down the freemium market. "Freemium" is a pricing strategy where the main product is free but premiums can be charged for additional items. The prospectus estimates the freemium market in North America will grow 16% annually. This will bring it from $1.3 billion in 2020 to $2.7 billion in 2025. The global freemium market is estimated to grow 18% per year, from $3.3 billion to $7.7 billion.
The company lists these factors to market growth:
Growing single population (defined as unmarried people)
Furthering market share in online dating
Increased monetization
Emerging markets, such as countries Bumble has yet to reach.
It looks like Bumble stock could be an opportunity in a growing market. But competition is fierce. So, for those interested in the Bumble IPO, the finances are an important piece to look at.
The Finances
Bumble's financial data is a bit scattered after the recent merger with World Vision Limited. However, the company did highlight some key information for investors in its prospectus.
Revenue. In 2018, Bumble reported $360.1 million in revenue. That grew to $488.9 million in 2019, for a growth of 35.8%. For the nine months ended September 30, 2019, Bumble had $362.6 million in revenue. For the same time period in 2020, revenue was $376.6 million. That's a growth of about 4%.
Net Income (Loss). Bumble has only one record of net income listed. In 2018, the company had a net loss of $23.7 million. But in 2019, the company recorded net income of $85.8 million. That's a difference of $109.5 million. For the first nine months in 2019, net income was $68.6 million. However, in 2020, the company had another net loss of $84.1 million.
Free Cash Flow. The last thing we'll look at is Bumble's free cash flow. In 2018 and 2019, Bumble had a positive cashflow of $63.7 million and $91.7 million, respectively. But that isn't the case for 2020. For the nine months ended September 30, 2020, free cash flow was -$4.7 million, compared with $64.3 million the year before.
Use of Proceeds. The sale of Bumble stock will be used to…
Purchase new shares from Bumble Holdings, the company's predecessor
Purchase or redeem outstanding interests from pre-IPO owners
Pay off outstanding debt.
Now that we've looked at Bumble's finances and market opportunity, there's one important question: What is the Bumble IPO date?
Bumble IPO Details
The company filed confidentially in 2020 and didn't make it public until January 15, 2021. The Bumble IPO date is February 11, 2021. Bumble will offer 45,000,000 shares at a price range of $37 to $39.
Bumble stock will trade on the Nasdaq under the ticker symbol BMBL.
If you're looking for the latest investment opportunities, Investment U is the place to be. Sign up for our free e-letter below! You'll get research and investing tips straight from our experts into your mailbox. Whether you're a beginner or an experienced investor, there's something for everyone. And if IPO or SPAC investing interests you, check out our IPO calendar to stay up to date on the market.
Investors were excited when rumors of Bumble stock started last year. After looking at its filing and seeing investor demand, it's likely the Bumble IPO will have a successful debut.
---
Amber Deter has researched and written about initial public offerings (IPOs) over the last few years. After starting her college career studying accounting and business, Amber decided to focus on her love of writing. Now she's able to bring that experience to Investment U readers by providing in-depth research on IPO and investing opportunities.