If you've tried to buy a new or used car recently then you know that the market is getting squeezed. COVID-19 and the global chip shortage are limiting the supply of new cars. With fewer new cars to buy, would-be buyers are forced to buy used cars instead. This, in turn, is driving up the price of used cars. Safe to say it's not a good tiem to be shopping for a car. But, it's an excellent time to be the company selling cars. In the U.S., CarMax (NYSE: KMX) is the company with the largest inventory of used cars across every make and model. Let's examine if CarMax stock is a buy ahead of its earnings report.
CarMax is set to report earnings for the quarter ended May 31 before the market opens on June 24, 2022.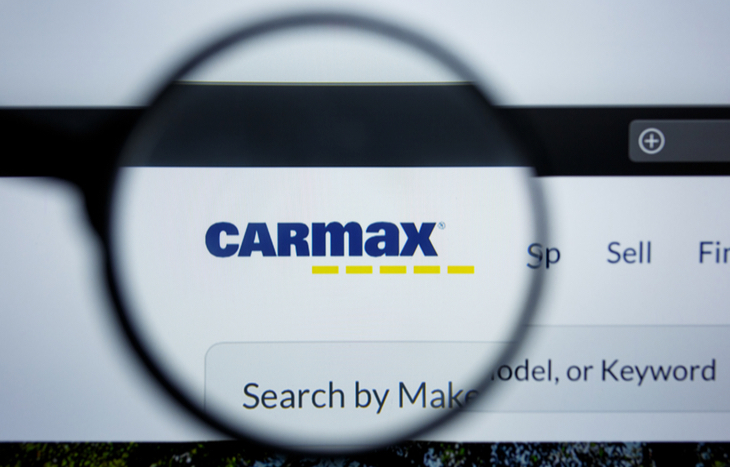 What Does CarMax Do?
CarMax is the country's largest retailer of used cars. It operates in the retail, wholesale, and auto financing sectors. It offers an omnichannel strategy that allows customers to shop both online and in person. In total, CarMax has more than 220 locations around the country. CarMax also claims to be the biggest buyer of used cars from consumers.
Recent Announcements
Voted as a top company to work for: CarMax recently celebrated 18 years on Fortune's list of 100 Best Companies To Work For.
Authorized a share buyback: the Board of Directors increased the share repurchase authorization to $2.0 billion.
Planning to open 10 new stores in FY 2023: In particular, this will allow CarMax to enter the New York metropolitan market.
With that said, let's take a look at CarMax's most recent earnings report.
CarMax Stock Forecast
Before jumping in, note that CarMax does not report during a standard calendar year. Instead, its fiscal year ends on February 28th, 2022. It reported its fiscal year 2022 numbers on April 12 and blew investors away. Here are the biggest takeaways:
Increased market share of the nationwide 0-10-year-old used car market from 3.5% to 4%.
Q4 revenue increased by 48.8% YoY to $7.7 billion.
Yearly revenue increased 68.7% YoY to $31.9 billion.
Sold 1.6 million cars during the year, up 38.4% YoY.
These annual numbers were significantly higher than any other year in the past five years. Along with these solid results, CarMax increased its guidance for the remainder of the year. Back in May 2021, CarMax set five-year financial goals. However, it raised these goals following the solid results of the fiscal year 2022.
As far as CarMax stock, it is down 24% so far in 2022. This is somewhat surprising given CarMax's good results. However, it actually isn't too bad when you consider that many stocks are down over 50%. The broader S&P 500 index is down 18%.
So, should you be buying up CarMax stock ahead of its next earnings report? Let's examine.
Is CarMax A Buy? Potential Upsides
First, it's important to note that investing around earnings reports is very risky. It's common for a company to beat its earnings estimate but for the stock to fall anyway. This is because it's almost impossible to tell how investors will interpret the new information.
With that said, I dissected the used car data from March, April, and May (since this quarter ended May 31). This data can give us an accurate idea of how CarMax might fare in this quarterly report.
According to Kelley Blue Book, used car prices are still on the rise. An average used car sold for $28,365 in April, which was up $1,100 from March. Through the first week of June, used cars rose again and averaged $24,414 (a record). Again, this is bad news for consumers. But, it's great news for CarMax stock.
This should mean that CarMax has been earning a record margin on each sale. But, we also have to determine if this price inflation will continue.
Will Rising Prices Continue?
To get a sense of where the market is going, I also dove into KBB's article "Is Now The Time To Buy, Sell, Or Trade-In A Car." Although this article was published on June 6, it spoke about the past few months. Basically, experts expect used car prices to keep increasing for three reasons:
Global computer chip shortage
War in Ukraine
COVID-19 pandemic
Again, this is all good news for CarMax. A smaller supply of used cars will make CarMax's existing inventory more valuable. CarMax is in a unique position where it can raise prices without a serious threat of losing customers.  This could mean higher profits and more investors buying CarMax stock.
This report highlighted another interesting reason why there is such a shortage of older, less expensive cars right now. "Less expensive" is classified as under $15,000.
Following the 2008 Financial Crisis, automakers produced fewer cars for a few years. People weren't spending as much during the crisis so car companies naturally slowed down production. Years later, this translates to fewer used cars on the road. There are fewer used cars today because car companies produced fewer new cars 10 years ago. Of course, there are still plenty of downsides to buying CarMax stock.
Is CarMax A Buy? Potential Downsides
One thing to note is that CarMax is building new stores. It plans to build at least 10 new stores for the fiscal year 2022. This means it will have to increase capital expenditures by approximately $500 million, up from $308.5 million in fiscal 2022. This will hurt the short-term profitability of CarMax and could wipe out any extra profit made from higher prices.
There is also the risk that the used car market could ease earlier than expected. For example, consumers could avoid buying cars at such high prices. They might find other ways to get around and delay their car purchase. This would hurt CarMax's profits.
Additionally, CarMax is facing new competition in the form of Carvana and CarBravo. Carvana is a company that offers a fully-online way to buy a car. It routinely takes credit for redesigning the used car market. CarBravo is General Motors' response to online used car services like Carvana. There's a chance that consumers could turn to these styles of services instead of using CarMax.
Final Word on CarMax Stock
As stated, buying a stock around its earnings report is fairly risky. It's very hard to tell which pieces of information investors will latch onto. However, CarMax seems to be in a good position to profit from a squeezing used car market over the coming months. COVID-19, the chip shortage and the Ukraine war are all global issues that are contributing to higher used car prices. It does not seem likely that these issues will be resolved anytime soon.
Even once they are, car companies can't just ramp up production overnight. It will take a few months for the new car market to return to normal. It won't be until that happens that the used car market will settle down. This could still be a few years away. If this is true then CarMax can expect at least a few more months, if not years, of enhanced margins. Based on that, CarMax stock seems like a safe bet.
I hope that you've found this CarMax stock forecast to be valuable! As usual, please base all investment decisions on your own due diligence and risk tolerance.
---