Carrier Global Corporation (NYSE: CARR) continues to be one of the leading companies in its industry. In fact, the current Carrier stock forecast is optimistic as many Wall Street analysts are projecting tremendous earnings growth. The stock is currently up 100% over last year and is already up 27% this year alone.
Back on April 3, 2020, Carrier Global officially completed its separation from United Technologies Corporation (NYSE: UTC). And that separation was one of the best things to ever happen to the company. Carrier CEO David Gitlin praised the company's recent success, growth and innovation. "We're investing in growth and American jobs. We're really encouraged by a lot of the macro trends we've been seeing globally," the CEO stated.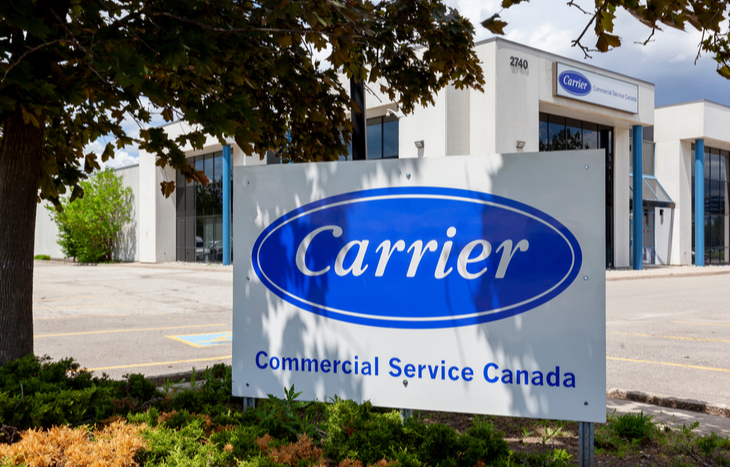 Carrier Stock Forecast Moving Forward
Carrier Global is a multinational home appliances company providing heating, ventilating and air conditioning (HVAC), refrigeration, fire, security, and building automation technologies worldwide.
It operates through three segments:
HVAC
Refrigeration
Fire and Security.
The first segment provides products, controls, services and solutions. The second segment offers transport refrigeration products and services. Finally, the third segment provides various residential and building systems, portable fire extinguishers, fire suppression systems, access control systems, video management systems and electronic controls. In addition, the company sells its products directly to building contractors and owners, transportation companies, retail stores and end customers.
Carrier Global is a favorable post-COVID-19 air quality play due to its growth prospects. It has been steadily rising, and many Wall Street analysts believe the Carrier stock will continue to outperform. This is due to its desirable long-term demographic trends, the explosion of interest in digital technology and the fact that it's now an independent company and can focus on improving productivity.
Below are three reasons why I believe this stock will continue to outperform:
End-market trends remain favorable.
A host of management initiatives aims to improve profitability.
There is opportunity to boost revenue and earnings through the use of growing technologies.
Advanced Digital Solutions
Carrier recently launched a slew of new products and technology enhancements. And many investors predict this will benefit the Carrier stock forecast in the long run. Furthermore, these enhancements can generate revenues and customer base in the short term. A new addition to the company's Healthy Homes Program that has expanded its overall product portfolio is the smart air purifier.
The coronavirus pandemic has caused a heightened awareness of air quality and cleanliness. This makes Carrier's new product a profitable addition due to the increased demand of air purifiers in residences driven by growing awareness about the effects of air pollution on health. The purifier can improve indoor air quality on the back of its three filtration technologies and is Wi-Fi enabled. It can also be controlled by Amazon's Alexa and Alphabet's Google Assistant-enabled devices, making it a favorable product among existing and potential customers.
The company also introduced its new BlueEdge digital service platform, providing customers with first-class service throughout the lifecycle of its three segments. It connects customers' equipment to the cloud-based Internet of Things platform, providing them with valuable insights about the equipment. Carrier also introduced new ductless heating and cooling products and recently unveiled its latest edition of variable refrigerant flow systems, which can be customized to deliver high efficiency and performance. These additions will continue to shape Carrier's growing advancement, and analysts believe it will help to maintain momentum in various end markets served in the upcoming period.
Summer Heat Wave
Carrier is one company whose stock can benefit by helping people cool down. The heat wave that's scorching the nation is a trigger catalyst for the company. And it was founded by Willis Carrier, the inventor of modern-day air conditioning. Today, it's the world leader in high-technology air-conditioning and refrigeration solutions. I cannot think of a better time to grow this company's sales.
Carrier posted its last quarterly earnings results on April 29, 2021. It reported $0.48 earnings per share (EPS) for the quarter. This topped analysts' estimates of $0.37 by $0.11. The company earned $4.70 billion during the quarter, beating the consensus estimate of $4.37 billion. In addition, its revenue was up 20.9% on a year-over-year basis. And Carrier has generated $1.66 earnings per share over the last year and currently has a price-to-earnings ratio of 19.2.
Along with the Carrier stock forecast and prosperous earnings report data, there's a longer-term trend that definitely looks promising to help lift demand for Carrier shares: the return to the office. Office occupancy is critical for the company, and as employees return, a new focus on air quality has become extremely important for the entire HVAC industry. A survey conducted by Honeywell International (Nasdaq: HON), another supplier of smart-building solutions, says that "COVID-19 has caused 75% of building managers to permanently change business practices, with 60% more likely to invest in air quality."
Post-COVID-19 Replacement Cycle
The addition of advanced digital solutions will only continue to improve the Carrier stock forecast in the short and long term. As we prepare for this post-COVID-19 world, we're going to have a big replacement cycle as everyone needs to feel safe going back to the office, to school and to hospitals. In order to feel and be safe, you want to have great air quality and air circulation. This means upgrading your HVAC systems. And that lends perfectly to a company like Carrier. Wall Street sees Carrier's sales growing at 5.4% a year on average from fiscal year 2021 to fiscal year 2023. That's better than its competitors top-line growth. Operating profit margins have growth expectations of about 2%, going from roughly 11% to 13%. Earnings per share at Carrier are expected to grow about 19% a year on average from 2021 to 2023.
Carrier has more than doubled the performance of the S&P 500 since trading experts Bryan Bottarelli and Karim Rahemtulla recommended picking up shares to their subscribers in March due to its growth prospects as a post-COVID-19 air quality trade. How do you spot investment opportunities like this in the stock market? Well, Bryan and Karim provide excellent information on trading strategies, the stock market and more! Take the next step in your trading journey by signing up to receive the premium content below for FREE!
---