I've been using Charles Schwab for many years now, and I've set up a few separate accounts within its platform. So I can give a hands-on Charles Schwab review. It's a popular brokerage, and I've seen it adapt over the years.
Overall, it remains a top choice for good reasons. One big draw is that it's a comprehensive platform. It offers savings, checking and a wide range of investment services. This makes it a one-stop shop for all your financial needs. And while competition is high in the space, Schwab continues to adapt.
To start this review, let's look at some of Schwab's top services…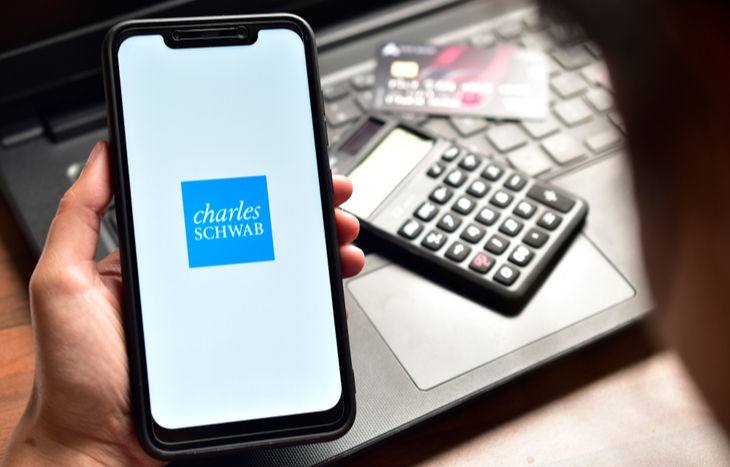 List of Charles Schwab's Top Services
Savings Accounts
Checking Accounts
Brokerage Accounts
Trading Education
Credit Cards
Traditional and Roth IRAs
Trust and Estate Accounts
Home Loans
Business Accounts
This is just a small sampling of what you'll find at Charles Schwab. This reach is what sets Schwab apart from some newer age brokerages, such as Robinhood. And to see how competitive these offerings are, let's start with its checking account and other standard features…
Charles Schwab Checking Account Review
Schwab's checking account has no minimums and zero monthly fees. It also has a competitive interest rate. In our low-interest-rate world, though, it's still close to zero. If rates climb over the next few years, its savings rate should bump up as well.
Another great benefit is Schwab's variety of helpful customer service options. You have access to a 24/7 live chat online. You can also call Schwab's customer support. When I've called in the past, I've had minimal wait times, and they've directed me to specialized teams for answers.
On top of all this, there's a high level of security…
Is Charles Schwab Safe for Banking and Investing?
A true Charles Schwab review wouldn't be complete without touching on safety concerns. For example, is your information, such as your social security number, secure when you set up an account? And how safe is the money that you deposit?
These are some of the most common questions I get when friends or family ask about setting up accounts. And on the technology side, Schwab is safe and sound. It's just as safe – if not safer – than setting up an account with any other large provider.
Schwab uses encryption and a wide range of other technologies to keep your information secure. On top of that, the brokerage company provides a security guarantee. Schwab will cover 100% of any losses in any of your Schwab accounts due to unauthorized activity.
For funds you deposit at Schwab, other than in its brokerage products, the FDIC also insures them up to $250,000. That's in aggregate and based on account ownership type.
Another layer of safety comes from the Securities Investor Protection Corporation (SIPC). This provides up to $500,000 of protection for brokerage accounts, with a limit of $250,000 for claims on uninvested cash balances.
Overall, there are many security layers to keep users safe. And this will continue to become more important as people connect to their accounts through new devices. For the final section of this Charles Schwab review, let's look at its growing mobile application…
Charles Schwab Mobile App and New Technologies
When starting out with my first Schwab account, I used only a desktop computer to access it. But over the last few years, I started using the mobile app. And now it's become my go-to for account management, transfers and other trading.
The mobile app is simple to use and customizable. You can organize your summary view to include the information you want to see most. I'm always staying up to date with my portfolio and I've also set up a watch list to keep track of what I might invest in next.
On top of that, you can set push notifications and other alerts. I have a few set up on certain stocks. If they move by a large enough percentage, I get an email to notify me.
Overall, I use the app mostly for its investing services. It also includes many banking features, though. For example, you can deposit a check by snapping a few photos.
I hope my hands-on experience helps you. If you'd like to see more covered in this Charles Schwab review, please don't hesitate to reach out. At the bottom of our website, you'll find a link to our contact page, or you can just click on this link.
For more reviews and investing insight, consider signing up for our free Investment U e-letter below. It's packed with tips and tricks from investing experts. Whether you're a beginner or an experienced investor, there's something for everyone.
Read Next: Best Online Brokers
---