Chevron (NYSE: CVX) is the second largest oil company in America, after ExxonMobil. It's a multinational energy company, active in over 180 countries. This size provides stability and helps with a Chevron stock forecast.
It has many different projects listed on its website. Including one called Bigfoot. It's in the Gulf of Mexico, only 225 miles off the coast of Louisiana. Bigfoot stands in water with a depth of 5,200 feet and drills go down to a depth of 16,000 feet.
This makes me curious about the structural engineering going on under the water to keep that thing in place…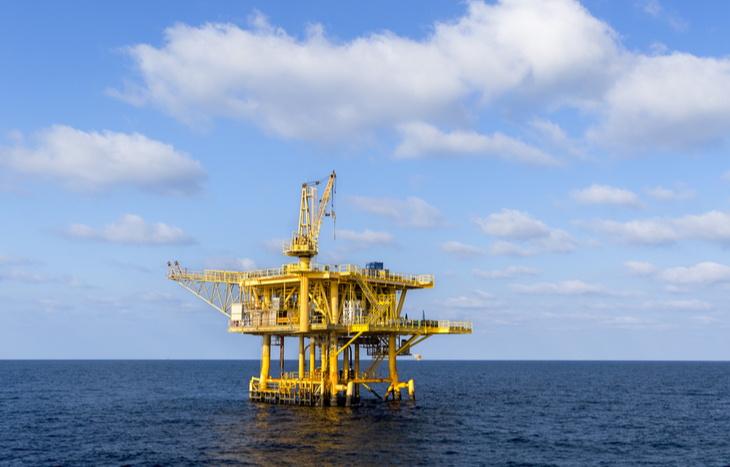 Chevron Stock Forecast on Recent Price Moves
Chevron stock looks bullish over its lifetime. It likes to rise and fall with some large dips and nice peaks. Its all-time high happened back in 2014 when it traded for well over $130. Since, it's dropped and rebounded a few times.
March 2020 saw a low dip of $59.39, and it has come back up to trade around $110 as of writing this.
It does have some room for growth. And it's been a while since it's had a new all-time high. Plus, its super-steep dip in March 2020 is sure to stimulate some new growth.
Chevron naturally goes through cycles along with energy prices. And right now, oil prices have been climbing, along with CVX stock.
Chevron Stock Volume
Volume has remained steady, gradually increasing into 2008. Then, volume declined again and had small peaks around 2015. Then back down and steady again.
February 2020 saw 158 million trades, and March 2020 saw 476 million. These peaks are in direct alignment with the low prices for Chevron stock. Then April began to come back down in volume at 302.92 million.
Volume kept inching down each month with a small spike in September 2020.
March of 2021 saw a nice increase in volume, rising by about 100 million. Volume remained steady until after September 2021. September saw 250 million. October has been 172 million. Granted, October is not over yet.
Continuing to follow trading volume can help lead to better buying and selling opportunities.
Chevron Financial Health
A quick look at Chevron's quarterly financials shows some good numbers. June 2021 reported a 127% increase in revenue year over year. And net income was up 137%.
Revenue sits at $36 billion. Net income came in just above $3 billion. And net profit margin is 8.5%.
In the annual report listed on its website, it promises to deliver higher returns for stockholders. And below that, it cites the four financial principles the company adheres to.
One is protecting the dividend and the second is reinvesting in the business. It cites $13 billion added in enterprise value through the acquisition of Noble Energy.
The third is having a strong balance sheet. It achieved industry-leading net debt ratios and remains financially healthy.
And the fourth is returning excess cash to stockholders through buybacks. Chevron repurchased $1.75 billion worth of shares in 2020.
Chevron News
The Richmond plant saw an issue with smoke, but it seems Chevron is on top of it, and getting it taken care of. The company also recently set targets for net zero emissions, which is important to consider in a Chevron stock forecast. It's the first thing you see when you head to the website.
Chevron also offered to buy back even more shares, announcing the pricing terms of its offers for $2 billion worth of stock.
Chevron hired a new vice president of safety, health and environment. Her name is Marissa Badenhorst, and has held many positions in Chevron's various oil rigs. The company has seen record high safety performance with her leadership. She is scheduled to take over January 1, 2022.
Chevron Market and Industry: What's Going On?
Oil and gas price are predicted to continue rise. This is great for oil and gas stocks. In the fossil fuels industry, when product prices rise, stock prices are pulled up along with them.
The U.S. Energy Information Administration predicts this winter will have much higher demand for fossil fuels. That's because we need them to keep ourselves warm. They predict the propane expenditure to rise by 54%, heating oil by 43%, natural gas by 30% and electricity by 6%.
They also created room for error. They considered a 10% colder-than-expected winter and a 10% warmer-than-expected winter. The 10% colder increased expenditures dramatically. While a 10% warmer still increased expenditures because of rising prices.
They predict a long-term outlook of Brent crude oil prices to steadily climb to around $200 per barrel by 2050. Right now, the price is close to $80 after a recent run up.
Chevron Leadership
The leadership looks amazing. Almost all the people on each committee and those on the board of directors are a current or retired CEO of a large, well-known company. They only serve a one-year term, then may be re-elected. And to get in, they're held to the highest standards.
This strong leader ship is a great sign when considering Chevron stock forecasts. Long professional track records of success tend to help with future growth.
Chevron Stock Forecast and Predictions
Long-term, Chevron's should be headed higher. The company is shifting towards cleaner energy, which is great.
It's also in an industry that is going to keep rising. And here's why I say that.
Electricity and batteries are going up in demand because they're "green." Check out these EV charging station stocks.
But what some people don't understand it that we'll still need oil and gas to power and create those commodities for many years to come.
Pretend green alternatives completely took over and somehow revolutionized the energy industry. There's a great chance we would still need oil and gas to make those green solutions work. Oil and gas would suffer, but they won't be disappearing anytime soon.
Also, green alternatives are not cost effective or reliable for most people.
Things get especially difficult if you live in a harsh environment like a desert. Or even the Midwest, where there are bitter winters and hot summers. For many people, it makes more financial and "green" sense to cut out the middleman and use gas and oil.
Oil is here to stay for the foreseeable future. At least in part. Even if I'm wrong about everything above, we will still need oil and gas for a few things. Many financial reports predict a 10-15 year rise in prices, then a plateau.
This bodes well and helps give a positive Chevron stock forecast. It's likely to continue going up in the coming years.
If you're looking for even better energy investing opportunities, sign up for Profit Trends below. It's a free e-letter that's packed with investing research. You'll hear directly from energy and trend investing experts.
---
Vanessa Adelman graduated with an Interdisciplinary degree. She majored in Entrepreneurship, Painting, Music and Film. Shortly after, she received a copywriting mentorship with Mark Morgan Ford. Then, she earned her AWAI Verification. Now, Vanessa freelances in the financial direct response industry. She's been investing since 2016. In her free time, she enjoys books about money and wealth. She loves being with her boyfriend, hunting, fishing and going on outdoor adventures.