Chevron (NYSE: CVX) stock and other oil stocks have moved to the forefront of investors' minds, with oil prices on the rise. The price of crude oil has almost doubled since its 52-week low in August of 2021.
Most of the rise in oil prices is due to the conflict between Russia and Ukraine. Earlier this year, Russia invaded Ukraine, and countries worldwide were not happy about it. As a result, many countries issued sanctions against Russia.
The sanctions hit Russia where it hurts most, oil. Russia is one of the biggest exporters of oil in the world. Sanctions targeting Russian oil were meant to discipline Russia for its actions against Ukraine.
The consequence of those actions is that sanctioning countries need to find new sources of oil to keep their economies moving forward. European countries are in an especially precarious position because they buy an enormous amount of oil from Russia.
When Russian oil is taken out of the world's oil supply, it falls dramatically. Since oil demand has only increased, the imbalance has caused oil prices to rise dramatically over the last several months. The rise in oil could benefit U.S. oil companies like Chevron because European countries looking for new sources of oil may turn to the U.S.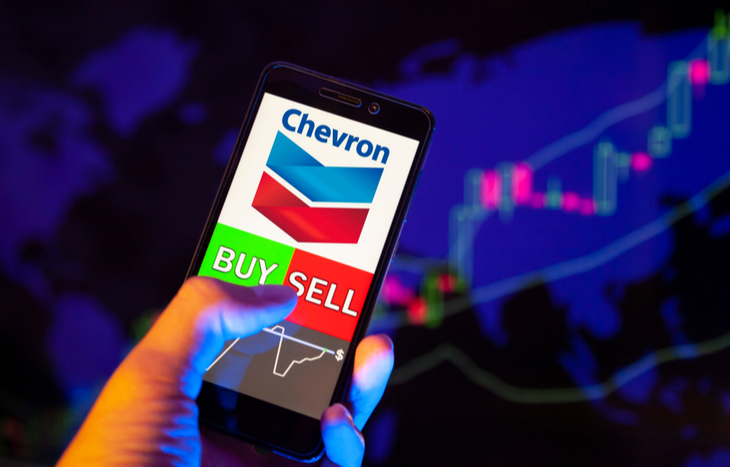 Chevron Stock Predictions
In April, Chevron put out a press release about its financial results from the first quarter of 2022. The press release said that the company had been focused on growing the company through a few acquisitions.
First, Chevron agreed to buy Renewable Energy Group (Nasdaq: REGI). The acquisition will help Chevron grow its renewable fuels business. In addition, the company closed its purchase of NEXBASE from Neste (OTC: NTOIY), which should strengthen its position as a leading supplier of base oils. The press release also noted that Chevron plans to increase the amount of oil it pumps from its Permian Basin by 15% to 700,000 to 750,000 barrels per day in response to rising oil prices.
On average, industry analysts forecast that Chevron will make $4.67 in earnings per share in the second quarter of 2022. The analysts forecast that Chevron will earn $16.98 per share for the full year. Interestingly, the range of forecasts is rather wide. The highest forecast is $21.43 for the full year, and the lowest is $14.28.
Chevron Earnings
In Chevron's first-quarter earnings press release, the company said that sales grew from $31 billion in last year's first quarter to $52 billion in the first quarter of 2022. In addition, Chevron said that it had earnings of $6.3 billion in the quarter. Earnings rose steeply from $1.4 billion in the same quarter of last year.
Adjusted earnings for the quarter translated into $3.36 per share, an increase over last year's first quarter of $.90. Since the cost to pump a barrel of oil doesn't increase when oil prices rise, Chevron's profit margins also improved along with oil prices.
Industry analysts thought Chevron stock would make $3.44 in earnings per share for the quarter. So, Chevron fell short of the analysts' predictions. In the press release, Chevron's CEO and Chairman said, "Chevron is doing its part to grow domestic supply with U.S. oil and gas production up 10% over the first quarter last year."
After Chevron put out the quarter press release, managers hosted a webcast to talk about the quarter. When they finished speaking, the managers took questions from listeners. You can find a link to the transcript of the webcast here. In addition, you can find a link to the slides that managers used in their presentation here.
Is Chevron Stock a Good Buy?
Chevron stock is riding the coattails of oil prices. The stock is up more than 42% this year. The stock's accent is eye-catching, considering the broader S&P 500 stock index is down almost 18% for the year.
If you think you've missed the boat on Chevron stock, you may want to think again. A quick stock valuation shows that the stock trades at a P/E ratio of nearly 16x. Surprisingly, Chevron's current P/E ratio is much lower than its five-year average of 24x. That could mean that Chevron stock is offering shareholders great value at its current price.
Keep in mind that earnings for oil companies are highly correlated with the price of oil. That means that the stock may offer great value if oil prices remain high or rise. On the other hand, if oil falls, Chevron's earnings per share will fall also. In that case, the shares may not be a great investment.
In addition to the potential value of the shares, Chevron stock pays a dividend. The company recently said it would pay a cash dividend of $1.42 per share each quarter. On an annual basis, the dividend amounts to $5.68. That means that at its current price of about $171 per share, the stock has a dividend yield of 3.38%.
Buffett Buys Chevron Stock
If you think Chevron stock is a good buy, you're in good company. Famous investor Warren Buffett owns several million shares of Chevron stock in his company, Berkshire Hathaway (NYSE: BRK-A, BRK-B). In addition to its current Chevron stock position, Berkshire recently said it has added to its position in the first quarter.
It is not surprising that Berkshire added to its Chevron position. The company adds stock to current positions from time to time. What is surprising is the number of shares that Berkshire bought.
Before buying shares earlier this year, Berkshire held about 38 million shares. The company added nearly 121 million new shares, quadrupling its position in Chevron stock.
Buffett and Berkshire Hathaway tend to favor stocks that generate vast amounts of free cash flow. In addition, many of Berkshire's holdings, like Chevron, have generous dividend yields and buy back shares rapidly.
Chevron gave $11.6 billion back to shareholders through dividends and share buybacks in 2021. In the first quarter of 2022 alone, it used $4 billion for dividends and buybacks.
It appears that Chevron is using its profits to benefit shareholders. That trend may continue for the foreseeable future.
---