The COVID-19 pandemic was an incredibly difficult time to be in the restaurant industry. The pandemic caused staffing shortages, supply chain restrictions and higher food costs. Not to mention that customers weren't even allowed to sit in a restaurant for the better part of a year. But, what's interesting is that these issues mainly impacted single-location restaurants. Chain restaurants, on the other hand, such as Chipotle stock, didn't struggle quite as much. In fact, as we start to put the pandemic behind us, many chain restaurants are getting back into growth mode. In particular, Chipotle stock is looking to expand rapidly.
During the pandemic, about 90,000 restaurants permanently shut their doors. Most of these restaurants had just one or two locations. These smaller operations just didn't have the cash on hand to keep the lights on during this difficult time. Or, they didn't have the customer base to go mobile-only.
Large chain restaurants, on the other hand, were able to weather the pandemic thanks to a few key advantages. During COVID-19, large chains were able to lean on parent companies for cash flow and guidance. They also have economies of scale which makes mobile ordering more profitable, even with smaller margins.
With so many closures in the past year, many restaurant chains are looking to expand and fill the new gaps in the market. With that in mind, let's take a look at one of the most promising Mexican-style fast-casual restaurants: Chipotle (NYSE: CMG).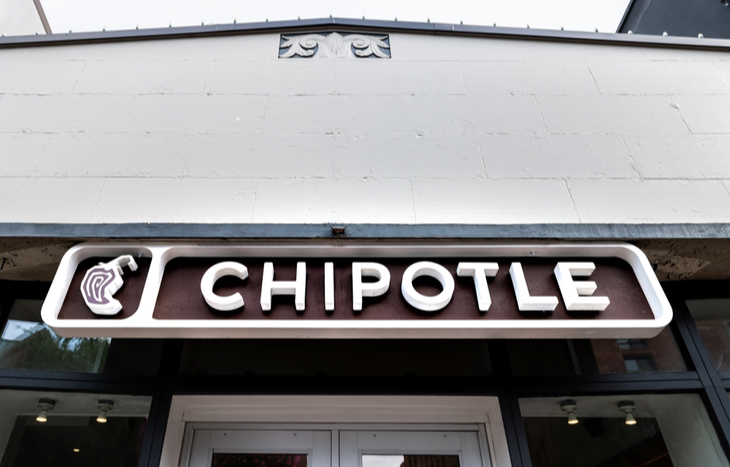 Chipotle's Business
If you've never been, Chipotle is a popular Mexican chain restaurant. It mainly operates in the U.S. with 2,918 domestic locations and 44 international locations. Chipotle is known for having a simple menu, as most Mexican restaurants do. Customers can enjoy burritos, tacos, or bowls that are made to order in front of them.
In 2021, Chipotle stock brought in annual revenue of $7.55 billion. This was a year-over-year increase of 26%. It also reported a net income of $653 million, up 83% YoY.
More recently, Chipotle reported a stellar Q1 2022. In Q1, the burrito chain reported total revenue of $2 billion, up 16% YoY. Notably, same-store sales also increased by 33%. This means that each store reported a 33% increase in sales compared to the previous year (on average). This is a closely-watched metric for businesses with multiple locations.
Chipotle also has decided to aggressively build more locations. It previously set a goal of 6,000 total locations but upped this number to 7,000. Management likely made this decision because it knows that there are fewer local restaurants to compete with. In Q1, Chipotle opened up 51 new locations and plans to open 250 more in 2022.
CEO Brian Niccol was pleased with these financial results and stated, "Chipotle's performance in the first quarter was strong, despite challenges from the Omicron variant and ongoing inflation."
Offering Customers More Ways to Pay
It's also worth noting that Chipotle will now let customers buy burritos with cryptocurrency. To make this possible, the Tex-Mex chain inked a partnership with Flexa. This allows it to accept 98 different digital currencies including Bitcoin, Ether and Solana.
A few other companies have made a similar move to accept crypto. AMC and Tesla are the first two that come to mind. More often than not, this move feels more like a marketing ploy than a strategic business decision. While the future of crypto is bright, it is still not widely used as a currency. It's tough to imagine someone going out of their way to buy a burrito with Bitcoin.
However, there is something to be said for Chipotle stocks desire to enhance its customer experience. Cryptocurrency could eventually provide a faster checkout and more payment flexibility. All of this will help to enhance the checkout experience for customers.
While it's not that big of a deal (yet), there also really isn't any downside to Chipotle accepting cryptocurrency.
Is Chipotle Stock a Buy?
I usually stray away from providing direct "yes" or "no" answers to questions like this. Usually, I prefer to highlight the positive and negative aspects and let you choose for yourself. However, for the long-term investor, Chipotle stock definitely has a solid case to be a winner.
To start, Chipotle has a lot of significant advantages over other restaurants.
Speed: Chipotle absolutely whisks customers in and out. BUT, it's also not fast food. Since it only serves a few food options it just cooks these in bulk to get you your food quickly.
Cheap: This will become a bigger value prop as inflation squeezes consumer spending power.
Relatively healthy: Chipotle is generally the healthier choice over McDonald's, Wendy's, or other fast food options.
It's delicious: You already know this is if you've ever had Chipotle.
With these four factors in mind, it's no wonder that customers keep on coming back to Chipotle. Chipotle is also a very attractive choice for specific demographics. Examples include broke college students and families looking to dine on a budget.
Underrated Growth Opportunity for Chipotle Stock
Despite its popularity in the U.S., Chipotle stock still has plenty of room to expand. In fact, it has much more potential than investors give it credit for.
Remember, 90,000 restaurants went out of business in 2022. Chipotle can easily build more locations to absorb this market share. The fact that same-store sales grew 33% in Q1 might already be a sign that customers have fewer food options and are flocking to Chipotle. On top of that, Chipotle hasn't even begun to expand overseas.
The overwhelming bulk of Chipotle locations are in the United States. It has just 44 international locations. You'd have to imagine that, at some point, it will start expanding to Canada, Europe, Asia, etc. This is a very underrated part of Chipotle's business. In fact, it's not uncommon for companies that are mature in the U.S. to get a second wind in overseas markets. For example, 50% of McDonald's sales in 2021 came from overseas locations.
Granted, management hasn't specifically stated that the company will expand overseas. But, either way, growth is clearly a major priority. Chipotle plans to expand to 7,000 locations total. For reference, the fast-food giant McDonald's has 13,683 locations. If Chipotle can dominate the new gaps in the U.S. market and eventually set its sights to foreign countries then Chipotle stock will almost definitely be a winner.
I hope you've found this article on Chipotle stock to be valuable! Please remember that I'm not a financial advisor and am just offering my own research and commentary. As usual, please base all investment decisions on your own due diligence.
---