Tech Stocks
Is ChargePoint (CHPT) Stock a Value Investment?
CHPT stock is off and running in what many investors consider to be a big year ahead for the electric vehicle sector. ChargePoint (NYSE: CHPT) has eye-popping revenue forecasts as one of the most prominent EV charging companies. However, is this innovative company a value play in the stock market?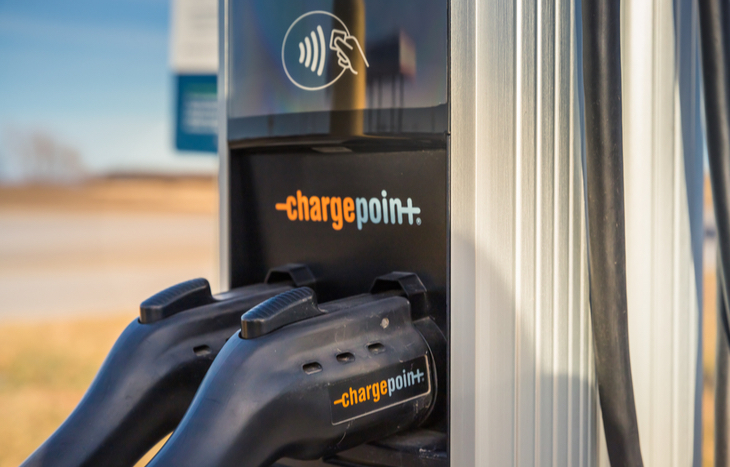 CHPT Stock Overview
ChargePoint was founded in 2007 out of Campbell, California. But it didn't begin making headlines until the electric vehicle boom. In 2017, the business took over 9,800 electric vehicle charging spots for General Electric (NYSE: GE).
Now, ChargePoint maintains over 114,000 charging stations across Mexico, Australia, Canada and the United States. And it's delivered more than 82 million charges and 783,370,000 Megawatt hours (MWh) of electric fuel.
This makes ChargePoint the world's leading and most open EV charging network. And in February of 2021, the business went public via a special-acquisition company (SPAC) reverse merger with Switchback Energy Acquisition Corporation.
"For thirteen years we have been singularly focused on our vision to move all people and goods on electricity, and that has never been more relevant than it is today," CEO and President Pasquale Romano said in a press release. "We've pioneered networked charging and are resolute in our aim to usher in the transition to mass EV adoption by electrifying one parking spot at a time. Today, we are a charging market leader thanks to a winning business model, a complete portfolio and thousands of brands that have realized that EV charging is essential, good for business and aligned with their corporate and sustainability goals. Our technology charges all EVs – from passenger vehicles to delivery fleets – so there is no need to choose winners in electric mobility. We see ourselves as an index for the entire category."
As you can see, this reverse merger was a major step for ChargePoint. And CHPT stock instantly became a popular play for long-term investors and day traders alike.
ChargePoint Stock Price History
ChargePoint is the world's first publicly-traded global EV charging network. However, it's had a rocky start on the market. This alone is why many experts believe now is the time to invest.
CHPT stock is trading below $25 a share after ending 2020 at $40.08. That's a massive drop that many investors believe will be a temporary dip. Projections seem to match this sentiment.
The SPAC reverse merger closed on March 1st and the stock has steadily dropped off since. This may be a cause for concern. But analysts aren't ready to throw in the towel.
ChargePoint is changing the EV charging world and its sales forecasts are right on target. Moreover, the Biden administration is getting in on the act. President Biden wants to help install more than $15 billion worth of charging stations across the country.
This can only be good news for ChargePoint stock. While the production of large auto manufacturers is down, the EV sector isn't taking as much of a hit. In fact, it's pushing forward behind the power of Tesla (Nasdaq: TSLA) and Elon Musk.
Investing in EV Stocks
EV stocks aren't the future. They are literally in the driver's seat of the current tech boom. This is why it's important to consider EV stocks for your portfolio.
For the latest analysis on trending stocks, sign up for the Profit Trends e-letter below. The experts at Profit Trends breakdown stock picks on a daily basis at absolutely no charge. You may just find the next big market mover with loads of potential in the tech world and beyond.
Electric vehicles are changing the transportation industry for the better. In addition, it doesn't seem like the interest in EV is going to disappear anytime soon. And ChargePoint has a commanding lead over its competitors in the EV charging space. Therefore, you may want to consider CHPT stock before it surges forward.
---
Corey Mann is the Content Manager of Investment U. He has more than 10 years of experience as a journalist and content creator. Since 2012, Corey's work has been featured in major publications such as The Virginian-Pilot, The Washington Post, CNN, MSNBC and more. When Corey isn't focusing on Investment U, he enjoys traveling with his wife, going to Yankees games and spending time with his family.