Crypto
Clover Finance Crypto Is Rewarded For Its Efforts With a Major Uplisting
One of the latest tokens to make the jump to a major exchange is the Clover Finance crypto offering. This was created by the same folks behind the Clover point-of-sale (POS) system. This rapidly expanding POS allows small businesses to take orders, accept payments and organize inventory.
It's venture into crypto was a bit of a head-scratcher at first. But as time unfolds, the plan is starting to make a lot more sense.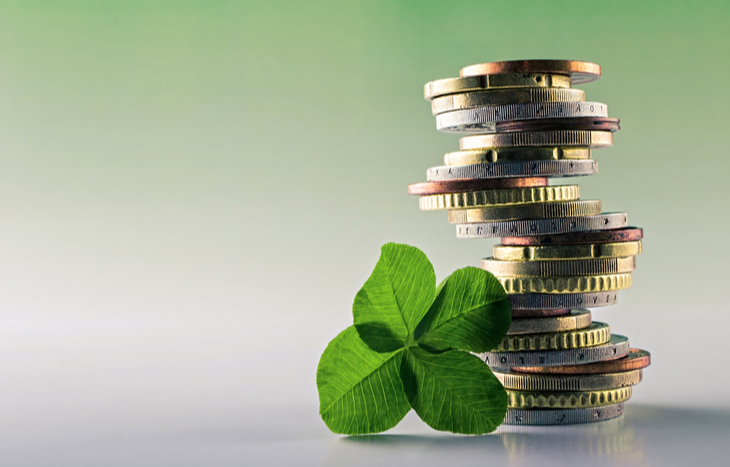 Earlier this year, Clover Finance closed a $3 million seed round of funding. Its Polkadot-based parachain offering sought the money to build a bridge between the Ethereum and Polkadot blockchain. And it was able to do just that. On top of this, there's a plan to bridge with the Bitcoin blockchain in the near future as well. In other words, Clover Finance's plan is starting to come together. And not just because it's garnering the attention of investors. It's forging ahead into a realm where cryptos can more easily be used to pay for goods and services… Across multiple blockchains… And with reduced gas fees.
To that last point, Clover Finance is reinventing the way fee structures operate. And it's simplifying the user experience in the process. Its smart "relayer" is designed to act on behalf of the sender. This makes it so that relayers can cover gas fees with the same token users use to transact with. This eliminates the need to depend on a base crypto like Ethereum. Transaction fees will be deducted automatically from the asset the user is transacting with. It sounds obvious, but in the crypto world it's not. And that's why this is such a big deal.
How Clover Finance Crypto Can Change the Game
So far, the Clover Finance crypto has a lot going for it. Interoperability between different blockchains being first and foremost though of course. But it's also in a position to make it easier than ever to use crypto as an actual currency… Which shouldn't be too surprising as it comes from a company that relies on payment services.
But there's actually even more to be excited about with this blockchain bridging crypto. Clover also offers a unique "always-on" multi-chain connected wallet. It can be found here for Apple users. And here for Android users. With this wallet, users are able to simultaneously connect with decentralized applications (dApps) and Polkadot-based dApps at the same time. And they can view their multi-chain assets as well. This allows users to seamlessly send or receive cross-chain assets across the Polkadot and Ethereum blockchain. And based on the speed they were able to accomplish this, it might not be long before the Bitcoin blockchain is included in these cross-chain mechanics.
The last aspect of the Clover Finance crypto that's really got our attention is its incentivization program. Essentially, dApp programmers are encouraged to build on the platform. By doing so, they'll be rewarded with a percentage of the collected transition fees. By initializing this, the Clover Finance crypto team is hoping to build out a robust community of developers. And in the process, it hopes to foster even more innovation within the DeFi ecosystem.
After pulling all of this together so quickly, it's really no wonder Clover Financial crypto uplisted to the big leagues. And that makes this one of the more interesting altcoins to keep an eye on. Momentum is clearly on its side. Now it's just a matter of wider adoption. But that's exactly what being listed on Coinbase can bring.
Why Clover Stands Out
There are tons of cryptos out there with virtually no reason to exist. They're not innovating. They're not introducing new technological features. They just exist. And most of them won't for too much longer. The cryptos that will last and stand out are the purpose-driven ones.
Bitcoin is the digital dollar for the time being. Ethereum's blockchain is responsible for hosting scores of dApps as well as propping up almost the entire NFT marketplace. Stablecoins offer their own special place in the crypto universe as well. And the Clover Financial crypto is certainly making a case for its long-term usefulness. Especially if it continues to innovate how additional blockchains can co-exist and communicate.
The Bottom Line on Clover Financial Crypto
There are a whole lot of cryptocurrencies out there that most folks have no use for. Some are rug-pulls. Some are pump-and-dump schemes. Others still are developed by lackadaisical programmers hoping to get lucky. But Clover Financial crypto is something else entirely. It's built for the long haul. And its purpose is very clear. Now it's just a matter of waiting to see what else comes out of this innovative venture. If Clover Finance keeps up its breakneck pace, investors in the Clover Finance crypto could be handsomely rewarded in the not-too-distant future.
If you're looking for other altcoins that are changing the way DeFi operates while serving a greater purpose, we suggest signing up for the Manward Financial Digest e-letter. In it, crypto expert Andy Snyder helps guide investors past crypto pitfalls and towards the tokens actually worth investing in. Just enter your email address in the box below to get started.
---
Matthew Makowski is a senior research analyst and writer at Investment U. He has been studying and writing about the markets for 20 years. Equally comfortable identifying value stocks as he is discounts in the crypto markets, Matthew began mining Bitcoin in 2011 and has since honed his focus on the cryptocurrency markets as a whole. He is a graduate of Rutgers University and lives in Colorado with his dogs Dorito and Pretzel.