Coca-Cola stock is a reflection of its brand power. If you're reading this article, then you've probably had a coke at some point in your life. If you're from the U.S., Europe, China or any other corner of the world, then you've probably had a coke. And if you associate Clydesdale horses with soda, then you've probably had a coke.
Coca-Cola fans come from different age groups, genders, religions and backgrounds. Coke's brand power goes beyond boundaries. In fact, many regions refer to any soda simply as Coke. The Coca-Cola brand has become one of the most influential brands globally.
Coca-Cola has been in business for almost 136 years. Since then, many other soft drink companies have come and gone. To this day, Coke remains the market share leader.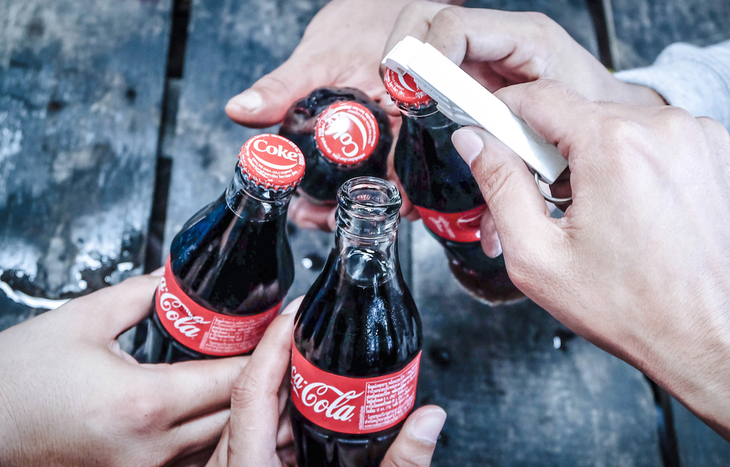 Coca-Cola Stock Analysis
Although the company has been in business longer, Coca-Cola stock went public in 1919. The company was purchased for $25 million months before it became a stock company. That is a high price for that time. Today, the market cap is almost $265 billion.
If you had purchased one share on the first day and reinvested dividends, it would be worth over $10 million today.
Coke was one of the first companies to start the soft drink category. Since then, soft drinks have become a staple in consumers' diets. Today, soft drinks are so popular that consumers find it challenging to give up. Imagine someone lost their job and needed to reduce their budget. Would they give up their gym membership or their Coke? If a recession hit the U.S., which would fall more car sales or Coke sales?
For years, investors in Coca-Cola stock have held it because the stock is considered safe. Coca-Cola stock is somewhat recession-resistant because consumers love the product so much.
Does 'Safe' Mean 'No Growth'?
Not necessarily. Since Coke is in such high demand, the company can charge a slightly higher price every year. In addition, the volume of Coke products sold by the company also grows a little every year. When you add those two together, sale growth for Coca-Cola is as reliable as the product itself.
Coca-Cola has made several acquisitions over the last few decades. For instance, Coca-Cola bought the maker of Vitaminwater and Smartwater in 2007. In addition, the company acquired full ownership of BODYARMOR in November 2021. These acquisitions can increase sales for Coca-Cola and Coca-Cola stock.
Coca-Cola sells its products through a vast distribution network throughout the world. The network helps Coca-Cola quickly increase the sales of newly acquired products. When Coca-Cola buys a new company, its network allows them to sell new products in new countries and stores. Those countries and stores were not available outside Coca-Cola's network.
Coca-Cola Stock Earnings
The company announced that it would release financial results for the fourth quarter and full-year 2021 on February 10. Executives will host a webcast to talk about the results and take questions from listeners. The webcast will begin at 8:30 a.m. ET on February 10. A link to the webcast can be found here.
On average, industry analysts expect the company to report earnings per share of $.40 for the fourth quarter of 2021. They also expect earnings per share (EPS) for the full year to be $2.28.
On the previous Coca-Cola earnings report, management increased their projections for 2021. They said organic sales growth for the year would be about 13%-14%. In addition, they noted that EPS growth would be about 15%-17%, and free cash flow would be about $10.5 billion.
In a press release about the previous Coca-Cola earnings report, CEO James Quincey said, "We are updating our full-year guidance to reflect another quarter of momentum in the business."
Keep reading for more information on Coca-Cola stock news. 
Coca-Cola Stock Dividend Yield
The company currently pays a $1.68 annual cash dividend. The dividend paid to shareholders yields about 2.75% based on the current Coca-Cola stock price.
Coca-Cola stock is considered a dividend aristocrat. That means the company has increased its dividend payout for at least 25 years in a row. In fact, Coca-Cola has increased its dividend to shareholders for almost 60 years in a row.
Recent Stock News
Coca-Cola has been a sponsor of the Olympics for a very long time. In addition, the U.S. and China are two of Coca-Cola's largest markets. Readers may know that the 2022 Winter Olympics are held in China starting this week. At the same time, there have been tensions between the U.S. and China over several things, including human rights.
Coca-Cola's brand message has always been one of peace. I'm sure you've seen it in Coca-Cola's Christmas commercials every year. It will be interesting to see how the company handles its marketing campaign going forward. Analysts speculate that Coke will not advertise its Olympic partnership inside the U.S.
Coca-Cola will be airing ads during March Madness and the Daytona 500 this year. Also, Coca-Cola will not be advertising during the Super Bowl for the second year in a row. The company will remain focused on current sports marketing.
Furthermore, the company will be tweaking the iconic label on many of its cans and bottles. Coca-Cola will be changing its Cherry Coke, Vanilla Coke and other brands.
As you can see, there are big changes ahead for this popular brand. And it will certainly make an impact on Coca-Cola stock overall. You may want to keep a close eye on this stock for the foreseeable future.
---
BJ Cook is a long-time stock nerd. He has held several roles in the equity research world and earned the right to use the CFA designation in 2014. When he's not writing for Investment U, you can find him searching for new investment ideas. Outside the investment community, BJ is a die-hard Cubs fan.