One of the largest global beauty companies, Coty Inc. (NYSE: COTY), is strategically turning the business around to drive future profits. The latest COTY Stock forecast shows a possible turnaround, but it will have a few hurdles to clear first.
Founded in 1904 in Paris, Coty is one of the most iconic brands in the beauty industry. However, after seeing annual sales decline since 2017, the beauty firm is ready to turn things around.
Coty is in the middle of a strategic turnaround. The company intends to cut costs and promote higher margins. With this in mind, the plan is paying off so far with a stronger and more diverse portfolio of products.
For example, in December 2020, Coty took a 20% stake in Kim Kardashian's beauty business while relaunching Kylie Cosmetics last year. Although only a small sample of Coty's plan, the moves allow the firm to compete in the highly competitive beauty Direct-to-Consumer (DTC) market.
If you are not familiar yet, influencers like Kim and Kylie promote products to their millions of followers on social media, a massive opportunity. Keep reading to see the latest COTY stock forecast and what you can expect next from the beauty company.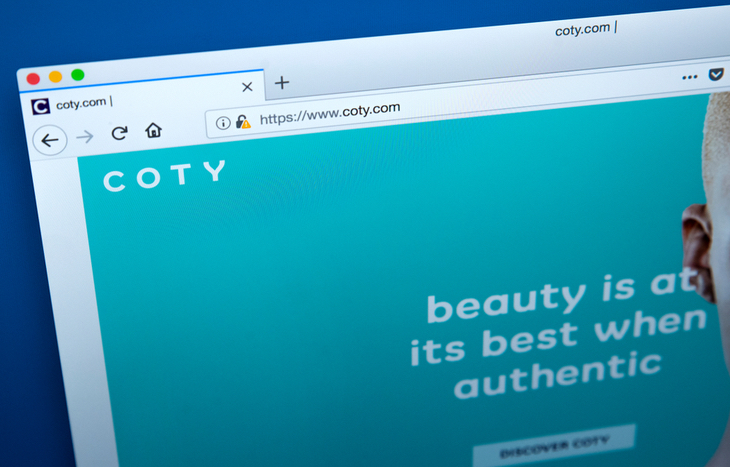 A Top Global Beauty Brand
Coty operates in around 130 countries with leading positions in top markets such as the U.S, Europe and Brazil.
Although you may not recognize Coty's name, you may know a few of its brands.
Rimmel
Bourjois
Covergirl
Max Factor
Sally Hansen
In addition, Coty licenses top brand names such as Adidas, Nautica, Gucci, Burberry, and Tiffany & Co. Between Coty's own line and licensed brands, its diverse portfolio reaches all corners of the market.
Coty's mix of consumers currently consists of 65% Cosmetics, 18% Body Care, 15% Fragrance, and 2% Skin Care. Additionally, the beauty firm breaks its brands into luxury and consumer divisions. Lastly, Coty sold the majority stake in its Professional and Retail Hair Division to focus on higher sales and margin opportunities.
Leading Positions in Key Markets
Cosmetics expects to be the fastest-growing beauty segment with 32% revenue growth by 2025. With the most significant sales coming from cosmetics, a Coty stock forecast looks to be well-positioned to take advantage of the growth.
For one thing, its color cosmetics brands are leaders in two of the three biggest beauty markets worldwide (U.S. and Europe).
U.S.: Sally Hansen No. 1, Covergirl No. 3.
U.K.: Rimmel No. 1, Sally Hansen No. 3, Max Factor No. 4.
Germany: Manhattan No. 5, Max Factor No. 8.
Brazil: Risque No. 1
On top of this, Coty's Body Care and Fragrances, the second-fastest-growing beauty segment, also rank.
However, the company is lacking in two critical areas compared to peers.
Digital Sales
Sales in China (the fastest growing market)
Nonetheless, these are the main areas Coty plans to address through its new strategy.
COTY Stock Forecast: The Turnaround Strategy
During Coty's 2021 investor day, the company laid out its plans to transform the business. To sum up the plans, the goal is to grow quicker than the beauty market. With this in mind, Coty plans to reduce costs and accelerate revenue growth by focusing on its most profitable segments.
Given these points, Coty is building its DTC ability with key influencer partnerships (Kim and Kylie). In fact, Kylie Cosmetics is the No. 4 DTC brand, giving the company an efficient selling method.
Furthermore, COTY plans to expand its presence in China by building brand awareness and driving sales. So far, the company is having success with its premium brands. For example, Lancaster became the number one exclusive brand in Sephora (China) up from second place last quarter.
Finally, Coty is addressing its balance sheet to reduce risk and better position itself for future growth. Keep reading to see the latest COTY stock forecast and what you can expect next.
Signs of Progress
Although the strategy is still in its early stages, you can see several signs of progress. In the third quarter, Coty beat expectations, making it seven straight quarterly beats.
EPS: .03 VS .01 exp.
Revenue: $1.19 billion VS $1.15 billion exp.
The sales growth is fueled by better product positioning and a rebound in economic activity. More important, Coty continues gaining global market share in Consumer Beauty, making five straight months.
Moreover, digital sales have built momentum with double-digit growth in Q3 and YTD. Despite many companies feeling the inflationary effects, Coty maintains strong margins. In Q3, gross margins grew 240 bps, reaching 64.3%.
After taking on heavy debt in 2020 ($7.5 billion), the company continues improving its balance sheet. Net debt improved by over $200 million to $4.2 billion.
CEO Sue Y Nabi had high praise for the company's progress. On the earnings call, Nabi says the quarter "confirms Coty has the brands and people to win in the beauty market, guided by our strategic priorities."
Finally, the strong performance gives the company confidence it will meet its guidance for full-year revenue and EBITDA. At the same time, Coty is raising its EPS guidance to the .23-.27 range.
COTY Stock Forecast: Where Do We Go from Here?
So far, Coty is taking the necessary steps to turn the company around and promote future growth. Even though many retail brands are losing significant sales with inflation, Coty continues building momentum.
At the moment, all signs point to another strong performance from Coty next quarter and in 2022. The company is overcoming lockdowns in China, the war in Ukraine, and soaring inflation while growing sales.
Coty's vision is coming to fruition as it gains global market share, expands its digital sales, and enhances its position in China. Not only that, but the growth is helping the company pay down debt while fueling future growth.
With strategic portfolio adjustments, Coty is in a better position than in the past few years. For one thing, influencer partnerships are a lower-cost, quick-selling method that continues to gain popularity on social media.
The return to work and school trend will likely boost Coty's profits as covid policies continue easing. Given these points, the latest COTY stock forecast is favorable with upbeat guidance, growing momentum, and a strategic turnaround unfolding.
With COTY shares down 44% from its 52-week high, investors can buy for a discount. Then again, the market selloff is leaving few safe spots, and if we see the indexes fall again, there could be more fallout from COTY stock. In the long run, COTY is making the right moves to put it on a path of growth in the vast beauty market.
---