Dick's Sporting Goods has seen tremendous growth over the past few years. As the largest sporting goods retailer in the U.S., Dick's has over 854 stores and more than 50,000 employees. This alone has investors watching the current DKS stock forecast to determine if it's a smart investment.
In March 2020, while other stocks were getting decimated, Dick's started a slow and steady climb from a low of $16.81 all the way to a September 2021 high of $147.39. Since then, the stock has dropped more than 50% to a May 2022 low of $71.24. However, over the past few months the stock has started another impressive climb. Is the recent uptick short lived or will the climb continue?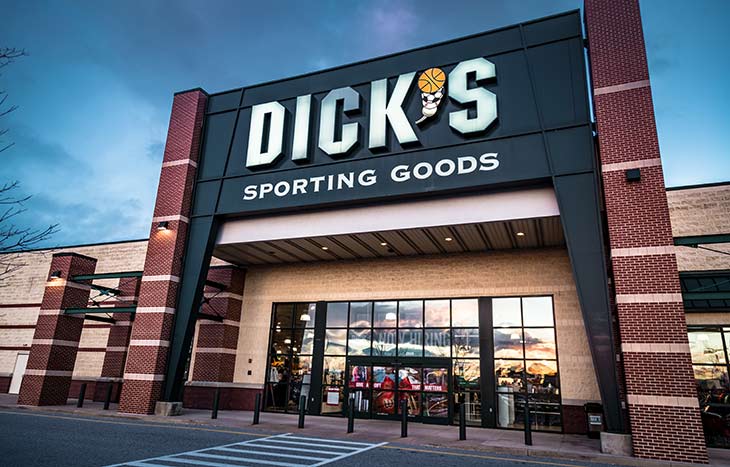 If there is one word that sums up the future of any given stock it might just be "expectations." Consensus earnings estimates play a huge role in the valuation of a stock, even though they many times miss their mark. Analysts look at earnings and historical performance to make their assessment. From there, they try to project upcoming earnings per share (EPS). Consensus earnings estimates are typically the average or median of the forecasts from all of the various analysts.
When news of the earnings announcement comes out, you will typically see the market react positively or negatively given the nature of the upcoming report. Next, when the actual earnings numbers are released, you could see the stock continue to rise or fall depending on how close the analysts' projections were to reality. If expectations and projections are high, and earnings miss the mark by a good margin, you will likely see a sell-off. For our DKS stock forecast, we look forward to next week's earnings announcement.
DKS Stock Forecast – Earnings Announcement: Tuesday, August 23, 2022
Dick's Sporting Goods Inc is expected* to report earnings on 08/23/2022 before market open. The report will be for the fiscal Quarter ending Jul 2022. According to Zacks Investment Research, based on 10 analysts' forecasts, the consensus EPS forecast for the quarter is $3.51. The reported EPS for the same quarter last year was $5.08.

A conference call to discuss the results will be held that day at 10:00 a.m. ET. The call is being webcast and can be accessed at DICK'S Sporting Goods' Investor Relations website at investors.dicks.com. To listen to the live call, please go to the website at least fifteen minutes early to register and download and install any necessary audio software. A playback of the call will be archived on the Company's website for approximately twelve months.
Over the past few months, the DKS stock forecast has looked more favorable which has helped the stock climb from $71.24 in May, all the way back up to $112 and counting. DKS stock has outpaced the Retail-Wholesale sector as a whole during this time.
Only a few months ago, insiders and hedge funds alike were bullish on their DKS stock forecast. However, now many analysts are labeling DKS stock as a sell. Regardless, the company is looking to remain strong at its earnings release next week. The expected $3.51 per share would reflect more than a 30% year-over-year decline. Dick's is also expected to post net sales of $3.07 billion, which would be a 6.16% decline from the same period last year. DKS stock currently has a Forward P/E ratio of 9.96.
Dick's Sporting Goods – Summarized
Investors will be watching eagerly on Tuesday, August 23rd to see what the company's earnings announcement will bring. There has been an increase in outdoor activity lately, which is always great for DKS stock. Regardless of what this latest earnings report says, Dick's Sporting Goods stock has shown strong resiliency in the long run. So even if the stock drops, it may be a good "buy the dip" candidate.
To stay up to date with the latest DKS stock forecast, as well as other investment opportunities, sign up for one of our free e-letters today. Visit our best investment newsletters page and select a newsletter that fits your investing style.
---