Before we get into this DraftKings stock forecast, let's take a look at the why this stock is gaining investors' attention.  Sporting events are about as American as the Constitution, bald eagles, or hot dogs. And the athletes that excel can be instantly rocketed to celebrity status. It also feels like no matter how many games there are, people just never seem to get enough. In particular, Americans really love their football.
Every year, the Super Bowl is one of the most-watched events in the world. In the fall, college football stadiums host crowds of more than 100,000. Even in the offseason, sports fans spend hours analyzing different teams, players, and trades. For some fans, just watching sports isn't even enough. Lots of fans participate in a sport-within-the-sport. This is where fantasy sports comes in.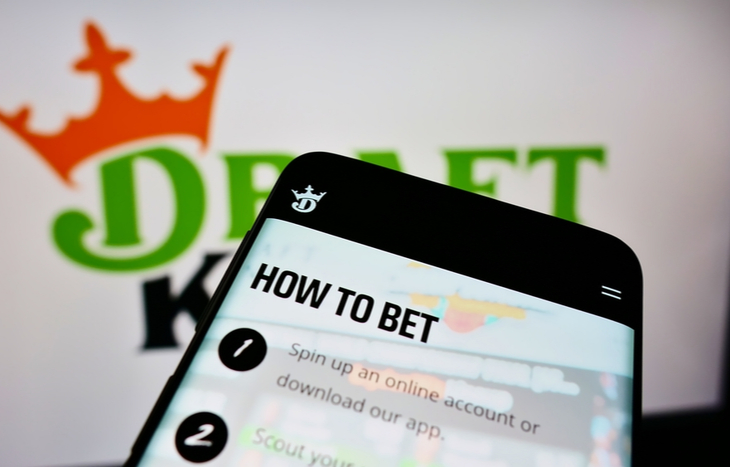 Fantasy sports exist on the back-end of almost all professional leagues. If you're not familiar, fantasy sports are a game where people assemble imaginary "teams" made up of real players. A team's score then depends on the performance of the real-world players that have been picked for that team. Fantasy players act as the coach and need to decide which players to play, bench, or trade. And while you don't need to gamble on fantasy sports, many people do.
According to ESPN, about 40 million people participate in fantasy football leagues each season. In recent years, one company is redefining the way that people play fantasy sports. That company is DraftKings.
So, if you're already wagering money on fantasy sports, should you wager a little bit on DraftKings stock? Let's take a look at a DraftKings stock forecast and find out.
DraftKings is expected to announce Q3 earnings on November 5th, 2021.
DraftKings (Nasdaq: DKNG) Stock Forecast
We'll start with an explainer about what does DraftKings does. DraftKings is one of the largest operators of fantasy sports services. DraftKings literally changed the fantasy game by allowing its members the ability to compete in weekly contests. Prior to DraftKings, you only got one chance to draft your lineup. After that, you were stuck with those players for the season. If your No. 1 draft pick tore his ACL, you were out of luck.
This model was tweaked slightly when DraftKings introduced weekly contests. This allows participants to draft a new lineup every week. Weekly (and even daily) contests gives people more opportunities to participate in fantasy sports. It also encourages them to stay engaged throughout the entire season – instead of losing interest.
DraftKings currently has about 8 million members. And it had generated most of its revenue from fees, advertising, and partnerships. More recently, DraftKings launched the DraftKings Sportsbook. This occurred in May 2018, when sports betting was legalized in New Jersey. Since then New York, West Virginia, Indiana, Iowa, New Hampshire and Mississippi have all legalized sports betting as well.
There have been other announcements made as well that could add to the company's bottom line. For instance…
Partnership with Foxwood – Foxwood Resort Casino and DraftKings announced a partnership to bring online sports betting to Connecticut.
Partnership with Polygon – Polygon is an Ethereum-based scaling platform. This agreement will help DraftKings scale its NFT marketplace.
Partnership with NHL – In October 2021, DraftKings became the official sports betting, daily fantasy sports, and iGaming partner of the NHL.
Draftkings Stock Price Forecast
At the current moment, DraftKing's earnings are a little bit difficult to interpret. This adds a level of difficulty to making an informed DraftKings stock forecast. This is mainly because the company just went public in January 2020. This was mere months before COVID-19 hit the U.S. And during the pandemic, most live sports were essentially canceled. Since DraftKing's entire business relies on live sports, it obviously wasn't making much money.
Due to this, it isn't quite fair to judge them for numbers reported during 2020. Additionally, since 2020 numbers were suppressed, it makes it difficult to judge any year-over-year growth. And since DraftKings is pioneering a new industry, there aren't many obvious competitors to compare against.
With that said, DraftKings reported a 2020 annual revenue of $614 million with a net loss of $1.2 billion. In Q1 2021, DraftKings reported revenue of $312 million with a net loss of $346 million. In Q2, it reported revenue of $297 million with a loss of $305 million. However, as of Q2 2021, DraftKings had $2.6 billion in cash on hand. This will help them continue to fund operations while still battling the aftermath of the pandemic.
DraftKings went public via a SPAC in January 2020. Since then, DraftKings stock is up about 400%. Most of this growth actually occurred in 2020. So far in 2021, DraftKings stock is up just 9%.
With that said, let's answer the most important question: Should you buy DraftKings stock?
Potential Upsides
DraftKings really has its hand in two jars. It is already a major provider of fantasy sports games. However, on a broader scale, it's hoping to become a hub for online sports betting in general.
The online sports betting industry reminds me a lot of the marijuana industry. Both were formerly-illegal, yet very popular. Both are also slowly becoming more socially acceptable. Now that a handful of states of legalized these activities, it's hard to imagine that others will hold out much longer.
Due to this, a lot of the things that make marijuana stocks attractive also apply to DraftKings.
A burgeoning industry: Let's be honest, sports betting was already very popular. Now, it's just becoming a huge legal industry.
Fantasy sports are extremely popular: Much like marijuana, those interested in fantasy sports spread across all ages, races, and income levels. And it's generally a good idea to invest in companies that have such a broad appeal.
High growth potential: Investors tend to get really excited about new things. If investors rally behind DraftKings, it could quickly appreciate in value. Additionally, DraftKings has been aggressively pursuing partnerships.
Organizations DraftKings Has Partnered With
The MLB
ESPN
Fox Sports
The NFL
Bleacher Report
NASCAR
UFC
Madison Square Garden
Staples Center
Five NFL teams
Eight NBA teams
Twenty-five MLB teams
Dish Network
These partnerships could potentially turn DraftKings into the face of fantasy sports. And possibly even sports betting in general. Every time a fan turns on a game, a DraftKing's logo will be looking back at them and offering a discount code to sign up.
On top of that, DraftKings is also building an NFT marketplace. To help get it going, it partnered with Tom Brady's NFT company, Autograph. This marketplace currently boasts digital collectibles from sports legends like Simone Biles, Tony Hawk, and Tiger Woods.
From this perspective, DraftKings stock certainly has a lot going for it. But not all of this DraftKings stock forecast paints such a rosy picture. No stock is perfect. So let's take a look at the downsides of buying DraftKings stock.
Potential Downsides
Sports betting is currently still illegal in 24 states. Sure, eventually it could be legalized in all 50 states. But who knows how long that will take? But it's definitely not a given that it'll be granted legalized status across the country. And if other states are slow to adopt sports betting, the size of the sports betting market will remain smaller than some investors would prefer.
Also, there's always a rush of excitement that comes with legalization. However, once something has been legalized for a few years, the initial excitement dies down. So legalization doesn't guarantee customers. Those who don't gamble aren't likely to suddenly wager thousands of dollars on DraftKings just because it's legal. Due to this, it's easy to imagine that actual market growth might not be as big as people expect.
On top of that, legalization also means fierce competition. DraftKings does not currently have a whole lot of competition. However, competition is growing. A few major sportsbooks in the U.S. include BetMGM, Caesar's Sportsbook, and WynnBet. In all honesty, I'm not a sports better so I'm not super familiar with these platforms. However, you'd have to imagine that these companies will be investing heavily in online sports betting. Just like DraftKings is.
In this sense, DraftKings could become a little bit like Robinhood. Robinhood changed the investing game by offering consumers a sleek mobile platform and no trading commissions. However, major brokerages were quick to follow suit. Now, pretty much all brokerages offer a mobile platform and no trading commissions. And just like that, Robinhood's advantage vanished. Something similar could happen with DraftKing.
When Competition Outpaces the Forerunner
If DraftKings loses its first-to-the-market advantage, investors could face a "right industry, wrong company" situation. By this, I mean that sports betting could very well become a massive industry. However, it might be some other company that ultimately ends up on top, instead of DraftKings.
Finally, the elephant in the room is that DraftKings has been bleeding money. In the short term, this shouldn't be too big of an issue since it has plenty of cash on hand. However, legalization isn't a quick process. DraftKings could run out of cash before this process is complete. In this case, the competition with deeper pockets and backed by major casinos could have the upper hand.
I hope that you've found this DraftKings stock forecast to be valuable when deciding whether or not to invest in DraftKings stock. If you want to read more DraftKings analysis, check out my article "Should You Invest In DraftKings Stock."
And if you're looking for other investment opportunities, enter your email address in the box below to sign up for the Trade of the Day e-letter. It's a quick and easy way to stay on top of the markets while learning about the industries and individual companies poised to make the biggest moves.
NOTE: I'm not a financial advisor and am just offering my own research and commentary. Please do your own due diligence before making any investment decisions. I also own a small position in DraftKings.
---
A University of Miami grad, Teddy studied marketing and finance while also playing four years on the football team. He's always had a passion for business and used his experience from a few personal projects to become one of the top-rated business writers on Fiverr.com. When he's not hammering words onto paper, you can find him hammering notes on the piano or traveling to some place random.