DTE stock is up over 5% after announcing the energy company is teaming up with ridesharing giant Lyft (Nasdaq: LYFT). The partnership is part of DTE's Charging Forward Program, designed to accelerate Michigan's electric vehicle (EV) use.
That being said, DTE Energy (NYSE: DTE) is based in Detroit and provides diversified energy and utility services nationwide. The company has five segments, which includes:
Electric
Gas
Vantage
Energy Trading
Corporate/Other
After receiving criticism for power shutoffs during the pandemic, especially in lower-income areas, the business is getting back on track. The growth in electric vehicles, particularly in Michigan, should help provide long-term growth opportunities.
Nonetheless, utilities are outperforming the market as the Utilities Select Sector SPDR Fund (NYSE: XLU) gains 7% so far in 2022. With DTE stock leading the sector, can it maintain its momentum? Keep reading to find out what DTE stock is planning next and what to expect.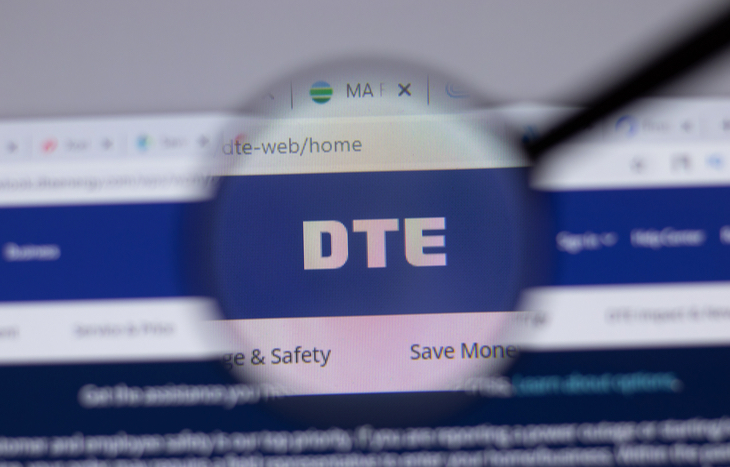 Partnering With Lyft to Boost EV Use
The biggest news surrounding DTE stock is the partnership with leading rideshare company Lyft. The plan is to give equal access to EVs while boosting clean energy use in the Michigan area.
For one thing, DTE Energy is giving a $2,000 rebate for Lyft drivers that purchase or lease an EV. DTE is investing over $1 billion to enhance the electric grid so it can handle the growing EV base. Users will need to apply to the program first and are then eligible for the incentive.
 In addition, DTE will pay the rest of the balance in four payments of $750 if the driver surpasses 200 rides per quarter. With this in mind, drivers can earn up to $5,000 with the rebate, making it easier to access EVs while promoting clean energy use. The partnership is the second installment in DTE's Charging Forward Program, which started with charger rebates.
The extra incentive will help lower-income individuals' ability to access EVs while supporting a cleaner city. According to Lyft's Local Economic Impact Report for Detroit, 95% of drivers work other jobs or are students. On top of this, Detroit consistently ranks as one of the most polluted cities in Michigan.
DTE Energy Strong Earnings Growth
DTE Energy is firing on all cylinders after successfully spinning off its midstream business last year. In 2021, operating earnings increased across the board compared to 2020.
Energy: $864 vs $813
Gas: $214 vs $196
Vantage: $176 vs $150
Energy Trading: $52 vs $39
Corporate/Other: ($145) vs ($113)
(In millions)
The earnings growth can be attributed to higher rates and an expanding renewable energy portfolio. In fact, DTE stock grew its wind and solar generation by 40% this past year with a new solar park and three wind parks.
On top of this, higher demand for renewable natural gas (RNG) is boosting DTE Vantage. RNG is carbon-neutral compared to fossil fuels. So, as clean energy efforts accelerate, DTE Vantage expects to continue building momentum. As one of the largest dairy RNG suppliers, DTE stock is in a strong position for growth.
DTE continues investing in upgrading its infrastructure while preparing for a larger EV load in the coming years. Meanwhile, General Motors (NYSE: GM) is pouring $7 billion to increase EV truck production.
GM is investing in four sites to support the 'significant increase' in battery and EV truck manufacturing ability. By the end of 2025, GM is expecting to have over one million EV capacity. If this is the case, then DTE Energy will see a significant increase in demand for its services to power the plants. In DTE's service territory, the Orion factory is expecting to produce 600,000 EV trucks alone.
DTE Stock Analysis
The earnings growth translates to investor returns as DTE stock gains over 15% YTD. Although this may not seem like a huge return, a positive return is ideal compared to the S&P 500 (NYSE: SPY), down 7%.
At the same time, DTE stock looks to be in a solid upward trend with accumulation building this past month. Although the Relative Strength Index (RSI) shows overbought short term (+70), DTE stock looks to be setting up for long-term growth.
So far, DTE is trading above its 50D SMA and 20D SMA, a sign of upward momentum. On top of this, an upward sloping 200D SMA shows a bullish trend is likely.
Furthermore, DTE Energy's value seems fair, with a Price-to-Sales (P/S) ratio of 1.7 compared to the industry average of 2.9. Yet a higher Price-to-Earnings (P/E) of 29 may suggest short-term weakness.
Other DTE Stock News
Although the Lyft partnership is dominating headlines, DTE Energy is making other business moves to position the company for future growth.
Partnering with GM: To accelerate EV adoption, the team is partnering with the state of Michigan. The program will create 4,000 new jobs while giving Michigan a powerful battery and EV production boost.
Increasing renewable energy capacity: DTE Energy is investing in clean energy with a 40% capacity increase to support a clean future for everyone. With this in mind, the company's clean energy portfolio can power almost 15% of all Michigan homes.
Leading Midwest in customer satisfaction: DTE Energy ranks highest in customer satisfaction according to J.D. Power's 2021 study.
As you can see, DTE energy is making big moves to keep the pace building while preparing for the future of energy.
DTE Stock Forecast: What to Expect Next
DTE Energy is in a prime position to continue growing sales. You can look at DTE stock as a lower risk play, with regulation playing a major role in its business. Although you may be thinking, "how is more regulation a good thing?" It can create a steady income source for DTE.
At the same time, utility stocks are not known for explosive returns. But they can be a good anchor for your portfolio. As a result, DTE stock is a lower risk and lower reward play.
Although you will not likely see massive returns, utilities generally provide stability. They don't typically fall as far as the broad market. With this in mind, DTE stock is positioning itself to play a significant role in the future of energy. And lastly, with a generous dividend yield of 2.6%, DTE stock is an excellent addition for long-term growth.
---