Devon Energy Co. saw oil production rise 8.6% year-over-year. The increase came out of the company's Delaware Basin, which is now averaging 300,000 barrels per day (Bbl/d). Natural gas production also increased 20.9% year-over-year. What impact has this had on DVN stock?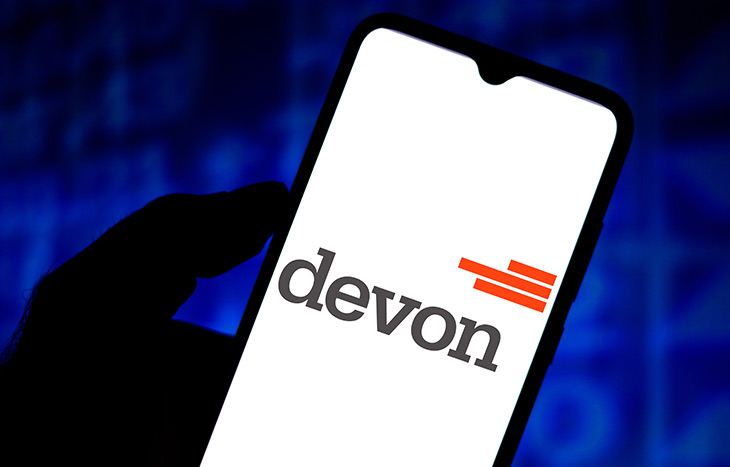 The Ups and Downs of DVN Stock
On March 20th, 2020, during the start of the COVID-19 pandemic, DVN stock dropped to $6.08. It was 1992 when the market last saw Devon Energy Corp. (NYSE: DVN) stock trade at that price. Since then, however, the stock has done nothing but reward investors, climbing all the way to $77.85 in early June 2022. That's an increase of 1180.43%.
However, shortly after this massive climb, analysts made a major negative revision to their near-term forecast for DVN Stock in June 2022. Revenue estimates were cut by 11%, warning investors to curb their enthusiasm, at least temporarily. At that time, Devon Energy 2022 revenue estimates were on pace for $14b. This would mean a 4.4% reduction in overall sales for the past 12 months.
At that time, the most bullish analysts were valuing Devon Energy at $102. Whereas the most bearish came in around $48. The consensus price target fell somewhere in the middle at $80.07. This was a sign that lower sales numbers may not affect DVN stock's overall market value.
But only weeks later in late July of 2022, the tide began to turn again for Devon Energy. Leading up to the company's August 1st earnings report date, market positivity began to grow.
DVN Stock – Latest Earnings Report
This past Monday, DVN reported second-quarter 2022 adjusted earnings of $2.59 per share, beating the Zacks Consensus Estimate of $2.38 by 8.8%.
Also during the same report, the Devon Energy Corp. board of directors declared a fixed-plus-variable dividend of $1.55 per share. The payout is based on the company's second-quarter strong performance and represents a 22% increase from Q1. The board also approved a 13% increase in the company's fixed dividend ($0.02 per share). In addition, on September 30th this year, the company's fixed-plus-variable dividend will be payable to shareholders of DVN stock at the close of business on September 12th.
Rick Muncrief, President and CEO had this to say:

"The second quarter saw our business continue to strengthen and build momentum as we delivered systematic execution across the financial, operational and strategic tenets of our cash-return business model," said Rick Muncrief, president and CEO.

"This success was showcased by production from our Delaware-focused program that exceeded guidance expectations, our streamlined cost structure captured the full benefit of higher commodity prices and we returned record-setting amounts of cash to shareholders. In addition, we took important steps to strengthen the quality and depth of our asset portfolio.

"As a result of the strong financial and operational performance achieved year to date, we have updated our full-year 2022 guidance," Muncrief commented. "This improved outlook raises production targets, increases free cash flow projections and enhances our ability to accelerate the return of capital to shareholders."
Devon Energy Update
DVN stock certainly has been on a wild ride this year. Even with the recent price increase, the stock has dropped nearly 6% in the last week. The energy market has been in flux as of late and that may continue for some time. Even so, the company looks solid. Operating cash flow more than doubled year-over-year and free cash flow is at an all-time high. There is increased production out of the Delware Basin, and cash balances have increased by $832 million to a total of $3.5 billion. Keep an eye on DVN stock as it has a history of quick share price increases.
Want to stay up to date with energy stocks, dividends, crypto and more? Visit our best investment newsletters page and find a newsletter that fits your style.
---