Etsy stock was one of the biggest winners during the pandemic. In the span of under two years, shares of this digital retailer soared over 550%. They eventually reached an all-time high of $294/share. But, halfway through 2022, Etsy (Nasdaq: ETSY) has come crashing down by 70%. Many investors believe that this high-growth company might be slowing down permanently. However, I say you should consider buying the dip. Let me explain.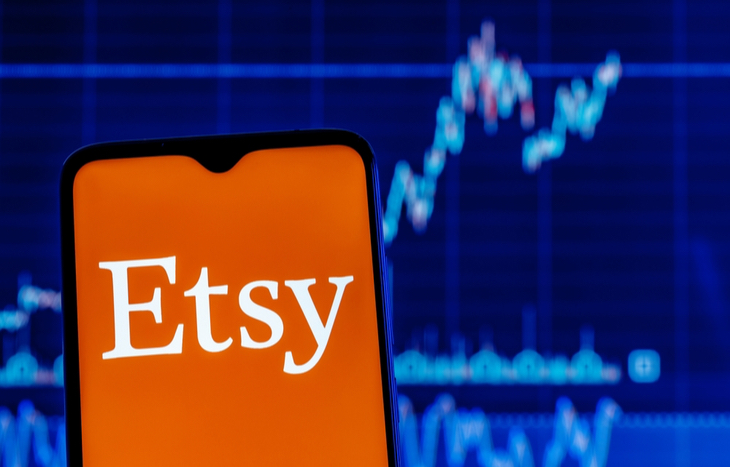 Etsy Stock Forecast
If you're not familiar, Etsy is a digital marketplace that focuses on handmade or vintage items. It takes a lot of pride in its sellers and has a motto of "keep commerce human." In a world that's dominated by faceless, corporate behemoths, Etsy is trying to give small business owners a fighting chance.
Etsy recently release its Q1 earnings report. The results weren't great, which is why many investors soured on the stock. Etsy posted quarterly revenue of $579.27 million, up just 5% YoY. It also posted a total profit of $86.1 million, which was down 40% YoY. This profit is about 60 cents per share. Not great.
It's true that this wasn't the best quarter of all time for Etsy. But, it's important to remember that Etsy's growth accelerated quickly during the pandemic. For FY 2020, it posted net income growth of 200% YoY. Of course, growth wasn't going to continue at this level. That would be astounding. Now, Etsy's stock is just returning to normal growth levels. But investors are used to pandemic-level growth. Now, 30-40% YoY growth seems unremarkable.
For the FY 2021, Etsy still posted strong numbers. It reported total revenue of $2.33 billion (up 35% YoY) and a net income of $493.5 million (up 41% YoY). Not bad at all. It has posted one slow quarter in 2022 but there is still plenty of time to right the ship.
Is Etsy Stock a Good Buy?
With a company like Etsy, it's important to take a break from the numbers. To understand what makes Etsy unique, we need to take a look at its value props. This is what keeps customers coming back and will ultimately help boost Etsy stock.
Etsy's Value Props
The below stats all come from Etsy's investor presentation.
Unique marketplace: 87% of Etsy shoppers say that they found something on Etsy that they can't find anywhere else. This is a really high percentage. Basically, when people need an everyday item they will get it from Amazon, Target, Walmart, etc. But when they need something unique they tend to only visit Etsy. Etsy is becoming the de facto choice for unique, handmade goods. On a similar note, 72% of shoppers agree that there is no other similar store to Etsy. I've personally used Etsy a handful of times and would agree with this sentiment.
Mainly in the U.S.: Etsy has still barely expanded outside the U.S. In fact, its penetration in foreign markets is 80% lower than in the U.S. This means that there is plenty of room for expansion in the massive European and Asian markets. On that note, Etsy also operates in a massive industry.
Huge total addressable market: Etsy is technically in the eCommerce industry. It estimates that this market is worth $2 trillion (across relevant product categories and geographies). Etsy believes it owns just 2.6% of this market.
There is most definitely more room for Etsy to expand. What's even better is that its business naturally benefits from the best growth driver possible: word of mouth. People mainly use Etsy to buy unique gifts/goods. When they give the gift to their friend, it sparks a natural conversation about where they got the gift (Etsy). This helps create positive word of mouth and will naturally drive more people to shop on Etsy's site.
Despite the less-than-stellar Q1 earnings report, Etsy's growth should get back on track over the next few months. Here's my final word on Etsy stock.
Ignore the Media Buzz
For better or worse, Etsy got overhyped during the pandemic. At one point, it was trading for dozens of times its forward earnings. Now, it has fallen back to a more realistic P/E ratio of 28. This just means that the stock has become more fairly valued in the past few months. Despite all of the stock movement, the business has not really changed much. Instead, it's just the economic situation that's changed.
First, the pandemic artificially boosted demand for almost all digital retailers. This created uncommon growth. Now, the reverse is happening and Etsy stock is crashing back down. When the stock was up 70% in 2021, investors loved it. Now, Etsy stock is down 70% and investors don't want to touch it. But, at the same time, nothing game-changing has really happened with the company during this span.
It's true that the Q1 2022 earnings report was not Etsy's strongest. But, I'm not a believer in dumping a stock based on just one round of earnings. During rocky times like these, it's always good to ask if you think a company will be more valuable five years from now. If that answer is yes, you should buy the dip. If that answer is no then feel free to sell. For Etsy stock, I feel that this company will be more valuable five years from now.
Please remember that I'm not a financial advisor and am just offering my own research and commentary. As usual, please base all investment decisions on your own due diligence.
---