There's a huge trend for the best EV stocks to buy. It seems that every month, there is a new summit of world leaders meeting to make climate change commitments. The COP26 summit in Glasgow, Scotland resulted in several countries making new commitments to limit CO2 emissions.
Those commitments included a new scrappage program in Ireland for car and van owners. That's to help achieve a goal of one million EVs on the road by 2030. In other words, Ireland isn't just encouraging EVs—it's actively working to take internal combustion engine (ICE) vehicles off the road.
As more and more countries step up to further reign in the year in which they will halve or entirely eliminate emissions, electric vehicle adoption will only accelerate. As a result, EV manufacturers will continue to grow and so, too, will their share prices. Thus, we want to take a look at the best EV stocks to buy to help you take advantage of the EV revolution.
Here are our top EV stocks to buy:
EV Stocks to Buy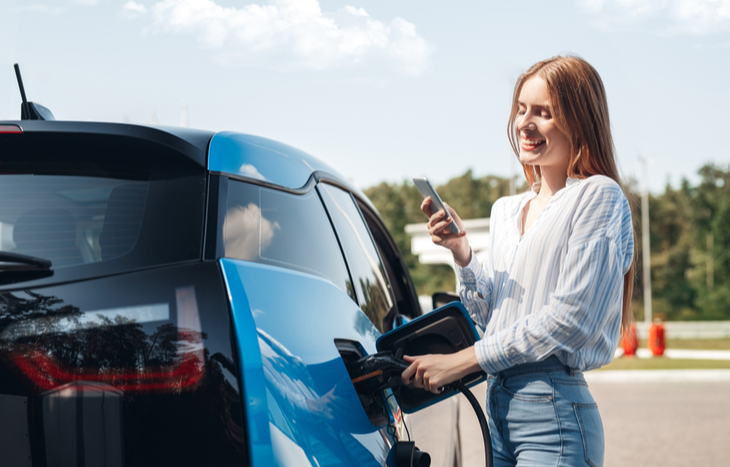 Tesla, Inc. (Nasdaq: TSLA)
General Motors Company (NYSE: GM)
Fisker, Inc. (NYSE: FSR)
XPeng, Inc. (NYSE: XPEV)
NIO Inc. (Nasdaq: NIO)
Why are these the best EV stocks to buy? Let's take a closer look at each of them.
Tesla
By now, Tesla hardly needs any introduction among EV stocks to buy. The electric vehicle manufacturer that started the modern EV revolution in the US continues to grow its product line, build new plants and expand production volume. And Tesla isn't just about cars anymore: it also installs rooftop solar panels and energy storage both for the home and for the grid.
Tesla's market cap has continued to expand as a result, moving to well past $1 trillion. Its P/E ratio is close to 350 and investors expect a lot of earnings growth. Most notable, though, is that Tesla has been profitable in each of the past four quarters. For the quarter ending September 2021, its profit margin was 11.76%. Its operating income was $2.06 billion and its net income was $1.62 billion. While some analysts have 12-month price targets lower than the current price, look for Tesla to grow in the long term.
General Motors
Among EV enthusiasts, GM is often referred to as a "legacy" automaker. It has produced internal combustion engine vehicles for most of its history. However, the Detroit-based automaker recently committed to an all-electric future, meaning it will be firmly among the ranks of the best EV stocks to buy. GM has or will have electric vehicles throughout its brands, including Chevrolet, GMC and Cadillac.
Currently, GM's market cap sits around $84 billion. It has a P/E ratio of close to eight and that's well below market averages. Its most recent earnings call was not the best, as it posted declines across the board. Still, it remained profitable with a 9% profit margin and a net income of $2.42 billion. Its operating income was $2.18 billion. Despite the smaller gains this quarter, GM stock is considered a strong buy among EV stocks, and the share price should continue to climb.
Fisker
Next on the list of EV stocks to buy is Fisker. The company has four electric vehicles in the works, including the Fisker Ocean, which will be an all-electric SUV made from recycled plastic and vegan materials. In addition to EVs, Fisker is engaged in the research and development of batteries and has filed patents for a solid-state battery. These batteries are seen as the next potential breakthrough in EV range, charging and safety.
The sentiment around Fisker stock is strong. However, the company is small, with a $5.4 billion market cap. In addition, as a new company, Fisker is not yet profitable, posting losses in each of the previous four quarters. However, this is expected as it has not yet begun deliveries of its Ocean and other vehicles. Look for its share price to grow as production of the Ocean begins in November 2022.
XPeng
XPeng Motors is a Chinese electric vehicle maker based in Guangzhou. It also has offices in the U.S., including an office in Mountain View, California. Its vehicles include the G3 SUV and P7 sports sedan. XPeng emphasizes the smart aspect of its vehicles; the P7 is built on a smart electric platform architecture (SEPA) with a built-in neural network and OTA firmware updates.
XPeng has a market cap near $40 billion and a share price near $40. The company is not yet profitable. However, its revenue has been steadily increasing; its revenue was ¥3.76 billion, a year-over-year increase of 537%. While its EPS is negative at -$1.50. The sentiment around this EV stock to buy is strong; look for its share price to increase over the next year.
NIO
NIO is another Chinese electric vehicle manufacturer and one of the best EV stocks to buy. The company is based in Shanghai and has several EVs in its product line, including the ET7, EC6 and ES8. Nio also has a battery swap service with 131 battery-swap stations across China. Total sales of its vehicles have expanded from around 11,000 in 2018 to around 43,000 in 2020.
Nio's market cap is near $70 billion and it's not yet profitable. But Nio is moving in the right direction. Its net income for the quarter ending June 2021 was -¥659 million. Its operating income was -¥763 million, a year-over-year increase of 34%. Look for its share price to increase as it continues to grow its revenue and income.
As the world moves away from combustion engines, the EV stocks above should do well. It's still early stages and investors can win big by playing the long game. Although, there are lots of investing opportunities out there… check out these EV charging station stocks as well.
If you're looking for even better stocks, sign up for Profit Trends below. It's a free e-letter that's packed with tips and tricks. You'll hear directly from investing experts on some of the hottest trends in the market.
---
Bob Haegele is a personal finance writer who specializes in investing and planning for retirement. His hefty student loan burden inspired him to pay off his loans, and now he's helping others get their finances in order. When he's not writing, he enjoys travel and live music.