Looking at past Facebook stock forecasts, the company has beat many expectations. Although, will this trend continue?
Facebook started in a college dorm room. However, it has grown bigger than anyone at the time could have anticipated. Today, Facebook has almost three billion monthly users and is in just about every major country. Along the way, it has changed the face of modern advertising. Facebook today generates about $10 annually per user.
Since Facebook is likely profiting off of you, it makes sense that you should want to profit off of it. So does this mean that you should start buying Facebook stock?
Let's answer this question in a brief Facebook stock forecast…
Facebook Stock Forecast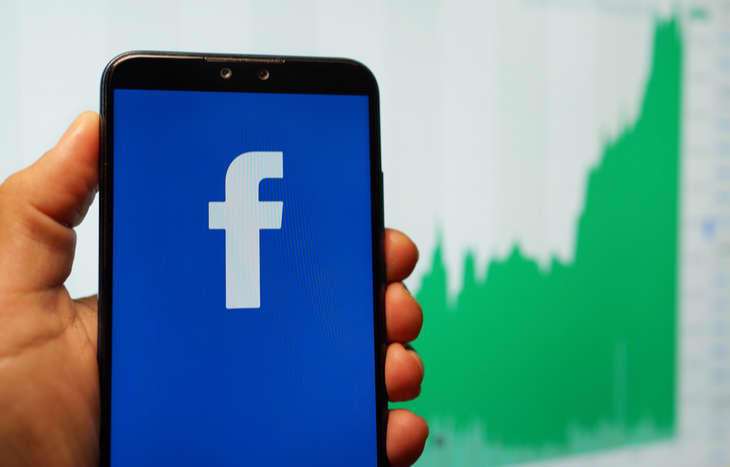 Facebook reported earnings on October 25th, 2021. Earnings per share came in at $3.22, just above the average forecast of $3.20.
Note: I'm not a financial advisor and am just offering my own research and commentary. Please do your own due diligence before making any investment decisions.
What Does Facebook Do?
Out of all the big information technology companies, Facebook is probably the simplest to understand. Facebook controls three massive online communities in Facebook, Instagram and WhatsApp. It makes most of its money by selling advertising space on these platforms. More recently, Facebook bought the virtual reality company Oculus.
Facebook completely changed advertising by leveraging people's personal data. If you own a business and are looking to advertise your products, then Facebook is probably the most attractive option. This is because Facebook can ensure that only your target demographic is seeing your ads.
Selling expensive winter coats for women? Facebook can show your ad exclusively to 30+-year-old women who live in cold climates and enjoy skiing. Facebook's platform is incredibly effective. In fact, many advertising companies these days specialize exclusively on Facebook ads.
With this Facebook stock forecast, we must also recognize the company is unique because of its CEO, Mark Zuckerberg. He founded Facebook and still controls about 58% of its voting shares. This essentially allows him to control every major decision that the company makes.
So what has Facebook been up to recently?
Recent Facebook Announcements
When you own the largest community of people ever created, there are usually quite a few things going on. Here are a few recent announcements about Facebook stock:
Whistleblower – A former Facebook employee recently came forward stating that Facebook deliberately promotes divisive content on its platform. Doing this inevitably draws more eyeballs to its newsfeed and leads to more profit for Facebook. This is just the most recent incident on a long line of ethically loose business practices.
Metaverse – Facebook has taken a huge interest in helping to build the metaverse. If you're not familiar, you can read more on the metaverse and metaverse stocks with that link. Facebook is reportedly hiring 10,000 new employees to help build it.
Potential Rebrand – Facebook reportedly wants to change its name to something that's focused on the metaverse. Since Facebook now does much more than just Facebook, it's not a bad idea. Google did something similar when it restructured into a holding company called Alphabet.
Due to the rising sentiment that Facebook is unhealthy, people are starting to drift to other platforms. There are also tons of other social media apps to choose from. Lots of people probably feel as though they barely even go on Facebook anymore.
So does Facebook even still make a lot of money advertising?
FB Stock Price Forecast
Yes, it does. And that's important for this Facebook stock forecast. In 2020, Facebook brought in a casual total revenue of $86 billion as well as a net income of $29 billion. Also, growing anti-Facebook sentiment has not slowed down its business at all. Over the past five years, Facebook's revenue has grown by about 37% annually. In 2020, its net income grew by an impressive 57% YoY.
Facebook stock is up about 15% in 2021 and is up 140% over the past five years.
Facebook is a company that tends to leave a lot of investors conflicted. On one hand, it makes billions of dollars by providing a crucial need for small businesses. It also allows people to connect with each other and share important life updates.
On the other hand, Facebook is sometimes viewed as a cancer to society. The platform has been blamed for destabilizing democracies and causing people to commit suicide.
With that said, let's examine if you should buy Facebook stock.
Should I Buy Facebook Stock? Potential Upsides
It's hard to deny the fact that Facebook prints money. There's not a whole lot of companies out there that are bringing in $86 billion in annual revenue. With Zuckerberg at the helm, Facebook has also been ruthlessly successful. Now, Facebook is embarking on its most ambitious endeavor yet: The Metaverse. If Zuck is successful in creating the metaverse, Facebook could reach entirely new levels of profitability.
Also, when it comes to users, Facebook seems to have remarkable staying power. Some people might take occasional breaks from the app. However, there is usually at least one solid reason why they won't delete it. It might be because they want to keep old photos that are on the site. Maybe they rely on the Facebook marketplace to buy things. Or, maybe their local club uses a Facebook group chat to communicate.
This staying power is part of the reason that Facebook boycotts have been largely unsuccessful.
With ambitious ventures ahead and a user base that's too big to fail, it's hard to imagine Facebook stock going down anytime soon.
With that said, let's take a look at a few things that could go wrong for Facebook in the future.
Should I Buy Facebook Stock? Potential Downsides
There are also a few big concerns when it comes to buying Facebook stock. The first is that it's not diversified when it comes to revenue. Out of Facebook's $29 billion Q2 income, 98.3% came from advertising. The other 1.7% is only classified as "other." This is probably from sales of Oculus headsets or Facebook Portal. Even though Facebook is making billions, lack of diversification is a potential red flag for investors.
There has also been a widespread "anti-Facebook" sentiment recently. In a rare triple-threat, this negative sentiment stems from both users, advertisers and politicians. Facebook has been blamed for spreading fake news, stoking hate speech and deliberately creating an addictive platform.
The tide can turn quickly with social media companies. Especially when there are lots of other options for consumers like TikTok, Snapchat or Twitter. If enough people decide that Facebook is more trouble than it's worth then it could quickly fall out of favor. It's easy to imagine a scenario where users gravitate to other apps and simply forget about Facebook. If this happens then Facebook would have minimal revenue streams to fall back on.
Finally, Facebook is also not popular at all with Congress. Mark Zuckerberg has been in front of Congress so much that he might consider buying an apartment in D.C. If Congress ever decides to regulate big tech then it might have a devastating impact on Facebook stock price.
I hope that you've found this Facebook stock forecast to be valuable when deciding whether or not to invest in Facebook stock. As usual, all investment decisions should be based on your own due diligence and risk tolerance.
If you're looking for even better investment opportunities, sign up for Wealthy Retirement below. It's a free e-letter that's packed with tips and tricks. You'll hear directly from investing experts.
---
A University of Miami grad, Teddy studied marketing and finance while also playing four years on the football team. He's always had a passion for business and used his experience from a few personal projects to become one of the top-rated business writers on Fiverr.com. When he's not hammering words onto paper, you can find him hammering notes on the piano or traveling to some place random.