Fashion stocks can be some of the most difficult to predict. This is mainly due to the fact that fashion styles are constantly rising and falling.
A brand that is considered the peak of cool today could be outdated a year from now. On the other hand, a company that's been written off as old-fashioned for years may suddenly be viewed as retro and cool by younger demographics.
Also, clothing is unique in that it is both an essential good but is also treated as a status symbol. Everybody needs to buy clothes but some people end up spending much more than others.
Due to this, when events like the COVID-19 pandemic occur, it is hard to predict apparel trends. Will people cut their spending on clothes in order to save money? Or will they treat themselves to new comfy shoes to wear around the house instead.
With that said, let's take a look at the four best fashion stocks to buy. There are a few reasons why you should consider them…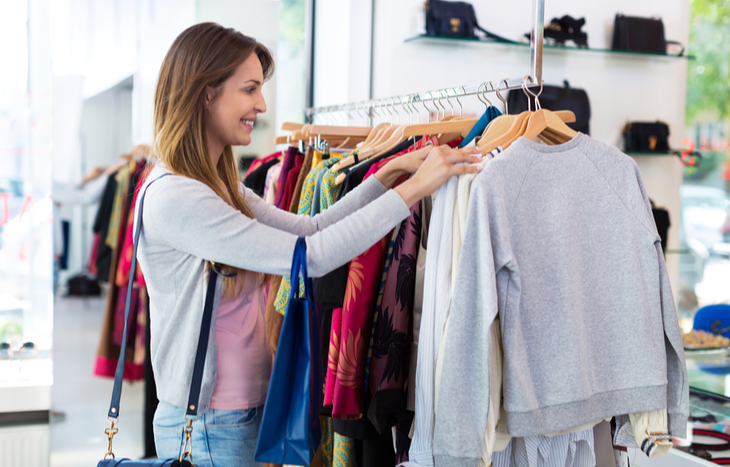 NOTE: I'm not a financial advisor and am just offering information and commentary. Please do your own due diligence before making any decisions.
Top Fashion Stocks to Buy
Nike (NYSE: NKE)
 "What's Nike?" is not a question that you're ever really going to hear someone ask. Nike might not be the first company that jumps to mind when you think of the words "fashion stocks." But there's no doubt that "athleisure" (athletic-leisure) has become the fashion style of choice for many people. This is especially true in today's world of remote work and the threat of "just one more quarantine" always around the corner.
Despite being the dominant player in the sports apparel industry with revenues close to $45 billion, Nike still grows at an impressive yearly rate. During the past 13 years, its earnings per share (EPS) has grown at a median rate of 16.9% per year.
The Nike swoosh alone was valued at over $32 billion in 2020. If you have any doubt about Nike as one of the top fashion stocks, all you have to do is visit any shoe reselling site. Some people sell Nike sneakers for thousands.
This clothing stock was hit hard at the beginning of the COVID-19 crisis but rallied to finish 2020. It's also up around a 20% year-to-date.
Louis Vuitton (OTC: LVMUY)
NOTE: This stock trades on the Paris Exchange so you need an international account to purchase it directly. You can also buy shares in the LVMUY ADR, which tracks the price of the stock.
The second company on this list of fashion stocks to buy is Louis Vuitton Moët Hennessy. If you're not familiar, LVMH owns most of the luxury brands that you know across a range of products. Its lines include cosmetics, jewelry, fashion and spirits. A few of their biggest brands are Dom Perignon, Christian Dior, Fendi, Marc Jacobs, Rihanna's Fenty Beauty, Tag Heuer, Hublot and of course Louis Vuitton. In total, it owns about 60 brands.
It's no secret that the bank accounts of the world's wealthiest soared over the past year. The Program on Inequality estimates that the world's 2,365 billionaires enjoyed a $4 trillion boost to their wealth during 2020.
Over the next couple of months and years, these billionaires are going to be looking for places to spend their newfound wealth. And when they do, they might turn to LVMH products. Since the profit margins on luxury items are incredibly high, this surge in spending could boost LVMH's bottom line.
While this luxury fashion stock took a hit at the beginning of the pandemic, it rallied to finish 2020. It's also up more than 20% year-to-date.
Lululemon (Nasdaq: LULU)
The third of the top fashion stocks to consider buying is another athleisure company, Lululemon. It was a surprise beneficiary of the pandemic. Since everybody was stuck at home most of the year, many people opted for Lululemon's comfy workout gear over khakis or jeans. This resulted in a 92% spike in online sales for Lulu during the 4th quarter of 2020.
Lululemon's business has been growing consistently for years. Its revenues have been creeping up by an average of 16% annually over the past five years (even taking the pandemic into account).
Also, while Lululemon has traditionally been more "leisure" than "athlete," it's starting to pull athletes away from competitors like Nike. The olympian runner Colleen Quigley is one athlete who recently made the jump from Nike to Lululemon. She said that Lululemon valued her more as a person and not just a transaction.
This apparel stock is also investing into Environmental, Social and Governance (ESG) projects. This is something more investors are paying attention to. To do this, it recently invested in Genomatica to create plant-based nylon for their apparel.
Lululemon enjoyed a run of roughly 50% during 2020 and is up close to 15% year-to-date.
Tapestry (NYSE: TPR)
The final pick of the top fashion stocks to consider buying is Tapestry. It owns Coach, Kate Spade and Stuart Weitzman. Prior to the pandemic, Tapestry was reporting consistently increasing yearly revenues. However, this clothing stock has definitely had some highs and lows over the past decade or so.
The main story right now with Tapestry is the potential resurgence of its Coach brand. Just like Champion sweatshirts used to be $10 at Walmart but are now $45 at Urban Outfitters, Coach bags could be undergoing the same transition.
Coach handbags used to be incredibly popular but have fallen out of favor in recent years. However, it appears that the tide is beginning to turn again.
For evidence of this, we have to take a look at social media where the hashtag #CoachComeback is trending. Mainly, the hashtag has been trending on TikTok where it's been used in just under 80,000 videos. Users are creating videos praising the brand's new handbags. These videos have been receiving hundreds of thousands of likes and thousands of comments.
Tapestry has already reported that it's seen a strong sales rebound after the pandemic. As a result, its stock is up close to 30% year-to-date. If Coach really does make a comeback then it could be a huge tailwind for Tapestry's sales.
I hope that you've enjoyed this brief list of a fashion stocks to consider adding to your portfolio. If you're looking for more investing opportunities, consider some of these industries and stocks…
You can also sign up for Liberty Through Wealth below. It's a free e-letter that's packed with investing tips and tricks. You'll hear directly from bestselling author and investment expert Alexander Green. He's also worked as an investment advisor, research analyst and portfolio manager on Wall Street for 16 years.
---
A University of Miami grad, Teddy studied marketing and finance while also playing four years on the football team. He's always had a passion for business and used his experience from a few personal projects to become one of the top-rated business writers on Fiverr.com. When he's not hammering words onto paper, you can find him hammering notes on the piano or traveling to some place random.