Growth stocks have been a popular discussion among Wall Street for years. In fac, many investors are wondering what the current fastest-growing stocks are. Growth stocks have soared for more than a decade. And specifically, low interest rates play a major role in its success. This has allowed them access to cheap capital that many have put towards new hires, acquiring businesses and innovation for the future.
When selected carefully, you can make bigger returns than you'd imagine over the years. So far this year, growth stocks have done extremely well. The momentum regarding these stocks is back for two reasons: investors think the reopening trade might be topping out, and growth stocks are looking more appealing from a valuation standpoint than they did before.
Growth stocks, at least in the near-term, should continue to thrive. Therefore, lets take a look at some of the fastest growing stocks…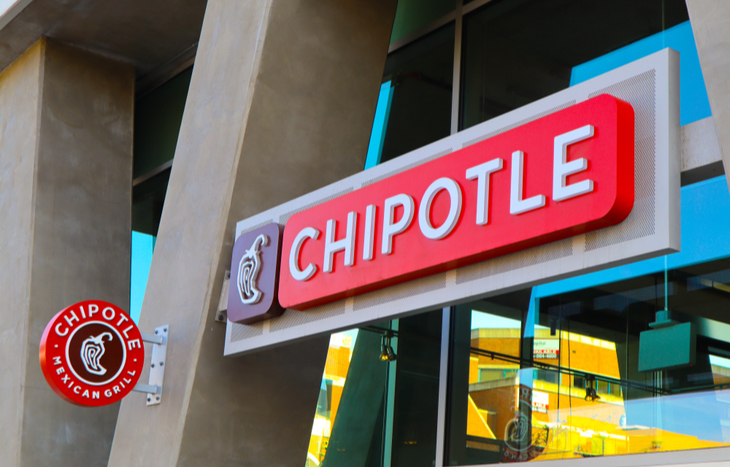 Fastest Growing Stocks to Invest In
Chipotle Mexican Grill (NYSE: CMG)
Chipotle has done exceptionally well this year. This fast-casual restaurant chain has now surpassed $2 billion in digital sales this year alone. Digital sales account for 48.5% of the company's total sales, which is up 19.6% from 2019. The stock is up nearly 40% this year. And its mobile app and loyalty program can be credited for much of its success.
The fan loyalty program is a way for Chipotle to retain its customers. Its rewards members receive ten points for every $1 spent either online or on the app. This program has proved extremely successful and is a way to reward those who have stuck by them through the ups and downs. Chipotle has more than doubled its rewards members since the start of the pandemic.
According to Tressie Lieberman, Vice President of digital marketing, the company just launched a new way for its rewards members to unlock extra points. This will result in members getting "free Chipotle faster." Companies are always looking to better its relationship with customers so they don't flee to delivery services such as Uber Eats and DoorDash.
Chipotle's mobile app features personalization aspects where customers are given challenges to earn more points. For example, customers can get bonus points for adding guacamole to an order. The company's continued innovation and creative ways of obtaining and retaining customers are what make them stand out amongst competitors.
Chipotle has mastered the customer experience and paired with its continued success and profitability, it's no wonder why it's considered to be one of the fastest-growing stocks.
Square Inc (NYSE: SQ)
Square is an American financial services and digital payments company based in San Francisco, California. The company allows Cash App users to make in-store payments with mobile wallet. It recently announced the launch of its Square Register hardware. This new hardware could result in huge success as it will bring in larger sellers in the key international market.
The company recently acquired Afterpay for $29 Billion in an all-stock transaction. Square CEO, Jack Dorsey, stated that "Square and Afterpay have a shared purpose. Square was built in the hopes to make the financial system more fair, accessible, and inclusive. And Afterpay has built a trusted brand aligned with those principles." The "buy now, pay later" space has been a hot topic as of late due to people favoring online purchases.
Square started out with a little Square device that plugged into the headphone jack of the mobile device. You swiped it through and it immediately provided the seller with the credit card payment and the seller was made immediately aware that the payment was being processed. This life-changing technology has made receiving payments effective, simple, and almost instant.
Square has grown considerably over the years. Its success can be attributed to understanding the needs of sellers and how a variety of solutions is key. This seller ecosystem helps sellers sell, run, and grow their business. In the past year, Square's total return of 76% surpasses that of rival PYPL and the S&P 500.
Since the start of the pandemic, consumers have favored contactless payment methods. This top-requested feature will only continue to benefit Square. With its continued growth, innovation, and determination to understand the needs of sellers and consumers, many investors are adding it to their fastest growing stocks list.
Dicks Sporting Goods (NYSE: DKS)
Dick's Sporting Goods is the largest sporting goods retailer in the US. Laruen Hobart, CEO of Dick's, recently echoed a current theme amongst many retailers. The theme right now is widening margins. Recently, there's been a huge increase in consumer spending. Companies are now starting to learn how to operate a more efficient e-commerce business. Hobart recently stated that Dick's Sporting Goods is not only selling more outdoor items and activewear, it's found a successful method for driving up profits.
Dick's Sporting Goods CFO, Lee Belitsky, recently stated that profits from online sales are now equivalent with typical store sales. A large part of those profits is a direct result of customers redeeming their online purchases at the store or in the parking lot. This has definitely caught the attention of many investors. Dick's shares reached an all-time high of $134.80 last week. It became the latest retailer to beat Q2 earnings expectations and raise its forecast. The company's quarterly sales rose by 21%, and profits soared by nearly 80%.
According to Hobart, Dick's Sporting Goods has really polished its promotions. The company has been able to monitor and adapt to the ever-changing trends by cutting or raising prices almost instantly. It definitely has a leg up in the industry due to its more exclusive merchandise, such as its new men's athleisure line, to avoid competing only on price. Higher profits can continue for what many call one of the fastest-growing stocks, if it continues to cater to what the customers want.
Ross Stores (Nasdaq: ROST)
Ross Stores is a leading American off-price apparel and home fashion retailer. It operating over 1,850 stores across the Ross Dress for Less and dd's Discounts banners. The company offers a variety of name-brand products at bargain prices. Its items cut conventional retailers' prices by 20%-70%. The company's simple yet effective shopping experience and flexible merchandising approach has served it well throughout the years. Its low-price approach has continued to result in immense success.
Earnings per share have been consistently growing, which is why it's on many investors lists as being one of the fastest-growing stocks. In fiscal 2020, the company reported sales from its five major departments:
28% from home accents
23% from the ladies' department
14% from each of men's and accessories
12% from shoes
9% from the children's department.
Ross reported solid results for Q2 of this year, beating the Zacks Consensus Estimate. Its positive returns reflect consistent customer demand, accelerated vaccination rates, government stimulus payments, and the decline of COVID-19 restrictions. Shares of Ross have increased 37.6% in the past year compared with the industry's growth of 36%.
The leading American off-price apparel and home fashion retailer has seen such a positive return on sales due to its broad-based growth across all merchandise categories and regions. In fiscal 2021, the company expects to open nearly 65 new locations. Ross also intends to open about 100 stores in fiscal 2022. Management's anticipation and expectation regarding Ross's growth and ability to thrive is reason enough why many believe it is one of the fastest-growing stocks.
Atkore (NYSE: ATKR)
As a manufacturer and distributor of electrical raceway products, Atkore is a leader in its industry. It was founded in 1959 and is based in Harvey, Illinois. The company also produces and sells many different products including electrical conduits, metal framing, mechanical pipes, and modular support structures. Its capital turnover is better than 87.84% of US listed stocks. And over the past twelve months, it's reported earnings growth of 167.7%.
Atkore is the domineering supplier of an array of products used in construction and infrastructure projects. Atkore uses this to its advantage by increasing revenue which has resulted into explosive earnings growth. The stock has continued to remain attractively valued which has grabbed the attention of many investors.
The company has plans to continue its growth through acquisitions. Earlier this year, Atkore acquired FRE Composites Group, a leading manufacturer of fiberglass conduit solutions for the electrical, transportation, telecommunications, and infrastructure markets.
Its business has skyrocketed over the past year thanks to the recent recovery in industrial activity and the housing market. This has benefited Atkore's stock from a growth and value perspective. The boom in housing and infrastructure is expected to grow in the months and year ahead. And because of this, analysts believe Atkore's earnings will increase in 2022. So, it's no wonder why many are adding this name to their list of fastest growing stocks.
 Fastest-Growing Stocks for Your Portfolio
Growth stocks have not only been a popular discussion among Wall Street, they've been a hot topic among some of the best trading experts. Trading guru's Bryan Bottarelli and Karim Rahemtulla write about them in Trade of the Day, their FREE e-letter. To ensure you don't miss out on the next trading opportunity, enter your email address below to sign up today! You can learn more abou the dastest growing stocks, options trading, market trends and much more!
---