FedEx (NYSE: FDX) stock is an investment that is not usually front-of-mind for many people. This is an overlooked opportunity and that's why I'm sharing a FedEx stock forecast today.
You might see a truck go by on the interstate in either the orange and purple logo or the green. You might receive a package from them, but for me anyways it's a rare occurrence.
Despite its seeming elusiveness, FedEx is a huge company with many divisions.
Below I'll go into more depth about whether FedEx is a good investment.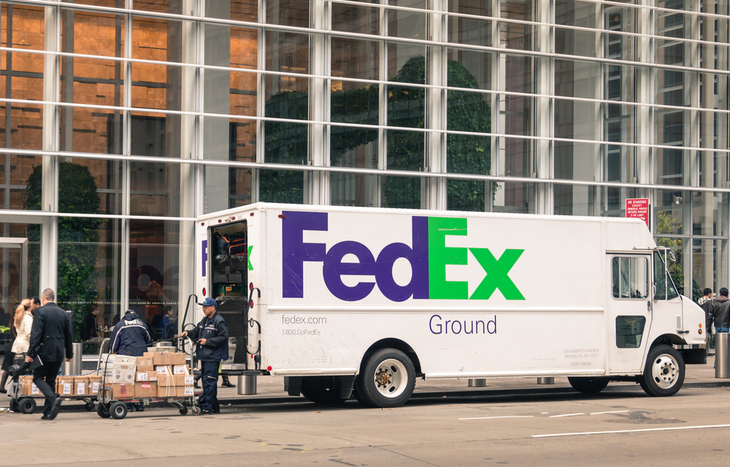 FedEx Stock Forecast – Company Intro
FedEx is primarily a shipping company. That's what it's best known for. It offers a variety of print, design and promotional products, too.
It has many different branches, which headquarter in various places around the U.S. But it's mostly in Memphis, Tennessee.
The company has been innovative, with a focus on time-sensitive shipments. It was the first company to offer online tracking and online shipment processing. And FedEx is still innovating today, using robots and drones to deliver packages.
The statistics on its website are very impressive. It connects 99% of the global GDP and has an average daily volume of 18 million packages. That last stat goes for the FedEx Corporation alone.
FedEx has separated into seven different branches. Each one handles a different body of work.
FedEx Corporation caters more to businesses. FedEx Express handles air-ground time sensitive packages. There are five others that each have a different role. There's FedEx Services, FedEx Ground, Freight, Office and Logistics.
Also, each one has a different color logo. Which explains the orange and green differences you see on the highway. Apparently, that actually means something.
FedEx Stock Observations
Going into 2020, FedEx stock was in the midst of a bear run. Then COVID hit and brought the stock price soaring. It hit its peak at the end of May 2021. From its lows at the start of the pandemic to its high, it rose about 200%.
Since then, it's been correcting and declining. But it's still much higher than it was a year and some months ago.
Trading Volume
FedEx stock volume has remained steady, with a gradual spike happening last year. Since then, volume has declined. That isn't to say it won't come back up again soon. It very well may do so, especially with all the new employees and workers coming in before Christmas. As it gets closer to the holidays, I expect volume to rise again.
As mentioned, FedEx is often overlooked, along with its industry. Although, there are many industries and investments like this that have produced great returns for investors. For example, check out these top fast food stocks and travel stocks.
FedEx Financial Health
FedEx's total debt comes in close to $40 billion. Don't be alarmed, though. It also has close to $83 billion in total assets. With these numbers a debt-ratio comes in below 0.5, which is solid.
In the transportation industry, the average ratio is around 0.6. Investors usually look for companies with 0.3 to 0.6, so FedEx is well within this range.
For May of 2021, FedEx reported over $22 billion in sales and close to a $2 billion net income. This gives it a healthy net profit margin of 8.28%.
There was a study done by New York Stern's School of Business. It confirmed the average American transport business brings in 3.88% in net profits. FedEx is flying very high this year with its 8.28%.
Its revenue, net income, diluted EPS, net profit margin, operating income and cash on hand are all up in very healthy amounts.
There are two "negatives" that I see from a quick look at its recent financial report. One is that the cost of revenue has gone up by 10%. The other is that the "net change in cash" says it has $1.77 billion less than the last year.
These are not necessarily bad, though. You also must think about its recent great profit margins. And the fact that it's growing its team like crazy.
Paired together, these two factors most likely mean it's expanding and reinvesting. Which is a good thing. I assume these two changes are directly related to its preparation and onboarding of 90,000 new employees this year. That number is almost 30% higher than last year's number of new workers.
FedEx Stock News
FedEx has recently paired up with Salesforce. It plans to create an end-to-end e-commerce solution. And it expects it to be ready by Spring of 2022. It wants to improve customer experience, while allowing businesses to easily handle inflated demand. This is a key consideration that plays into a FedEx stock forecast.
Like I said earlier, FedEx also plans to hire 90,000 new employees before Christmas. Last year, it onboarded 70,000 new workers. So, it is really taking advantage of the momentum from COVID. It's adding around 30% new hires this year over last.
In the past couple of years, sometime in 2019, FedEx and Amazon decided not to renew its contract. The contract was for FedEx to deliver packages for Amazon. I'm not sure who initiated ending the relationship.
FedEx saw that Amazon was trying to compete with them. It started to deliver its own packages and provide its own ground shipping. Amazon was a small piece of FedEx's entire business puzzle, though. So, FedEx is not suffering because of that.
It may also just be a peaceful transition. One where FedEx knew Amazon would want to provide its own shipping. And so, FedEx helped Amazon until it could handle things on its own.
Either way, I highly doubt FedEx is suffering.
One cool thing that happened in 2016. FedEx went into an agreement with Red Rock Biofuels to buy alternative jet fuel made from wood waste. Exploring different energy sources like this might help lower costs over time.
Is FedEx Stock a Good Buy Now?
FedEx stock is on a correction right now. The company has visions for the future, and it has a history of innovation and success.
Right now, FedEx gets an average hold rating from many analysts. It's still well above its pandemic lows and the recent pullback makes it a better value opportunity. It has a current P/E ratio of 13. The industry average is close to 17.
It may be wise to watch it for a bit and see what happens. If it goes down, it may present a great buying opportunity. If the stock goes up, it might be smart to hold off a bit and wait for a bigger decline.
The company is aggressively expanding, though. And it will only have more revenue coming in before the holidays, and when the holidays hit.
Another thing to keep in mind is that you won't always get "the perfect price" on a stock. If a company has had great success in the past, it will likely continue to have great success in the future.
And FedEx has indeed had great success in the past. If you're looking for more investing opportunities, sign up for Wealthy Retirement below. It's a free e-letter that's packed with tips and tricks. You'll hear from one of the best income experts, Marc Lichtenfeld. He literally wrote the book on how to get rich with dividends.
---
Vanessa Adelman graduated with an Interdisciplinary degree. She majored in Entrepreneurship, Painting, Music and Film. Shortly after, she received a copywriting mentorship with Mark Morgan Ford. Then, she earned her AWAI Verification. Now, Vanessa freelances in the financial direct response industry. She's been investing since 2016. In her free time, she enjoys books about money and wealth. She loves being with her boyfriend, hunting, fishing and going on outdoor adventures.