On this day two years ago, the stock market hit a low as pandemic fears were soaring. Since then, the S&P 500 Index (SPX) is up over 100% as the Federal Reserve (Fed) eased the economy back. But, with the Fed reversing its stance from pro-growth to taming inflation, the market is undergoing a rotation. That said, it's time to start looking at the top financial stocks to buy this year.
Financials are the only other sector positive YTD (with energy stocks) as the Financial Select Sector SPDR ETF (NYSE: XLF) holds on by 0.25%. Although a quarter percent may not seem like much, a positive return looks attractive compared to the SPX down 6%.
Furthermore, businesses in the financial sector generally benefit from rising interest rates. Finance companies can pass higher costs onto customers despite higher rates promoting less economic activity.
With the Fed planning seven rate hikes this year, is now the time to invest in finance? Keep reading to discover the top financial stocks to buy this year to grab your share of the returns.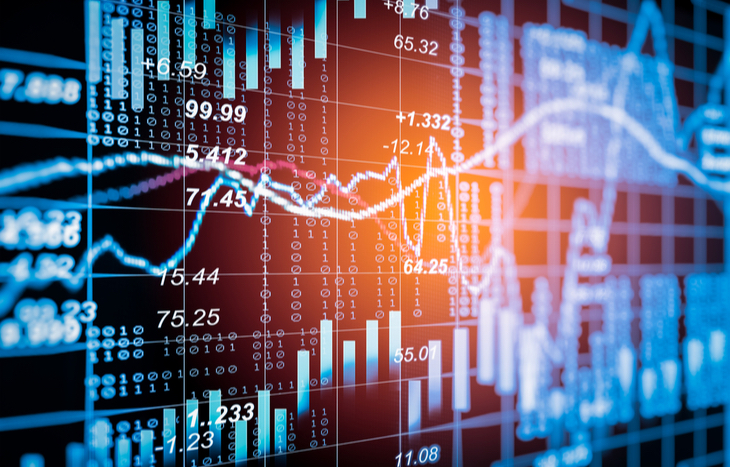 Best Financial Stocks to Buy In 2022
The financial industry is appealing to investors with above-average dividends and some of the strongest valuations in the market. For example, the XLF ETF has a Price/Earnings of 13.24, which is lower than all sectors except materials.
And when you factor in free cash flow (FCF), the results are even more noticeable. With this in mind, here are the top five financial stocks to buy this year.
Wells Fargo (NYSE: WFC)
Charles Schwab (NYSE: SCHW)
Goldman Sachs (NYSE: GS)
MetLife (NYSE: MET)
Berkshire Hathaway (NYSE: BRK.B)
To explain why these companies earned a spot, I will cover each individually.
No. 5 Wells Fargo
Market Cap: 6B
Dividend Yield: 1.87%
Sub-Industry: Banks-Diversified
Wells Fargo is one of the biggest banks in the U.S., with over $82.9B annual revenue. The firm's services include banking, investing & wealth management, commercial loans, and investment banking.
Although Wells Fargo has had its fair share of struggles over the years, it looks to be getting back on track. Nonetheless, WFC's revenue reached $20.9B in the fourth quarter, up 13%. But, the biggest takeaway from the earnings report is the improving efficiency ratio.
A bank's efficiency ratio (Expenses/Revenue) shows how well the firm controls its expenses. For example, Wells Fargo achieved 63% efficiency in Q4, compared to 71% in Q3 and 80% in Q4 2020.
Even though WFC carries extra risk, the company's fundamentals are trending in the right direction under new leadership. And this is generally what investors seek when looking for financial stocks to buy.
No. 4 Charles Schwab
Market Cap: 2B
Dividend Yield: 87%
Sub-Industry: Investment Banking & Brokerage
Most people can recognize Charles Schwab by either its bright blue logo or one of its many marketing campaigns. The company seamlessly passes through generations of investors with attractive offerings and innovative solutions.
With the company's latest acquisition of TD Ameritrade, Schwab now has over 33.4 million active accounts.
Schwab is recording 6.6 million daily average trades despite the ongoing market risk. On top of this, rising interest rates should boost the firm's net interest margin, a major revenue source.
With this in mind, the company's strong branding, tech-savvy services, and ability to scale contribute to solid growth.
No. 3 Goldman Sachs
Market Cap: 59B
Dividend Yield: 33%
Sub-Industry: Investment Banking & Brokerage
Goldman Sachs is another notable name in investment banking and brokerage services. In fact, with over $14.88 billion investment banking revenue, GS ranks number one worldwide.
Furthermore, with over $2.5T in assets under supervision (AUS), Goldman is one of the largest active asset managers globally.
And lastly, Goldman is about as fair valued as they come in the market right now. With a P/E of 5.65, GS is among the most undervalued stocks. Even more so when you factor in the firm's growth. Goldman's top line has grown YOY for the past seven quarters, leading to a low PEG of 0.49. Compared to its peers, Morgan Stanley (NYSE: MS) at 2.02 and Raymond James (NYSE: RJF) at 1.74, GS is at a fair value.
Keep reading to discover the top financial stocks to buy this year.
No. 2 MetLife
Market Cap: 5B
Dividend Yield: 73%
Sub-Industry: Insurance
When many stock sectors are selling off, insurance can be a great hedge in a risk off-market. For example, the iShares U.S Insurance ETF (NYSE: IAK) is up 8%, while many popular stocks are down over 20% from their highs.
Moreover, MetLife is the largest life insurer in the U.S with other products, including health, auto, home, etc. Not only that, but the company offers other financial services such as benefits, annuities, and investment management.
And lastly, after streamlining its business, MetLife is on track for stable earnings growth. In the fourth quarter, net investment income advanced 25% YOY while EPS soared 29% from 2021.
Financial Stocks to Buy No. 1 Berkshire Hathaway
Market Cap: 1B
Dividend Yield: N/A
Sub-Industry: Insurance-Diversified
Not many know value better than the man running Berkshire Hathaway. Warren Buffett's Berkshire is up 16% this year, while the S&P 500 Index is down 6%.
For one thing, Berkshire offers investors a diverse portfolio of essential services capable of growth in most economic conditions. With this in mind, Warren's company operates in seven categories.
Insurance: Underwriting
Insurance: Investment Income
Railroads
Energy & Utilities
Manufacturing
Consumer Products
Service & Retail
If you ever wanted to own a piece of all of these, you can with Berkshire. Even more, the company owns several businesses, including Geico, Duracell, BNSF Railways, etc.
Although Berkshire does not pay a dividend, the firm uses the cash to invest and create long-term value. Evidently, the strategy is working. In its 2021 annual report, BRK notes compounded annual gains (1965-2021) of 20.1%. Compared to the S&P 500 of 10.5%, the holding company has almost double the performance.
How These Financial Stocks to Buy Are Set to Outperform
Many investors have neglected the financial sector since the global financial crisis. But earnings, net income, and balance sheets have improved dramatically since then.
We are seeing the strength today as these same banks are a significant part of the economic recovery. By reducing risk and strengthening balance sheets over the years, banks can extend credit, cut costs and boost government programs.
At the same time, the valuations are not keeping up with the impressive growth. Even though financials often pay generous dividends, they are still managing earnings growth.
With interest rates set to rise, these are some of the top financial stocks to buy to take advantage of the low-value, high-growth opportunity. At the moment, Financials look like one of the best risk-to-reward market scenarios.
And lastly, financials are one sector to buy, see other ideas of what stocks to buy when interest rates rise.
---