The Forma Therapeutics IPO launched on the Nasdaq market. It hit less than a month after the company filed with the SEC. And as more and more biotech companies successfully go public, Forma Therapeutics stock could be the next hit.
But is it a good investment opportunity? Here's what we know…
Forma Therapeutics IPO: The Business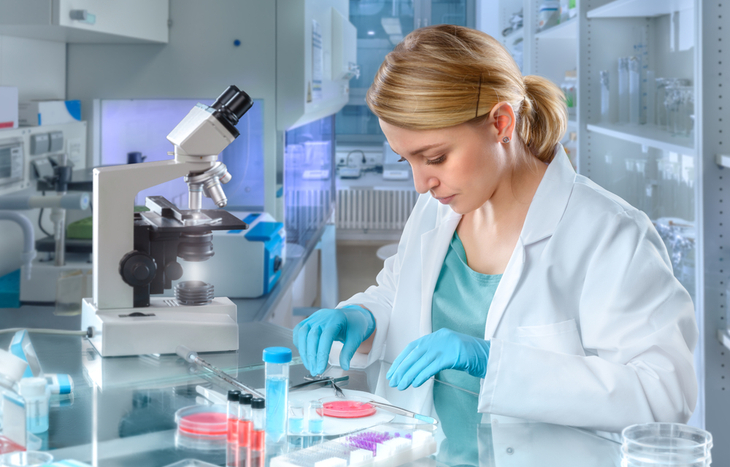 Forma Therapeutics is a biopharmaceutical company. It aims to develop and commercialize novel therapeutics to help patients with rare hematologic diseases and cancers. The company's focuses are sickle cell disease (SCD) and prostate cancer.
In 2019, Forma reorganized, filing to change from a limited liability company to a corporation. The company also named Frank Lee CEO. Lee has experience running the global development and commercial strategy for Genentech's immunology, ophthalmology and infectious disease divisions. Forma's chief medical officer is Patrick Kelly. He's been with the company since 2016.
Now the company wants to take its research to the next step. It hopes the money raised in the Forma Therapeutics IPO will help. Let's look at what it will go toward…
Forma Therapeutics Stock Funds Clinical Trials
Forma's lead product is FT-4202. It's an oral, once-daily therapy treatment for SCD. SCD is one of the most common single-gene disorders in the world. It can cause low hemoglobin levels (iron-containing protein in red blood cells), multi-organ damage and even early death.
In 2019, Forma completed the healthy volunteer portion of a study on FT-4202. The company reported on the treatment's impact on healthy volunteers. Currently, FT-4202 is in a placebo-controlled Phase 1 trial in SCD patients ages 12 and older. Forma aims to move into Phase 2/3 trial in the first half of 2021. Proceeds from the IPO will help the company complete Phase 1.
Another of the company's products is FT-7051. It's in preclinical development for the treatment of prostate cancer, the second leading cause of death for men in the U.S. Prostate cancer cell growth is driven by androgen receptor activity, which Forma's treatment aims to inhibit. Studies have shown that almost all patients eventually develop resistance to the treatment. This is a big obstacle for Forma.
In April 2020, Forma Therapeutics received approval from the FDA for its investigational new drug application. Forma plans to start a Phase 1 trial in the fourth quarter of 2020. Proceeds raised in the Forma Therapeutics IPO will help the process.
Other biotech companies are also working on clinical-stage drugs for these conditions. They include Constellation Pharmaceuticals (Nasdaq: CNST), Imara (Nasdaq: IMRA) and Bluebird Bio (Nasdaq: BLUE).
And competition is only some of the risk involved in investing in Forma Therapeutics stock.
The Risks of Investing in Forma Therapeutics
In the company's prospectus, there is a section called "Risks Associated with Our Business." And the list isn't short. Below is a summary of the risks Forma identified for investors:
Hasn't generated revenue from drug sales to date and may never be profitable
Has significant operating losses and estimates losses will continue
Needs funding in addition to Forma Therapeutics IPO proceeds to prevent delays and discontinuation of products
Relies on top products, which may not get regulatory approval
Will be subjected to continued regulatory review, which may raise expenses, if it receives approval for any product
Relies on third parties for clinical trials
Could experience manufacturing difficulties
Possible inability to obtain patent and other intellectual property.
The company relies on producing approved treatments, which takes a lot of time and money. But the good news is that Forma's operating expenses are going down. In 2018, the company had $154 million in operating expenses. That number went down to $141 million in 2019. And according to the company's financial data, it's projected to go down to $129 million for 2020.
On the other hand, the company's collaboration revenue is also decreasing. In 2018, it was $164 million. And in 2019, it was $100.5 million. The company has no reported revenue for the three months ended March 31, 2020. But investors hope the trend doesn't continue.
For more detailed financial data on Forma Therapeutics, you can go to the company's prospectus here.
Forma Therapeutics stock has hit the market. But when did it launch? And how did it perform?
Forma Therapeutics IPO: Stock Trades on Nasdaq
On June 18, 2020, Forma priced its IPO at $20 per share. This was above the original range of $16 to $18. Underwriters exercised their over-allotment option for a total offering of nearly 13.9 million shares. As a result, Forma Therapeutics raised almost $278 million.
The company started trading on Friday, June 19, 2020. Its stock trades on the Nasdaq under the ticker symbol FMTX.
If you're looking for the latest investment opportunities, Investment U is the place to be. Sign up for our free e-letter below! It's full of useful tips and research from our experts. Whether you're a beginner or an experienced investor, there's something for everyone.
Forma Therapeutics stock closed at $39 a share on Friday. That's a 95% return on its first-day trading. And it means the Forma Therapeutics IPO was a success.
---
Amber Deter has researched and written about initial public offerings (IPOs) over the last few years. After starting her college career studying accounting and business, Amber decided to focus on her love of writing. Now she's able to bring that experience to Investment U readers by providing in-depth research on IPO and investing opportunities.