Warren Buffett doesn't like gold… at least not as an investment. "It doesn't do anything but sit there and look at you," the Oracle of Omaha has said. And while he's been proven right that equity markets outperform gold long term, those who picked the right gold stocks to buy have seen outsized returns this year.
While the tech sector has been grabbing the lion's share of the headlines, gold has outperformed every major asset class.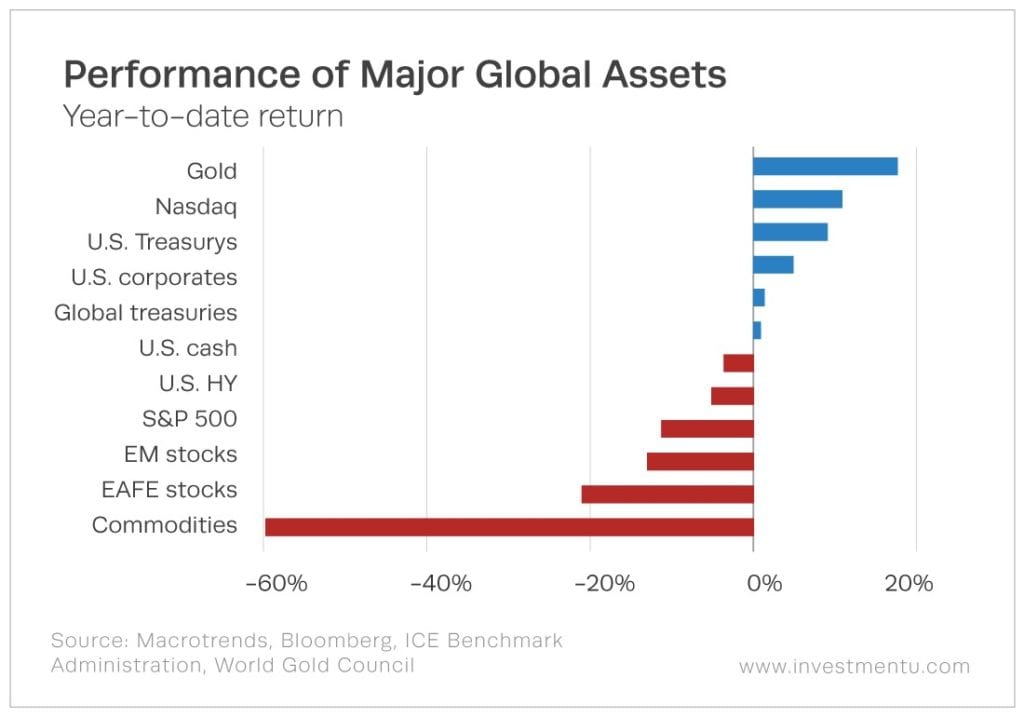 That may not be surprising considering the price of gold is floating around an all-time high. But the fact that many gold stocks have been outpacing the meteoric rise of the actual precious metal is. And with an economy on the precipice, it stands to reason that the price of gold will continue to rise.
That's because gold is one of, if not the, classic safe-haven investments. When markets are in turmoil, investors flee to the security of gold. One of the many reasons is that it's a physical commodity. And the Federal Reserve can't manipulate it by printing more. It simply comes down to supply and demand – and demand is high. That means suppliers are making money hand over fist.
Now, there are lots of ways to make money from gold when prices are at or near record highs. Some folks have resorted to raiding their jewelry boxes to sell any of the precious metal they might have lying around. But there are better ways to take advantage of gold's bull run than pawning trinkets or family heirlooms – much better ways.
The Top Five Gold Stocks to Buy in 2020
Newmont (NYSE: NEM)
Yamana Gold (NYSE: AUY)
SSR Ming (Nasdaq: SSRM)
Barrick Gold (NYSE: GOLD)
Kirkland Lake Gold (NYSE: KL)
Newmont
As was mentioned earlier, when demand for gold (or anything, for that matter) goes up, those on the supply side are poised to see a healthy bump in revenue. And that's certainly been the case for Newmont.
Newmont is the largest gold mining company in the world. So it makes perfect sense that its stock price would rise alongside the price of gold. But it's managed to do much more than keep pace.
Thanks to combined assets after its merger with Goldcorp, Newmont reported a year-over-year revenue increase of 43%. Rising gold prices, combined with this merger, led to a massive spike in net income for the company as well. And the stock price has seen similar movement.
In return, Newmont rewarded investors with a 79% increase in its dividend payout. This makes Newmont's dividend yield the highest of any senior gold miner. Stability, momentum and a dividend boost make Newmont one of the top gold stocks to buy.
Yamana Gold
The coronavirus put a damper on Yamana's operations in the beginning of the year. But the company has more than rebounded since returning to full operations. Yamana recorded its highest average daily mill throughput in 2020 this past May. The pace rose so quickly that management is planning to revise its 2020 forecast for a second time later this year.
The company is using this windfall of profits in three ways. First, it's shoring up its balance sheet. The company has reduced its debt by close to 16% year over year and plans to eliminate all debts it has due by 2020.
Second, Yamana is looking to grow. The company is moving into Phase 2 after its feasibility study in Agua Rica, Argentina, found a probable 7.4 million ounces of gold. This was shortly after similarly positive Phase 2 findings in the Jacobina mine in Brazil.
Third, Yamana management has opted to raise its dividend four times in the past year. Even though this pace can't go on forever, it does suggest that the company's management will continue to explore raises going forward.
SSR Mining
This year, SSR shareholders overwhelmingly approved of its merger with Alacer Gold. And investors have been handsomely rewarded since. Two areas of trepidation around SSR were its huge overhead costs and operating expenses. But this merger will help increase cash flow while giving a big boost to its balance sheet.
This merger also increases the company's footprint. It will have operations in the U.S., Canada, Argentina and now in the Çöpler gold mine, one of the largest gold mines in Turkey. And that makes this a great gold stock to buy in 2020 before its share price rises.
Barrick Gold
Barrick had a breakout first half of 2020, surging more than 50% in share price. Naturally, some of that can be chalked up to the rise in the price of gold. After all, Barrick is one of the world's largest mining companies and most of its revenue comes from the shiny stuff it pulls from the Earth. But Barrick has also been making moves to continue its growth.
The company recently acquired Rangold Resources, which gave its revenue a healthy boost. Barrick also just wrapped up a joint venture with Newmont in what has been touted the world's largest gold producing complex in Nevada. As Barrick will control 61.5% of this venture, it's sure to see increased revenue from access to higher grade ores and more cost-effective operations in the U.S… which makes this a gold stock to consider buying.
Kirkland Lake Gold
Kirkland Lake Gold has mining operations along major gold veins in Canada and Australia. And following its acquisition of Detour Lake Mine in Canada, the company's Q2 gold output was up 54% year over year.
Now, the coronavirus outbreak did hinder Kirkland at the beginning of the year. But the acquisition of Detour Lake Mine, paired with the increased price of gold, has put the company back on track – at the very least. The company is more than on pace to meet its fiscal year guidance in 2020.
The simple fact that Kirkland remains one of the cheapest senior gold mining operations in its sector makes it a gold stock to buy in 2020. And as the price of gold continues to inch upwards, so too will Kirkland's share price.
How to Buy Gold Stocks?
Now that you have an idea about which stocks to consider adding to your portfolio, those new to the investing world might be wondering how to get started. The good news is that this is the easy part.
It all starts by opening a brokerage account, which has gotten a whole lot easier over the years. You can even start investing right from your mobile device using an investment app.
Once you've opened an account, you'll need to add funds in order to place a trade. This usually involves connecting a bank account and sending money.
Once you've got money in your account, you can search for stocks you're interested in by entering a company's ticker symbol. And once you've pinpointed the company you want to invest in, you will need to specify whether you want to execute a market order, limit order, stop-loss order or stop-limit order.
In most cases, a market order is the default. This means that shares will be purchased at the current market price. You can also set a limit order. By doing this, you specify the price you are willing to pay for the gold stocks you want to buy. But in this case, the order will not always be fulfilled.
Once your order type is set, you need to select the number of shares you'd like to buy. Then you'll have to review your order to make sure everything meets your requirements. After that, all that's left to do is submit your order.
The Bottom Line for Gold Stocks
Market volatility can scare away even the most risk-tolerant investors. So naturally, big daily swings and uncertainty are pushing more investors to hedge their investments by buying gold stocks.
And while gold prices are certainly having a good run in 2020, shares of many gold mining operations are performing even better. That's why the smart money is looking for gold stocks to buy.
But this is just the tip of the iceberg. Anyone looking for more information about investing in gold, other commodities or sectors about to break out should be sure to sign up for our free e-letter below.
Read Next: 4 Gold ETFs
---
Matthew Makowski is a senior research analyst and writer at Investment U. He has been studying and writing about the markets for 20 years. Equally comfortable identifying value stocks as he is discounts in the crypto markets, Matthew began mining Bitcoin in 2011 and has since honed his focus on the cryptocurrency markets as a whole. He is a graduate of Rutgers University and lives in Colorado with his dogs Dorito and Pretzel.