The U.S. population is aging. Baby Boomers, that vast cohort influencing economics throughout their lives, are retiring in droves. Meanwhile, healthcare is changing rapidly. Management consulting firm McKinsey & Co estimates that up to $265 billion worth of care services will shift from traditional facilities to the home by 2025. When seeking healthcare stocks to invest in, take note of these crucial changes in the healthcare landscape.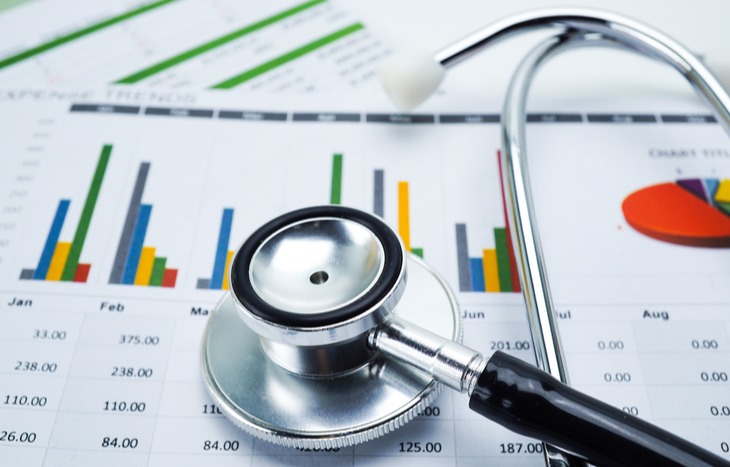 Types of Healthcare Stocks to Invest In
The best healthcare stocks to invest in depends upon your goals. Many top healthcare stocks pay dividends. This makes them suitable for income investors. This industry is growing and demographics indicate continuous growth.
Types of healthcare stocks to invest in include:
Pharmaceuticals
Biotechnology
Medical devices
Health insurance
Healthcare technology
Healthcare facilities
No. 5 CVS Healthcare (NYSE: CVS)
You are probably familiar with CVS Pharmacy's retail pharmacy chain. However, CVS Healthcare encompasses far more than that. CVS also includes Aetna health plans, CVS Caremark pharmacy benefits management and virtual care services. In addition to prescription drug coverage and a plethora of other healthcare solutions. In late 2021, CVS and Microsoft announced a "new strategic alliance focused on developing innovative solutions to help consumers improve their health."
By revenue, CVS is the largest healthcare company. It's ranked 4th on the Fortune 500 list. CVS is Headquartered in Woonsocket, Rhode Island. And it has an estimated 9,900 retail locations and more than 1,200 walk-in medical clinics. For instance, there is a CVS pharmacy within 5 miles of most Americans. In 2021, its total revenues increased to $292.1 billion. That's up 8.7 percent over 2020. In addition, for the past 101 quarters, CVS has paid dividends. Last year, its dividend increased for the first time since 2016. The company focused on debt repayment after its Aetna acquisition. That 10 percent dividend hike makes it a good choice for income investors.
Much of last year's growth was driven by the jump in foot traffic as people flocked to CVS for COVID-19 vaccinations. Still, CVS is expected to remain a stable, healthy stock, making it a great addition to this list of healthcare stocks to invest in.
No. 4 Intuitive Surgical (Nasdaq: ISRG)
Based in Sunnyvale, California,  Intuitive Surgical develops, manufactures and sells robotic surgical systems. It's Da Vinci robotic surgical system allows surgeons to sit at a console next to the patient and perform operations. The surgeons are able to do this through small incisions using minute, wristed instruments. The company "strives to make surgery more effective, less invasive and easier on surgeons, patients and their families." In 2021, Intuitive Surgical grew 28 percent compared to the previous year.
Worldwide, the company expects Da Vinci procedures to increase between 11 and 15 percent in 2022. In December 2021, Intuitive Surgical received FDA clearance for its 8 mm SureForm 30 Curved-Tip Stapler. In addition to reloads for use in a variety of surgeries.
COVID-19 had a negative impact on Intuitive Surgical. Healthcare systems focused on the pandemic and not on minimally invasive surgeries. However, that should not prove to be an issue this year.
When considering healthcare stocks to invest in, keep in mind that Intuitive Surgical has never paid a dividend. That may not make this growing company the right choice for income-focused investors.
No. 3 McKesson Corporation (NYSE: MCK)
Approximately one-third of all prescription medications used in North America are delivered via the McKesson Corporation. It's the number one distributor in community oncology. This wholesale medical supply and lab equipment giant offers pharmacy management services. In addition, McKesson provides specialty practice solutions, in fields ranging from gastroenterology to neurology. For biopharma, McKesson provides a comprehensive suite of solutions.
McKesson reported its Fiscal 2022 outlook projecting 27 percent to 33 percent forecasted growth compared to 2021. McKesson's most recent dividend amount was $0.47. In addition, it has an annual dividend yield of 0.58 percent.
No. 2 Pfizer (NYSE: PFE)
As you undoubtedly recall, pharmaceutical giant Pfizer delivered the first FDA-authorized vaccine against COVID-19. In conjunction with its partner, BioNTech, as well as the FDA-authorized oral treatment against this virus. Chairman and CEO Dr. Albert Bourla said the successes not only made a positive influence on the world but "fundamentally changed Pfizer and its culture forever." CFO and Executive Vice President Frank D'Amelio, who was retiring, said the company was performing better than at any time during his nearly 15 years there. D'Amelio's replacement, David Denton, was most recently the CFO of home improvement company Lowe's. However, he was CVS' CFO when that company acquired Aetna. And his experience in mergers and acquisitions bodes well for Pfizer. The company generated huge amounts of cash from its COVID-19 products. According to Bourla, by 2030 Pfizer should add $25 billion of risk-adjusted revenues to its top line via dealmaking.
In 2021, Pfizer's revenues were $81.3 billion, reflecting 92 percent operational growth. Revenues grew 6 percent operationally to $44.4 billion. In addition, the stock itself grew by 60 percent. Pfizer currently pays a 0.40 dividend amount with a 3.01 percent annual dividend yield. While it is unlikely that 2022 will prove a repeat performance of 2021, Pfizer is a solid stock.
Healthcare Stocks to Invest In No. 1 UnitedHealth Group (NYSE: UNH)
Based in Minnetonka, Minnesota, UnitedHealth Group is a multinational health insurance and healthcare products company. In addition, it has a vast number of subsidiaries, including:
Amil
Applied Healthcare
Golden Rule Financial Corp.
Optum
Oxford Health Plans
Surgical Care Affiliates
UnitedHealthcare
In 2021, revenues of $287.6 billion grew 12 percent year over year. Both Optum and UnitedHealthcare enjoyed double-digit growth. The company has paid dividends since 1990. Its latest dividend is $1.45 with an annual dividend yield of 1.09 percent. For long-term investors, UnitedHealth Group remains a good choice.
Healthcare Stock Considerations
Deciding which healthcare stocks to invest in means doing a lot of research. There are so many companies in the different sectors of this field. However, it's probably easiest to focus on just one segment of this huge industry. For many investors, the best bet is choosing a mutual fund or ETF specializing in specific aspects of the healthcare industry. If going the individual stocks route, look for companies at the forefront of major healthcare trends. For instance, aging, medical technology or dealing with the current epidemics such as diabetes or obesity.
---