The best hearing aid stocks are ready to take advantage of a recent FDA ruling that will provide better access to hearing devices in the United States. In fact, the Food and Drug Administration (FDA) has taken the final steps to put over-the-counter hearing aids in stores by this coming fall. Let's take a closer look at what changes are coming, why this was desperately needed and how this will affect the market.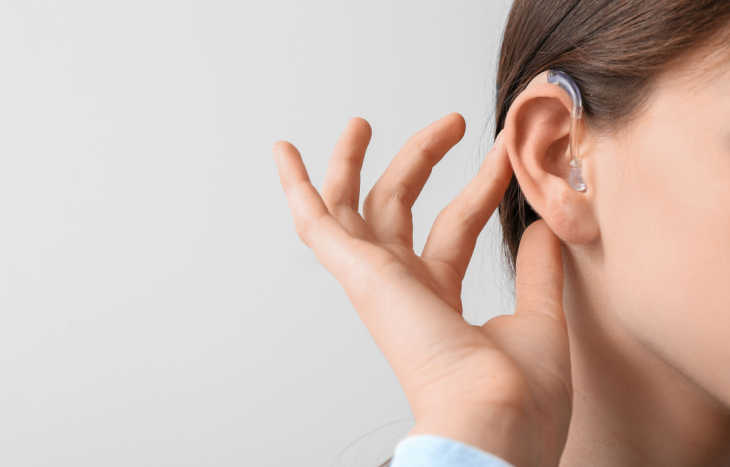 FDA Historic Ruling Overview
Specifically, 37.5 million Americans over the age of 18 report some trouble with hearing, according to the National Institute on Deafness and Other Communication Disorders (NIDCD). And only about one-fifth of these people will receive proper treatment.
This is because the cost of doctors' exams and prescription hearing aids are too expensive. In addition, most insurance policies do not cover this. And the NIDCD estimates that roughly 30 million U.S. adults could benefit from hearing aids.
This is why the recent FDA ruling will make historic changes for Americans and the best hearing aid stocks on the market.
"Today, the U.S. Food and Drug Administration issued a final rule to improve access to hearing aids which may in turn lower costs for millions of Americans," the FDA said in a press release. "This action establishes a new category of over-the-counter (OTC) hearing aids, enabling consumers with perceived mild to moderate hearing impairment to purchase hearing aids directly from stores or online retailers without the need for a medical exam, prescription or a fitting adjustment by an audiologist."
"The rule is expected to lower the cost of hearings aids, furthering the Biden-Harris Administration's goal of expanding access to high-quality health care and lowering health care costs for the American public," the FDA continued. "It is designed to assure the safety and effectiveness of OTC hearing aids, while fostering innovation and competition in the hearing aid technology marketplace."
President Biden also made a statement, saying this ruling "makes good on my commitment to lower costs for American families." And as you can see, this will give a major boost to manufactures and other companies that produce accessories or components. Let's take a look at a few companies that are set to benefit the most.
Best Hearing Aid Stocks to Invest In
The best hearing aid stocks will be able to meet the new demands for over-the-counter devices. And these companies will be ready to do this quickly. For example, you may want to keep a close watch on the following companies:
Eargo Inc. (Nasdaq: EAR)
Knowles Corporation (NYSE: KN)
Sonova Holding ADR (OTC: SONVY)
Each of these companies are industry leaders in manufacturing hearing aids or the components for them. Below, I'll breakdown each one a bit further to give you better insights.
Eargo Inc.
Eargo is a hearing aid manufacturer in San Jose, California. And while it is a penny stock trading around $2 per share, it's set to benefit from the new ruling. In fact, it was trading for more than $70 per share in early 2021 before the market downturn.
Eargo is "reimagining what hearing wellness looks like" with virtually invisible hearing aids. Therefore, you can expect this company to remain as one of the best hearing aid stocks due to its design, recent innovations and patient-first mentality.
Knowles Corporation
Knowles Corporation makes electronic components for hearing aids. The company also makes products for Internet of Things (IoT) devices, mobile devices, headphones and more.
Knowles may play a bigger role in the over-the-counter market as more companies dive into hearing aid production. Providing components gives this company a head start on the FDA ruling.
This stock is currently trading around $16 per share. And while market volatility is high, Knowles stock has remained relatively stable. Therefore, it's one of the best hearing aid stocks to invest in right now.
Sonova Holding ADR
Sonova is the world's largest manufacturer of hearing aids. It's a Swiss company that holds more than 20% of the global hearing aid market in sales. Sonova develops and markets its own hearing aids, cochlear implants and wireless communication devices compatible with their hearing devices. Furthermore, it has research facilities in the U.S. and Canada.
Sonova is an over-the-counter stock. This means it has less regulation and more risks for investors to consider. OTC markets are not subject to the same standards as formal exchanges such as the NYSE or Nasdaq. Nevertheless, it's trading for $60 per share with a 52-week high of $87.61.
Investing in Hearing Aid Stocks
Access to hearing aids has become a growing problem in America. And until now, the problem was only getting worse. However, this FDA ruling will make an immediate impact on the lives of millions of Americans. It will also give a boost to the many companies who manufacture these products and sell them.
To learn more about the current market and potential investment opportunities, you may want to sign up for one of the best investment newsletters. These daily e-letters give readers expert insights, chart pattern analysis, trends and much more.
Overall, the best hearing aid stocks are preparing for higher sales in the years ahead. This FDA ruling is a historic event, and investors will be looking to enhance their portfolios as a result.
---