The American dream of owning a home is still alive and well. But the housing market and entire economy are under pressure. That's why I'm sharing some insight into the market today, as well as the best home builder stocks.
As interest rates climb and the stock market drops, now might be one of the better buying opportunities. In the words of Warren Buffett, "be fearful when others are greedy and greedy when others are fearful." With that in mind, let's dive into some big trends…
Housing Starts and Shortage
After the housing bubble burst and the Great Recession took hold, new housing starts hit low levels. This was the lowest we've seen in more than a half century…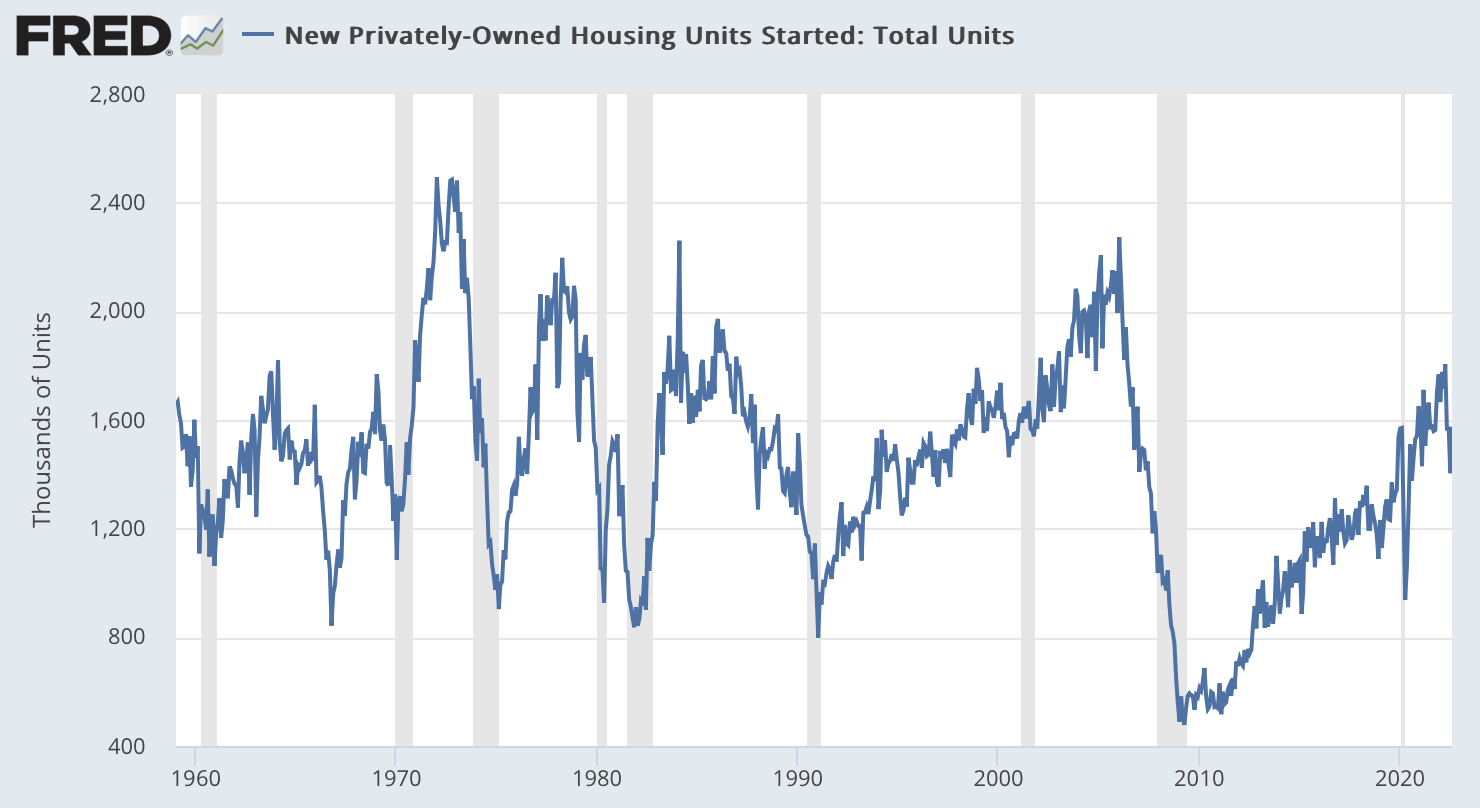 As a result of building fewer homes, supply couldn't keep up with demand. There's been a rebound in housing starts, but over the past decade it's still well below the average.
For this reason, along with better lending standards, we won't likely see a collapse in home prices anywhere close to the past housing crisis. And this bodes well for the best home builder companies.
However, investors have still sold off the best home builder stocks. Higher interest rates are lowering the demand from potential homebuyers…
Higher Mortgage Rates Eliminate Buyers
The 30-year fixed mortgage rate has more than doubled over the past year. It's also the highest we've seen in more than a decade…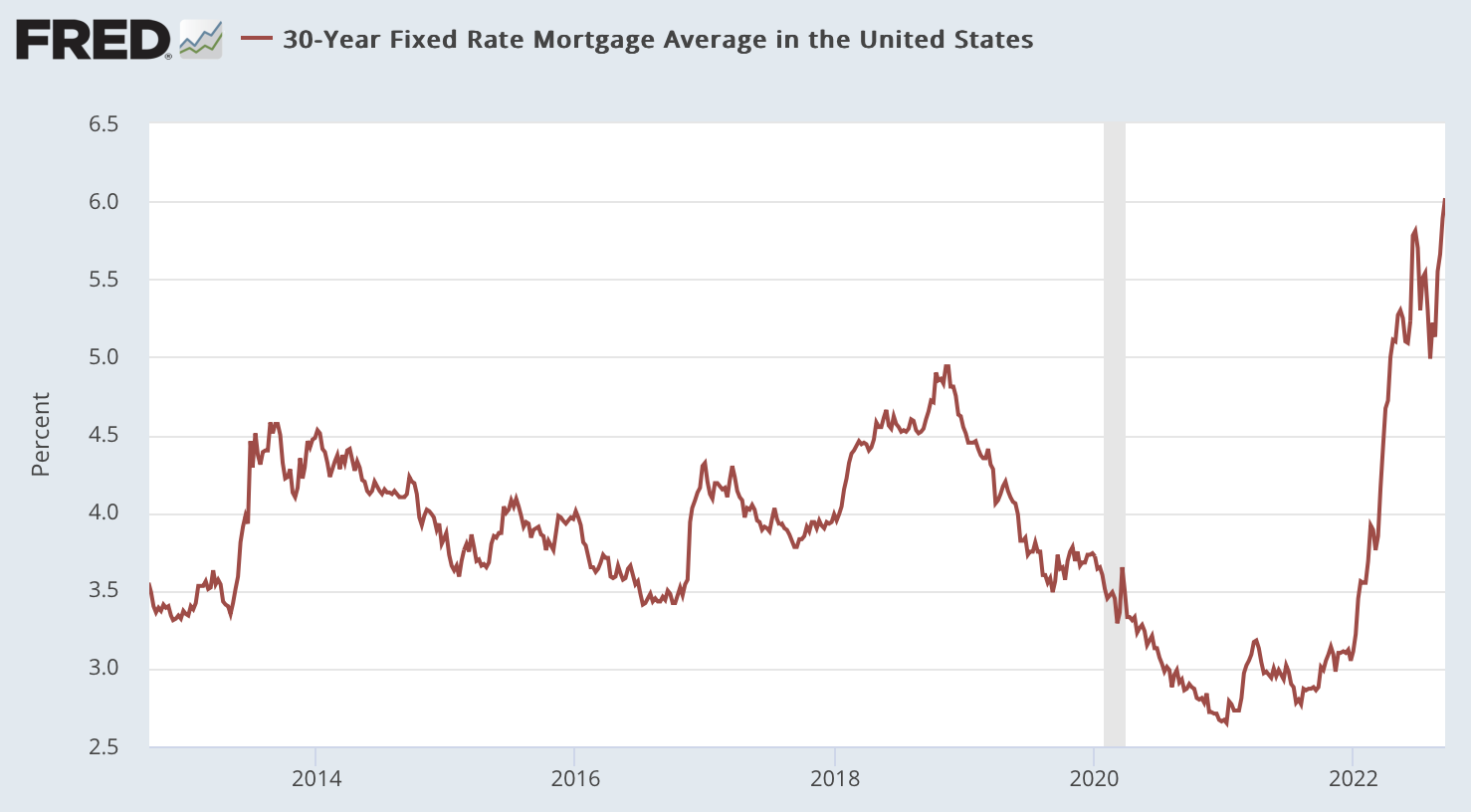 When it comes to long-term loans, an increase of a few percentage points can have a huge impact. With mortgage rates around 6% today, the average monthly mortgage payment is roughly $2,352, up 66% from a year ago. However, this also factors in higher home prices from a year ago.
Nonetheless, higher mortgage rates are reducing demand for homes. It's not a great sign for home builders and this is pushing investors away from home builder stocks. As a result, we're already seeing lower valuations.
The Fed will continue pushing up interest rates to reduce inflation. Many business leaders are also expecting a global recession which I mentioned in my recent crypto crash article.
Fear and uncertainty are high in the markets today. And there's a good chance things get worse before they get better. But now might be a good time to start easing into or adding to these positions…
Best Home Builder Stocks
R. Horton (NYSE: DHI)
PulteGroup (NYSE: PHM)
Toll Brothers (NYSE: TOL)
D.R. Horton
D.R. Horton is the largest new home builder in America by volume. And it's held this title since 2002. The company has operations in 105 markets in 33 states across the United States.
This scale gives great exposure to the home building industry and also provides some diversification. D.R. Horton also is vertically integrated with mortgage, title and insurance subsidiaries. This gives the company more opportunities to generate sales.
Shares of D.R. Horton have dropped more than 30% below their highs. On the valuation side, shares also look cheap. Sales have continued to climb and it trades below a price-to-sales ratio of one. And its price-to-earnings comes in below five.
PulteGroup
PulteGroup is another one of the best home builder stocks. The company focuses on American residential home construction. It's based in Atlanta, Georgia, but spans across the country. It's the third largest homebuilder with operations in more than 40 major cities.
This company also provides good diversification within the home building industry. It markets under some of the industry's best known brands such as Pulte, Centex, Del Webb, DiVosta and American West.
PulteGroup stock has also taken a hit over the past year. It's down more than 30% from its highs. Although, its valuation metrics are also looking pretty enticing. It has a price-to-sales ratio below one and its price-to-earnings comes in below five. Based on these levels, investors are expecting the company and industry to have some challenges ahead.
Toll Brothers
Toll Brothers is the smallest of these home builder stocks. However, it's a solid investment opportunity to consider. The company is based in Pennsylvania and is still one of the top home builders in the U.S.
Founded in 1967, Toll Brothers is the nation's leading builder of luxury homes. It currently builds in 24 states and the company continues to win home builder awards.
Similar to the other stocks on this list, Toll Brothers stock is down more than 30%. But when looking at most valuation metrics, it also looks cheap. It has a price-to-sales ratio of well below one and a price-to-earnings ratio right around five.
Final Thoughts
We'll continue to need homes and the housing shortage has constrained supply. Even with lower demand due to higher mortgage rates, the best home builder stocks should do well over the long-term.
There are many big market trends at play and the best investing opportunities come and go. If you're looking for more insight, check out these top investment newsletters. They're free and packed with tips and tricks from investing experts. Here at Investment U, we strive to deliver the best investment research and ideas…
---