For readers unfamiliar with Honest stock (Nasdaq: HNST), the company is a clean lifestyle branded retailer of products for babies, skin and person care for adults, and household products. The brand prides itself on transparency, trust and sustainability.
Honest believes that its customers are passionate about living a conscious life and love the brands they trust. Customers cut through gender, age, ethnicity and household income. Their brand inspires a direct connection with customers, which gives them an advantage over other consumer packaged goods peers.
The Honest Company has multi-channel sales across both digital and retail. The company has partnered with traditional brick-and-mortar stores like Costco and Target to sell its products in its retail channel. In addition, Honest sells through online retailers like Amazon on their digital platforms.
The company was founded by famous actress and best-selling author Jessica Alba. Alba sought a better solution after her child suffered from allergic reactions to traditional baby products. She found the answer was a more natural approach and launched the company.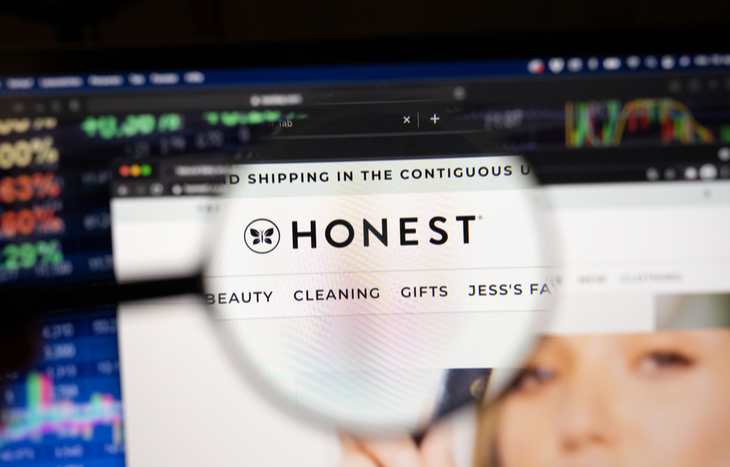 Honest Stock Full Year 2021 Results
Honest stock reported fourth-quarter and full-year results on March 24. Full-year core category sales increased 13%. In the report, CEO Nick Vlahos said: "I'm pleased we delivered our ninth consecutive quarter of year-over-year revenue growth. The power of the Honest brand remains resilient in a highly volatile environment, reflected in our strong year-over-year revenue growth of 19% for our core product categories in the fourth quarter, and 13% for the full year 2021. During this same timeframe, we have increased market share as well as overall household penetration in these product categories."
Honest stock managers hosted a webcast to discuss the results and field questions from listeners. Readers can find a replay of the webcast here.
Diapers and wipes are the company's biggest segment. Driven by the launch of their new Clean Conscious Diaper, this segment grew sales by 16% compared to the previous year. In 2021, the segment represented 62% of fourth-quarter revenues.
The next largest category for Honest is skin and personal care. This segment represented a third of sales for the fourth quarter. Growing in both retail and digital channels, the segment grew 26% for the fourth quarter.
Household and wellness is the company's smallest segment, at just 6% of fourth-quarter sales. Household and wellness declined 68% compared to 2020. The results were masked because the segment's 2020 sales benefitted from COVID-19.
Honest Stock 2021 Highlights and Guidance
During the year, Honest grew its market share in its core categories. For instance, its products appeared in 2.7 million more U.S. households from the beginning of 2020. In addition, the company expanded distribution to over 43,000 retail stores. Sales growth in diapers, wipes and personal baby care grew faster than the industry for the year.
The company also grew its ESG efforts. For example, about half of its workforce is diverse, and 65% of leadership is female. Also, Hones donated over 26 million products.
During Honest stock's full-year earnings report, management issued guidance for full-year 2022. The company expects sales for the year to be flat. Management noted that sales for the first quarter would be down about 15% but would rebound for the next three quarters. Adjusted EBITDA (earnings before interest, taxes, depreciation and amortization) should be negative $5 million to negative $10 million for the year.
The company reiterated that the first quarter of 2021 was a banner quarter due to increased sanitizing and disinfecting products sales. Therefore, it will be challenging for the company to increase sales above those elevated levels in the first quarter of 2022.
Stock Performance
Jessica Alba brought Honest stock public in May 2021 at $16. The IPO raised over $400 million for the company. Since then, the stock has tumbled over 75% to about $4.70 today. The decline includes a drop of over 22% the day after the company issued its full-year report.
Honest stock analysts had expected higher sales and profits for the fourth quarter. The disappointing results sent the stock lower. Also included in the full-year report was a write-down on inventory. That means the company made more products than it could sell. Investors selling off Honest stock might be losing faith in the company.
Since going public, the stock's decline may show that investors are losing faith that Honest stock will be able to turn a profit. Though the company has been growing sales since it started, it has been unable to earn a profit. With interest rates rising, investors may also believe profits will remain elusive.
On the other hand, the company is still young. Profits may come down the road at some point, but investors may be waiting until the company can show better results.
---