Just like most of us, 2020 was a year that hotel stocks took a hit. But the hotel industry is excited to move forward. While the COVID-19 pandemic was difficult for most industries, the American Hotel & Lodging Association (AHLA) described it as "devastating" for the hotel industry. It also stated that the impact from the pandemic was nine times worse than the impact from 9/11.
Even though the worst of the pandemic seems to be over, the AHLA still doesn't expect travel to return to 2019 levels until at least 2024. In fact, due to the increased popularity of remote work, certain aspects of business travel may never return to normal levels.
That being said, difficult times can create excellent buying opportunities. If you're looking to boost your portfolio with a few of the best hotel stocks, I've selected a few that you should consider buying.
Here are some of the best hotel stocks to buy…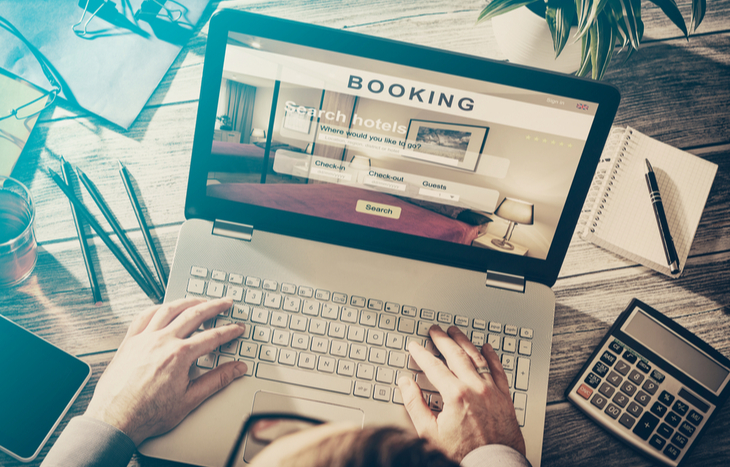 NOTE: I'm not a financial advisor and am just offering information and commentary. Please do your own due diligence before making any decisions.  
The Different Types of Hotel Companies
Before investing, it's worth noting that there are two main structures that hotel companies operate under.
C-corporation hotels are companies that engage in hotel management, branding and marketing. These types of companies usually operate the hotel franchise but don't actually own much of the real estate.
Hotel Real Estate Investment Trusts (REITs) generally do the opposite. REITs focus on buying, owning and operating the real estate where other companies operates. Sometimes they manage the hotels that they own but it usually depends on the company. REITs are also usually required to pay out 90% of their income to shareholders.
Now, let's take a look at some good options for hotel stocks to buy…
Best Hotel Stocks to Buy
Marriott (Nasdaq: MAR)
Playa Hotel & Resorts (Nasdaq: PLYA)
MGM Resorts (NYSE: MGM)
Marriott
Marriott is the world's largest hotel operator with 7,000 hotels in 130 countries. It might seem like an obvious choice in an article titled "Best Hotel Stocks to Buy." However, despite being a major hotel operator, it proved that it's able to change with the speed of a small, nimble startup. It showed this in November 2020 when it shocked investors by posting a $100 million profit while other operators were bleeding money.
When it reported this news, it disclosed that earnings had fallen by 57% from the prior year. However, by cost-cutting measures at its locations, it was able to cut expenses by 57% during the same timeframe. This allowed it to squeak out a 0.2% profit to the tune of $100 million.
Additionally, one of the biggest threats to traditional hotel stocks is the rise of companies like Airbnb. These new companies can offer guests a unique experience for usually a cheaper price. Marriott is already getting into this game with their own Airbnb-style service called Marriott Homes & Villas. This service allows guests to choose from over 2,000 properties in the U.S., Canada, Europe, the Caribbean and Latin America. Since Marriott has the power of a rewards program over Airbnb, this could actually give it an edge long-term.
Marriott's stock is up close to 40% over the past year. It also posted revenue of $811 million for the second quarter of 2021. During the same period, it posted a net income of $422 million, an increase of 280% year over year.
Marriott's portfolio of brands offers a range of luxury, premium and budget hotels. The brands include: The Ritz Carlton, Sheraton, Gaylord Hotels, Aloft, Four Points and many more.
Playa Hotel & Resorts
NOTE: I own a very small position in Playa.
According to the AHLA, there's a good chance that the United States could be haunted by Covid variants until 2024. If this is true, then all hotel operators in the U.S. are likely to be impacted the same by any future lockdowns. So, for the next of the best hotel stocks to buy, we're traveling south of the border.
Playa Hotels & Resorts is a REIT that owns a string of all-inclusive luxury oceanfront resorts in Mexico and the Caribbean. In total, it owns 20 properties in Mexico, Jamaica and the Dominican Republic. Its portfolio includes several Hilton and Hyatt properties.
It's no secret that people are itching to travel and make up for lost time. This is starting to materialize for Playa. In its most recent earnings report, CEO Bruce Wardinski mentioned that its revenue on the books for Q3 and Q4 of 2021 already exceeds that of 2019.
Bruce also stated that the company has maintained "price discipline in a rising demand environment." By this, he understands that they need to capitalize on the rush of tourism by charging top dollar for rooms.
Playa's stock price is currently fairly comparable to where it was pre-pandemic.
MGM Resorts
MGM Resorts is one of the world's biggest hospitality and entertainment companies. It owns resorts in Las Vegas, Massachusetts, Detroit, Mississippi, Maryland and New Jersey. A few of their flagship properties include the Bellagio, Mandalay Bay, MGM Grand and Park MGM.
It's another company that showed it was able to move quickly to reduce expenses during the COVID shutdown. In 2020, it was able to reduce expenses by $450 million and is planning to deliver on these savings once demand returns to 2019 levels. When travel returns to normal, this might add an extra $450 million to their bottom line.
Already, this hotel stock has surged 85% in the past year. It's currently around where it was before the pandemic. Its revenues have also been growing consistently since June 2020 as Covid restrictions continue to be lifted. Prior to the pandemic in 2019, it also posted its highest net income in several years of $2.05 billion.
Another interesting stock to look at is MGM Growth Properties (NYSE: MGP), which was spun off of MGM Resorts (although MGM Resorts still owns a majority stake). MGM Growth is the company that owns most of the MGM properties including seven resorts on the strip. It owns MGM Grand Las Vegas, Mandalay Bay, The Mirage, Park MGM, Luxor, Excalibur and New York-New York.
Since Las Vegas is one of the least Covid-conscious places in the United States, these two companies could do well regardless of what happens with the delta variants.
Best Hotel Stocks and Beyond
These hotel stocks can give you great exposure to the hotel industry. Although, this is just one of many industries that might be worth buying into. Here are some more industries and stocks that might see big returns…
If you're looking for more investment research, consider signing up for Trade of the Day. It's a free e-letter that's packed with investing tips and tricks. Whether you're a beginner or already advanced trader, there's something for everyone.
---
A University of Miami grad, Teddy studied marketing and finance while also playing four years on the football team. He's always had a passion for business and used his experience from a few personal projects to become one of the top-rated business writers on Fiverr.com. When he's not hammering words onto paper, you can find him hammering notes on the piano or traveling to some place random.