Instacart IPO rumors are spreading. After the company achieved popularity and success during 2020, investors are looking for Instacart stock to be the next big filing.
But if Instacart goes public, is it a good investment opportunity? Here's what we know…
Instacart IPO: The Business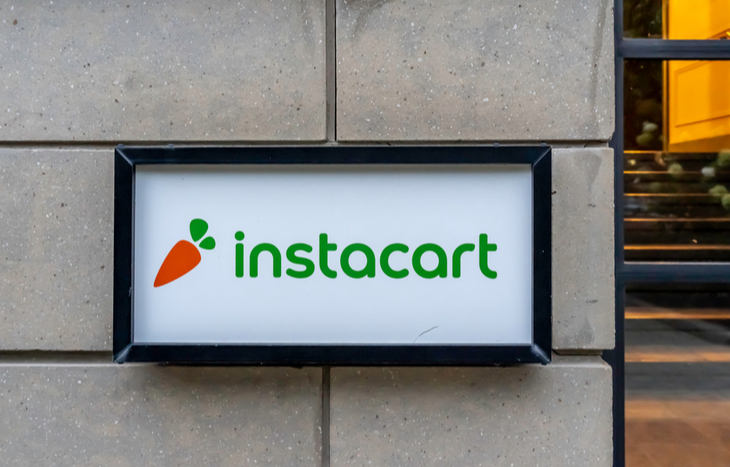 CEO Apoorva Mehta co-founded Instacart alongside Max Mullen and Brandon Leonardo in 2012. The San Francisco-based company provides an online marketplace with delivery and pickup services. Currently, Instacart is available in 5,500 cities in North America. It's estimated that the app can be used by 85% of U.S. households and more than 70% of Canadian households.
In the last year, Instacart expanded to partner with 150 retailers, offer delivery for 8,000 stores and introduce pickup for 1,500 stores. Although originally designed for groceries, Instacart now works will retailers such as Sephora, 7-Eleven and CVS Health. This allows consumers to shop for nearly anything through the app without ever leaving the comfort of home.
The company mentioned in the past that it hopes to one day offer Instacart stock. Currently, there aren't any official plans to go public. But investors think an Instacart IPO is closer than some may think.
Why Instacart Stock Could Be Coming Now
2020 was a hectic year. But some companies came out better for it. Instacart saw tremendous growth this last year. And the coronavirus was one of the leading factors.
COVID-19
When COVID-19 came to the U.S., there were mandatory quarantines across the nation. People couldn't leave their homes, restaurants and stores were closed and a lot of people were (and are) afraid to get infected or infect others. Instacart became a huge hit during this time. People can now do all of their shopping without leaving their houses. The company offers no-contact delivery, with workers leaving the groceries at the customer's door.
According to a study by PYMNTS…
The biggest change of all will likely be the share of consumers shopping for groceries online. Our research shows that 85.3% of consumers who have shifted to grocery shopping online plan to maintain at least some and possibly all of their new digital shopping habits, meaning only 14.7% plan to resume shopping in physical grocery stores. This compares to 83.9% who plan to maintain some or all of their newfound retail shopping habits and 80.1% who plan to maintain some or all of their food ordering habits.
Instacart's growth, combined with the "new normal," makes it an appealing investment opportunity to investors. And the new normal also helped companies like DoorDash, which plans to go public December 8. The DoorDash offering is one reason investors think an Instacart IPO will come soon. But it's not the only reason.
California Proposition 22
In the November election, Californians had another matter to vote on: California Proposition 22, App-Based Drivers as Contractors and Labor Policies Initiative (2020). The initiative was intended to combat companies like Uber and DoorDash, which have faced criticism about their independent contractor vs. employee roles. The proposal entails that app-based transportation and delivery drivers be defined as independent contractors and adopt policies specific to the drivers and the companies that employ them.
Proposition 22 was approved by voters with a 58.63% rating. As a result, Instacart commented…
Californians have voted yes on Proposition 22, ushering in historic new offerings for on-demand workers while maintaining their independence and flexibility. We believe this outcome is a win for shoppers, customers and retailers in California. Proposition 22 was created to unlock a better, more progressive solution for all Californians that reflects the preferences of app-based drivers. With this important vote, shoppers in California who have delivered groceries and goods with Instacart will stay independent and continue to earn when they want and where they want. They'll also receive guaranteed earnings, as well as additional protections and benefits that support a more modern workforce.
This was a big win for many app-based companies, including Uber, Lyft and DoorDash. And it's a big stepping stone toward Instacart stock. But one thing that has investors excited is the possible valuation that an Instacart IPO could give the company.
Funding Round and Valuation
In October, Instacart completed its latest funding round. Including existing investors Valiant Peregrine Fund and D1 Capital Partners, the company raised $200 million. In Instacart's press release, the company states…
We expect to deploy the new capital in a number of ways, including: product development focused on introducing new features and tools to enhance the customer experience, continued investment in Instacart Enterprise to support retailers' end-to-end ecommerce needs, and further investment in Instacart Ads to help connect Consumer Packaged Goods (CPG) brands of all sizes to customers shopping online from their favorite local retailers.
The funding gave Instacart a value of $17.7 billion. But analysts think an Instacart IPO could push that valuation up to $30 billion if successful. That's almost as much as unicorn Airbnb. But when can investors expect Instacart stock?
Instacart IPO Details
Right now, an Instacart IPO is a rumor. There are no filings or official announcements. However, sources have reported that Instacart is talking with Goldman Sachs to underwrite an offering estimated to come in early 2021. Rumors started after DoorDash filed on November 13. If DoorDash's offering goes well, it could be a good sign that Instacart stock isn't far behind.
If you're looking for the latest investment opportunities, we suggest signing up for out Profit Trends e-letter below! It's full of helpful tips and research from our investing experts. Whether you're a beginner or an experienced investor, it's packed with valuable investment information for everyone. And if you're looking for more IPO opportunities, check out our IPO calendar to stay up to date.
Investors appear bullish about the possibility of Instacart stock. But the company relies on online shopping trends continuing post-pandemic. Instacart will have to time the market right to have a successful offering. If you're interested in an Instacart IPO, keep an eye out for updates as new information is released.
---
Amber Deter has researched and written about initial public offerings (IPOs) over the last few years. After starting her college career studying accounting and business, Amber decided to focus on her love of writing. Now she's able to bring that experience to Investment U readers by providing in-depth research on IPO and investing opportunities.