Renewable energy from sources like wind, waves and geothermal heat has been the topic of much discussion in recent years. There has been an increase in pressure to reach 100% renewable energy as soon as possible. Some countries are targeting 2030, while many skeptics think it will take much longer than that. One thing is for sure: There is a lot of money going into efforts to counteract climate change. That should excite those looking to invest in renewable energy.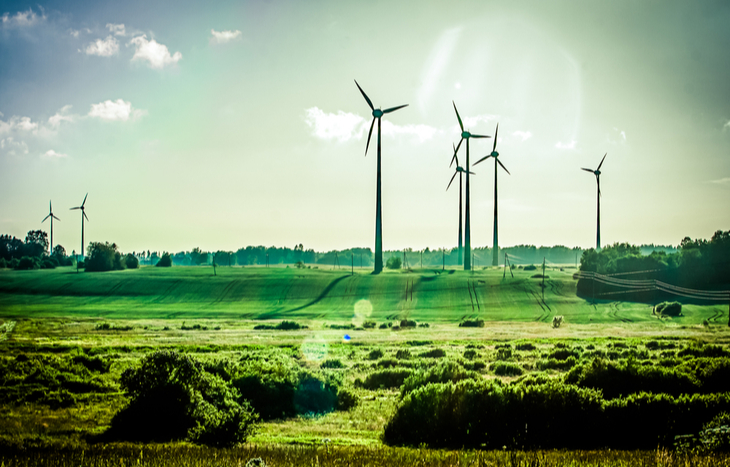 Making use of energy that naturally replenishes has been on the minds of leaders for quite some time. In 1860, Abraham Lincoln famously said, "As yet, the wind is an untamed, and unharnessed, force; and quite possibly one of the greatest discoveries hereafter to be made, will be the taming, and harnessing, of [it]." Honest Abe knew way back then that renewable energy was the future. More than 170 years later, we are finally making strides towards a much cleaner and greener planet.
Profit Trends' Energy Expert David Fessler says, "It's clear that solar energy in the U.S. is on a rapid uptake. So is offshore wind… Solar, wind, and renewable energy in general is my 'best investment thesis for the next decade.' It's growing rapidly, while other energy investments [like] oil, gas, and nuclear are going nowhere fast."
The Future of Renewable Energy
In recent years, there has been an uptick in renewable energy investments from manufactures and installers, which many think may spur the industry's growth rate. The potential for expansion or contraction only increases the reward opportunity as well. Some companies that may deserve consideration include these…
Component and accessory producers such as Enphase and SolarEdge
Manufacturers of solar cells and panels such as First Solar and SunPower
Solar power system installers such as Sunrun and Vivint Solar
Wind turbine and blade manufacturers such as Arcosa, General Electric, Siemens and Vestas Wind Systems.
While investments in renewable energy continue to grow, there is still plenty of money pouring into fossil fuel projects. In a recent article, Fessler noted that the European Union has funneled 13.4 billion pounds into fossil fuel projects over the last five years. JP Morgan was also listed as the world's biggest funder of fossil fuels.
Other sources have a lot to say about renewable energy as well. Britain's This is Money publication cites renewable energy as the top choice of "affluent investors who seek long-term returns," and the statistics show that nearly 1 in 3 investors chose the sector. Bloomberg identifies the biggest new investments as solar and wind farms. The Motley Fool notes that the decline in unsubsidized costs to generate wind and solar power creates a significant impact. The reduction puts renewables on track to become cheaper than all but the most efficient gas plants by 2023.
Renewable Energy Stocks
Oil Price, an energy news site that provides analysis to CNBC, Fortune, CNN Money and hundreds of others recommends the following renewable energy investments…
At the top of the list is NextEra Energy, Inc. (NYSE: NEE). The Florida-based clean energy company stands as the "world's largest producer of wind and solar energy. With its eight subsidiaries, NEE supplies electricity to 5 million homes in Florida."
Second on the Oil Price list is the Brazil-based Cosan (NYSE: CZZ) biofuels conglomerate, which has operations in South America and the United Kingdom. With a specialization in the bioethanol space and other energy projects, CZZ generates enough sugarcane bioethanol to "place it among the leading producers of bioenergy."
JinkoSolar Holding Company (NYSE: JKS) holds the third position as the "largest PV module manufacturer in the world." From its headquarters in China, JKS planned to ship more modules by the end of 2019 than the company produced in 2018. Its product line includes solar cells and modules and silicon wafers that JKS distributes in 70 countries around the world.
In fourth place on the Oil Price list is Vestas Wind Systems (OTCPK: VWDRY), a recommendation that echoes The Motley Fool's citation. With the distinction of installing more wind turbines than any other company in the world, VWDRY claims approximately 68,000 locations for its turbines in 80 countries. The Denmark-based company delivers about 800,000 wind turbine parts each year and services more than 40,000 wind-producing units.
So if you're looking to invest in renewable energy, look no further than the four recommendations above. Nuclear power carries a present classification as a sustainable energy source. However, technology may allow it to achieve renewable status under certain conditions, such as changing the source of uranium from mined ore to seawater. Massachusetts-based MKS Instruments manufactures a range of nuclear fuel processing products, uranium conversion systems and nuclear accelerators that include valves and sensors. The company holds 600 patents for nuclear-related products.
More on Investing in Renewable Energy
As pressure continues to mount from lawmakers and advocacy groups, renewable energy will continue to tilt the scale away from fossil fuels. Ongoing debates about the affordability of renewable energy are starting to die out as energy storage as well as cost of production continues to gain efficiency. Policies will continue to play a huge role at the federal and state levels to encourage reduced emissions as well as a diversified energy mix. Roughly half of the growth in U.S. renewable energy generation since 2000 can be attributed to state renewable energy requirements.
Renewable energy is an unstoppable force. At least 30 nations worldwide already have renewable energy contributing more than 20% of their energy supply. National renewable energy markets are projected to continue to grow strongly in the coming decade and beyond.
If you'd like to learn more about renewable energy investing, look no further than Energy Expert Dave Fessler. Dave provides unique and groundbreaking insights into the energy sector. His new book, The Energy Disruption Triangle: Three Sectors That Will Change How We Generate, Use, and Store Energy, quickly became a bestseller. Dave is the Energy and Infrastructure Strategist for the Profit Trends free daily investment e-letter. Sign up below and you'll be well on your way to investing in renewable energy.
---