Investing during a pandemic is a frightening thought. The market is dropping at a record pace. However, it's full of opportunities during this difficult time.
In fact, most seasoned investors are buyers instead of sellers at this very moment. Even though we are on the verge of a recession, the plunging market presents a mixture of risk and reward.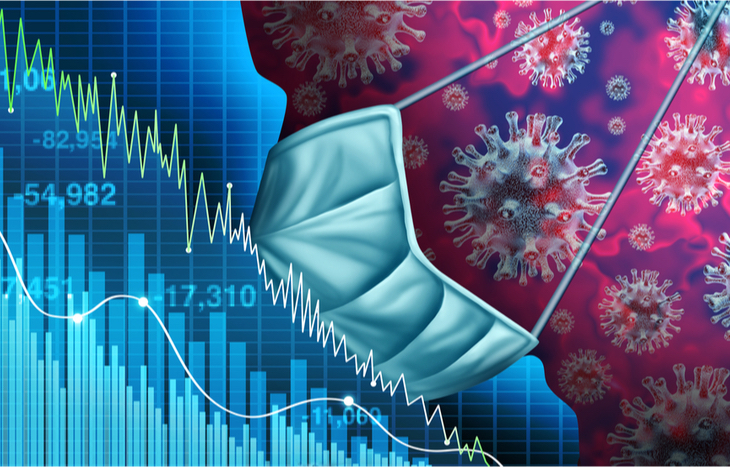 Risks and Rewards of Investing During a Pandemic
Before making any drastic decisions with your portfolio, it's important to analyze possible risks and rewards. For example, selling investments due to coronavirus fears may result in short-term losses and missed long-term gains.
It's important to develop a plan and stick to it. Tolerating risk is the key to investing during a pandemic. You may want to reduce your risk by selling, but that instantly gives up the opportunity for massive returns.
So what are the biggest market risk and reward scenarios during a pandemic?
Major stocks are just as vulnerable as everyone else.
Oil prices are crashing due to a price war in Saudi Arabia.
Toilet paper, soup and delivery services are on the rise.
Telecommuting stocks may see a major upturn in the next few weeks.
Rebalancing your portfolio can go a long way, especially with equities. Yet, most portfolios are set up to weather the storm. Investing in riskier stocks doesn't mean you can't handle any downturns.
The White House is assuring Americans that the market will return better than ever. Treasury Secretary Steven Mnuchin believes there are great investments to be made. He recently told CNBC…
You know, I look back at people who bought stocks after the crash in 1987, people who bought stocks after the financial crisis. For long-term investors, this will be a great investment opportunity.
Five Stocks to Watch During the Coronavirus Pandemic
As I mentioned above, certain stocks are on the rise. Therefore, here are five stocks to consider investing in during a pandemic. These outliers will see gains amongst all the losers.
Campbell Soup Company (NYSE: CPB) is a clear-cut favorite. Everyone is stocking up on soup and other nonperishables. Campbell stock was selling at $47.98 at the beginning of March. It's now up to $53.67.
The Clorox Company (NYSE: CLX) is up nearly 30% in the past week. It's currently at $207.96 a share and showing no signs of slowing down. With the coronavirus outbreak, disinfecting wipes and supplies are flying off the shelves.
Grubhub (NYSE: GRUB) is showing short gains in the past five days. However, you can expect these numbers to continue rising due to the nationwide closings of restaurants, bars and more. Many states have already implemented the changes but are allowing food and grocery delivery as an alternative to in-person shopping. A DoorDash IPO is also on the way.
Zoom Video Communications (Nasdaq: ZM) is an interesting stock to keep an eye on. Most companies are forcing employees to work remotely over the next few weeks. This trend may turn into months. Zoom provides telecommuting services for conference calls that may come in handy. Over the past five days, it's up nearly 4%.
Procter & Gamble (NYSE: PG) is benefiting from the toilet paper craze. Everyone is rushing to buy toilet paper both in stores and online. In fact, all toilet paper has been sold out on Amazon for nearly two weeks. Procter & Gamble sells Charmin. It's one of the most popular and readily available brands you can find.
Is Investing During a Pandemic Right for You?
Stocks are as volatile as ever, and we are in a bear market for the first time since 2008. This alone is raising concerns for investors across the country. However, there is still money to be made.
Sign up for our free e-letter below to learn how you can take advantage of the current stock market. Our Investment U experts are covering every angle of the coronavirus outbreak as it pertains to the market.
These daily updates will help you determine the best investment opportunities going forward. Protect your portfolio and learn how investing during a pandemic can bring about major gains instead of huge losses.
---
Corey Mann is the Content Manager of Investment U. He has more than 10 years of experience as a journalist and content creator. Since 2012, Corey's work has been featured in major publications such as The Virginian-Pilot, The Washington Post, CNN, MSNBC and more. When Corey isn't focusing on Investment U, he enjoys traveling with his wife, going to Yankees games and spending time with his family.