The ironSource IPO is the newest opportunity in the mobile app market. After Roblox stock hit the market, investors wanted to know where to look for the next big play. Could ironSource stock be it? Here's what we know…
IronSource IPO: The Business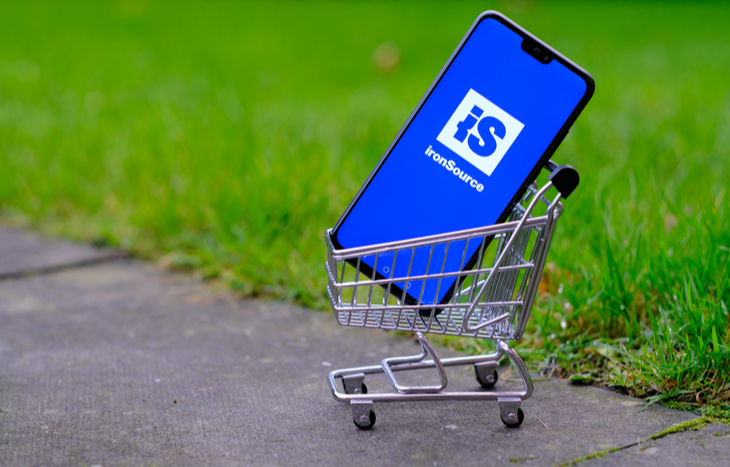 IronSource is an Israeli software company. It provides a comprehensive business platform for the app economy. Any app or game developer can use the platform to turn their app into a scalable and successful business. IronSource makes this possible by helping to monetize the app, grow user engagement and analyze for optimization.
IronSource co-founder and CRO Omer Kaplan said…
Our solutions cover the entire game growth cycle, from growing your user base, to generating revenue to reinvest in growth, [to] then analyzing and optimizing the entire cycle to drive profitability. Using our platform, game developers are able to unlock a flywheel of continuous growth, and since our business model is aligned with our customers' success, as they grow, we do too. While this cycle is most often leveraged by mobile games, it's easily transferable to apps outside of gaming, and today 16% of our customers with more than $100,000 [in] annual revenue are already from industries beyond games.
Founded in 2010, ironSource has more than 750 employees and serves more than 2.3 billion monthly active users around the world. As the online and mobile industries grow, so does investor interest. That's why the ironSource IPO announcement has investors excited.
IronSource Stock: Investor Presentation Highlights
Along with the announcement of ironSource stock came the investor presentation. This is similar to the prospectus a company files in the traditional IPO process. It gives the background on the company, its market and its finances.
Market
According to the presentation, there are 6.7 billion global devices as of December 31, 2020. The average user spends 4.3 hours on mobile daily, with 83% of that time going to apps. In 2020, people downloaded 140 billion apps worldwide.
IronSource lists Facebook and Google as tech platforms fueling the gaming boom. In 2020, there were 2.6 billion mobile gamers. The gaming market totaled $76 billion. And 90% of the 20 most-downloaded games of 2020 used the ironSource platform.
So what does ironSource's financial data look like?
Finances
Here are some financial highlights from the ironSource investor presentation…
2020 revenue was $332 million; 2022 projected revenue is $622 million.
The company saw 83% year-over-year revenue growth for 2020.
291 customers in 2020 brought in more than $100,000 each, up 54% from 2019.
The company had a 31% adjusted EBITDA (earnings before interest, taxes, depreciation and amortization) margin.
For more details, you can check out ironSource's investors page. There you can access the ironSource IPO announcement, SEC filings and investor presentation.
Now, for those who don't know, what is a SPAC IPO?
SPAC IPO: Thoma Bravo Advantage
A SPAC IPO is the process of going public via SPAC. A SPAC is a special purpose acquisition company, or blank-check company. It has no business operations. The company goes public to raise capital. It then uses those funds to acquire a private company. In this case, ironSource is the acquiree and Thoma Bravo Advantage (NYSE: TBA) is the SPAC.
IronSource co-founder and CEO Tomer Bar Zeev stated…
Joining forces with Thoma Bravo Advantage to bring ironSource to the public markets presents an opportunity to partner with the world's leading software investor to achieve the next level of growth. Despite our previous progress pursuing a traditional IPO, when we met with Thoma Bravo Advantage, we found an alignment of vision and shared conviction about the long-term growth we can drive at ironSource that made them the perfect partner as we take this next step in growing our company, and the market as a whole.
The chairman of the board of directors of Thoma Bravo added…
As one of the fastest-growing and most innovative platforms for building and scaling businesses in the app economy, ironSource is well-positioned for continued success as a public company. With a full suite of solutions across the app growth life cycle – and a unique combination of scale, business growth, and profitability – we expect ironSource to further its market leadership position as a public company. We look forward to partnering closely with Tomer and the talented ironSource team in this exciting next chapter for the company.
So when can investors expect ironSource stock?
IronSource SPAC IPO Details
The transaction gives ironSource an equity value of $11.1 billion. The deal is expected to add up to $2.3 billion. This includes $1 billion from Thoma Bravo's trust. It also includes an oversubscribed class A ordinary share PIPE (private investment in public equity). It will be led by a $300 million investment from a Thoma Bravo affiliate and joined by Tiger Global Management, Counterpoint Global (Morgan Stanley) and Wellington Management, to name a few. The PIPE is expected to total $1.3 billion.
If you're looking for the latest investment opportunities, sign up for our free e-letter Liberty Through Wealth. It's packed with investing tips and tricks from market experts. Whether you're new or already an experienced investor, there's something for everyone.
What is the ironSource IPO date? According to the press release, investors can expect ironSource stock in the second quarter of 2021.
---
Amber Deter has researched and written about initial public offerings (IPOs) over the last few years. After starting her college career studying accounting and business, Amber decided to focus on her love of writing. Now she's able to bring that experience to Investment U readers by providing in-depth research on IPO and investing opportunities.