Travel and hospitality stocks are way down amid the COVID-19 pandemic. Many stocks have reached five-, 10- and 15-year lows. Going down even further, Carnival Corporation (NYSE: CCL) stock is at a 20-year low. And it's still diving as the fallout from COVID-19 continues.
Despite the beleaguered share price, crisis investors are starting to take note of a potential long-term play. Is Carnival stock a good buy right now?
To differentiate between a value play and a value trap, investors need to look past carnival stock price and the headlines. Investors should measure the business's fundamentals as well as macro factors, like the cruise industry and the travel and hospitality sector as a whole.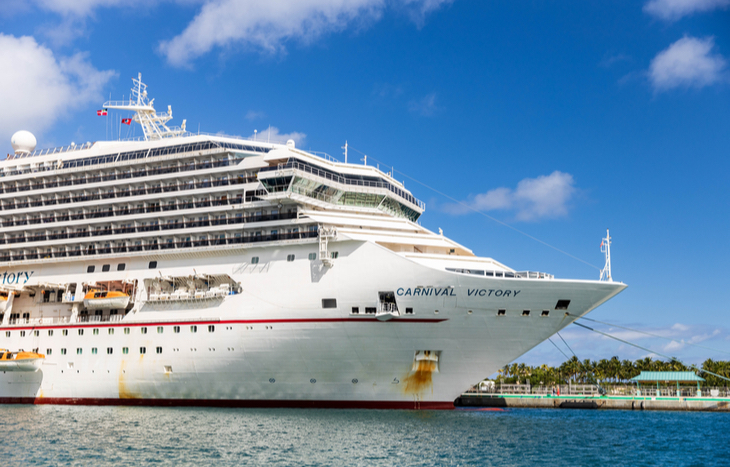 A Closer Look at Carnival Corporation
Carnival launched in 1972 and, today, employs 150,000 people. It's firmly entrenched as the world's largest cruise line operator — by both total number of passengers and ships in fleet. The company has more than 100 ships sailing under 10 subsidiary brands. It ferries more than 13 million passengers to more than 700 ports in 150 countries worldwide. Carnival cruises represent half of the total global cruise market.
Since it went public in the 1980s, Carnival Cruise stock has been a bellwether for the travel and hospitality sector. The company is part of an oligopoly with Royal Caribbean Cruises (NYSE: RCL). It enjoys strong industry partnerships with many of the world's leading travel networks and chartering companies.
COVID-19 Hits Travel Stocks Hard
Since January 1, 2020, Carnival shares have lost more than 80% of their value in an unprecedented free fall. The catalyst is none other than COVID-19. And it's not only CCL, RCL and other seafaring stocks that are down — the travel sector as a whole is in a slump. Market leaders Expedia Group (Nasdaq: EXPE) and Booking Holdings (Nasdaq: BKNG) as well as every major U.S. airline — including United Air Lines (Nasdaq: UAL) and American Air Lines (Nasdaq: AAL) — are down 40% to 70% year to date.
Despite total sector depression due to border closings and travel restrictions, Carnival faces even bigger headwinds. Its Diamond Princess luxury cruise ship was one of the catalysts for the North American outbreak of the pandemic, with 712 confirmed cases of COVID-19 aboard. Its Ruby Princess ship produced another 612 cases. All told, Carnival Corporation bears the brunt of three of the top five cruise liner outbreaks of COVID-19 and six of the top 15.
To add insult to injury for the company and its falling share price, new evidence has come to light that company executives continued operations even after acknowledging the virus's growing presence on its ships.
Looking Beyond the Headlines
Is CCL stock a buy? From the look of its balance sheet, it very well may be. The company reported earnings in February 2020, giving us an updated look at its balance sheet and projections.
According to its recent filings, Carnival brought in $4.79 billion in revenue with a negative net income of $781 million. This is hardly surprising given the situation. Looking back, the company generally sees similar revenue with a positive net income of $400 million outside of peak travel season. It has $1.35 billion in cash on hand, which will shrink rapidly over the course of the year.
For value investors, Carnival's 4.37 price-to-earnings (P/E) ratio is an attractive draw — as is its massive stock dividend yield of 16.94%. Though the company has announced that it's suspending the dividend, it nonetheless represents an attractive precedent for long-term holders.
The major downside to this stock is its illiquidity. Bankruptcy is a possibility for CCL if it doesn't address solvency issues fast. The company's most recent 10-K filing shows just under $10 billion in debt — of which, half comes due in the next 18 months. The company is issuing $6 billion in new stock and debt to help cover this, but that means dilution for existing shareholders.
To make matters worse, Carnival is incorporated in Panama… which means it's not likely to see as much help from the government. And, on top of all that, Carnival Corporation has suspended operations, canceling some cruises through the end of the year and delaying others through June 26, 2020. That decision stymies its cash flow, all but cutting off its income.
Don't Get Caught Holding the Bag
Carnival Corporation may seem like a smart value play in the current economic climate, but it could very easily become a value trap. The combination of a suspended dividend and issuance of new shares puts up a big red flag, even despite the company's ability to generate cash and fix its solvency issues when operations resume. Unfortunately, there's too much uncertainty surrounding COVID-19 to recommend CCL as a good buy.
Crisis investors looking for gold in a down market might have better luck with Royal Caribbean Cruises (NYSE: RCL). Carnival's competitor has yet to suspend its dividend and still maintains a relatively repairable balance sheet. In either case, prepare for an underwater investment for at least three to five years — or longer, depending on the pandemic.
If you're looking for the latest investment opportunities, Investment U is the place to be. Sign up for our free e-letter below! It's full of useful tips and research from our experts. Whether you're a beginner or an experienced investor, there's something for everyone.
---