Over the past few decades, many institutional and retail investors have increasingly turned to passive ETFs because they cater to a more hands-off approach. Additionally they offer lower costs, transparency, flexibility and are tax efficient. SPDR S&P 500 ETF is one such ETF on many investors' radar. But, is SPDR S&P 500 ETF a good investment? Let's examine this popular ETF to find out.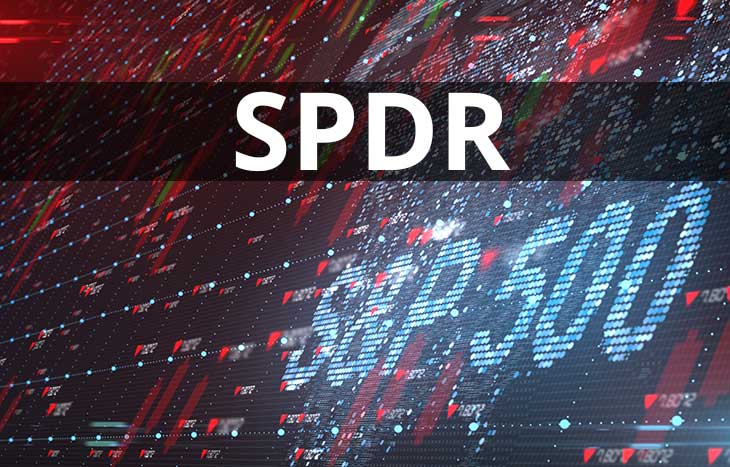 What Is SPDR S&P 500 ETF?
The SPDR S&P 500 ETF or SPY ETF tracks stocks in the S&P 500 Index as measured by market capitalization. These include 500 of the largest (large-cap) publicly traded U.S. companies across all 11 GICS sectors. In January of 1993, State Street Global Advisors began trading the SPY ETF. It was the first ever ETF listed in the United States.
With a trading volume of around 73 million, the SPY ETF is extremely popular. Stocks in the SPY ETF are chosen by a committee with considerations for market size, liquidity and strength of industry. Currently the fund carries a lot of big tech stocks, such as Apple Inc (Nasdaq: AAPL), Microsoft Corporation (Nasdaq: MSFT) and Google – Alphabet Inc Class A (Nasdaq: GOOG).
The performance of the S&P 500 is a primary indicator of the health and stability of the United States economy. The SPY ETF has been through three recessions, bull and bear markets, as well as the longest economic expansion in U.S. history.
SPY ETF Overview
10-Year Performance 11.04%
Expense Ratio: 0.09%
Yield 1.91%
Number Of Stocks: 506
Top 10 Holdings: 25.1%
What Does "SPY" Stand For?
An ETF is a bundle of stocks, bonds or other securities that allows you to invest in many assets at once. As mentioned earlier, the SPY ETF launched in 1993. It was originally called SPDR (pronounced "spider") which stands for Standard & Poor's Depositary Receipts. This later was shorted to SPY.
SPDRs are now an entire category of ETFs that track the S&P 500. Since the 1990s, the market has grown to over 2,500 ETFs on U.S. stock exchanges. Today, State Street Global Advisors is one of the largest asset management companies in the world.
Why Are Reddit Investors Buying SPY ETF?
When you think of Reddit, and subreddits for investors, what's the first thing that comes to mind? I'm betting it's not diversification or risk management. But that's exactly what we've been seeing lately. SPDR S&P 500 ETF is trending on Reddit ahead of stocks like GameStop Corp. (NYSE: GME) and Tesla Inc (Nasdaq: TSLA).
Recently Reddit and other social platforms decided to make Bed Bath & Beyond Inc (Nasdaq: BBBY) their latest meme stock. We all saw how that worked out. BBBY stock has fallen 70% and as I wrote earlier this week…
Bed Bath & Beyond has continued its massive downsizing. This week, the company released a list of the first 56 stores that would be closing. Leadership had previously stated that the closing of 150 of their "lower-producing" banner stores would be part of the ongoing changes. In addition to the store closings, Bed Bath & Beyond has released more than 20% of their staff.
So needless to say, that hasn't worked out so well. Many of those impulsive meme investors may be looking to improve their chances of success. So, have Reddit investors traded in their meme stock tendencies for sound, diversified investing? Or is this simply a reaction to the ongoing bear market? Only time will tell, but it is refreshing to see nonetheless.
Is SPDR S&P 500 ETF a Good Investment?
The SPDR S&P 500 ETF does not come with zero risk. If fact, it's considered to be suitable for investors looking to take on a moderate degree of risk. However, the SPDR S&P 500 ETF Trust has a four-star Morningstar rating and has generated an average annual return of around 10% since inception. And as we've seen in the past, regardless of what is happening in the world, the S&P always seems to recover from downturns.
Rather than hand-picking stocks or bonds for the fund, a fund manager buys all of the assets that the index tracks. So instead of you having to worry about diversification and tracking dozens of stocks, the SPDR S&P 500 ETF removes all the guesswork. This is a huge benefit that comes alongside a great track record. SPY ETF has a current expense ratio of 0.09%, which is the ETF equivalent of fund management fees.
SPDR S&P 500 ETF Dividend
SPY has a dividend yield of 1.65% and paid $6.18 per share in the past year. The dividend is paid every three months and the last ex-dividend date was Sep 16, 2022.
Dividend Yield – 1.65%
Annual Dividend – $6.18
Ex-Dividend Date – Sep 16, 2022
Payout Frequency – Quarterly
Payout Ratio – 26.52%
Dividend Growth – 9.07%
SPDR S&P 500 ETF Top 10 Holdings
| Name | Symbol | % Assets |
| --- | --- | --- |
| Apple Inc | AAPL | 5.90% |
| Microsoft Corp | MSFT | 5.60% |
| Amazon.com Inc | AMZN | 4.05% |
| Facebook Inc A | FB | 2.29% |
| Alphabet Inc A | GOOGL | 2.02% |
| Alphabet Inc Class C | GOOG | 1.96% |
| Berkshire Hathaway Inc Class B | BRK.B | 1.45% |
| Tesla Inc | TSLA | 1.44% |
| NVIDIA Corp | NVDA | 1.37% |
| JPMorgan Chase & Co | JPM | 1.29% |
SPY Sector Weightings (%)
Consumer Cyclical –
11.19%
Financial Services –
12.99%
Consumer Defensive –
7.17%
Communication Services –
8.40%
As you can see, nearly a quarter of all SPY holdings are tech stocks. Therefore many consider it to be one of the best tech ETFs to invest in.
Final Thoughts on SPDR S&P 500 ETF
Since the SPDR S&P 500 ETF replicates the S&P 500 Index, it is ideal for passive index investing. Additionally, the fund does have a 1.65% dividend yield, making it an even more enticing buy. And with an average annual return of 10% it's ideal for buy and hold investors.
If you're an investor in the S&P 500, you may want to consider following IU Einstein Alexander Green. Since Alexander Green's first recommendation in 1999, the average Oxford Communiqué (our flagship newsletter) position has returned 23.61%, versus the S&P 500's average return of only 10.74%… That's more than DOUBLE the returns of the S&P 500.
Is SPDR S&P 500 ETF a good investment? For the answer to this question and more, consider signing up for one of our free newsletters. Visit our best investment newsletters page and select a mailing that works for you. Join today to become a smarter, more profitable investor.
---