Many may know JetBlue (Nasdaq: JBLU) as the airline competing with Delta Air Lines (NYSE: DAL), United Airlines (Nasdaq: UAL) and Southwest (NYSE: LUV), and many other U.S. airlines. JetBlue's approach sets them apart from other airlines. In addition, it has been expanding its flights over the last several years. JetBlue stock forecasts have been more exciting after recently saying it offered to buy Spirit Airlines (NYSE: SAVE).
According to JetBlue's recent annual report, the company targets the market between frequent business travelers and passengers looking for the lowest fare. Customers can choose from five different fares ranging from value to premium: Blue Basic, Blue, Blue Plus, Blue Extra or Mint.
Each fare includes different services like priority boarding, seat selection, free checked bags and reduced change fees. All fares include core services like free inflight entertainment, snacks and free non-alcoholic drinks. The different fares allow customers to get the services they want without paying for things they don't want.
Most JetBlue's flights touch at least one of their six focus cities in New York, Fort Lauderdale, Orlando, Los Angeles and San Juan. In addition, the company has been growing its destinations. In 2021, JetBlue said it partnered with American Airlines to add nine new cities. By the end of the year, its network served 107 U.S. cities, 24 countries, and its first country in Europe. JetBlue recently said it submitted a bid to buy Spirit Airlines to further its growth.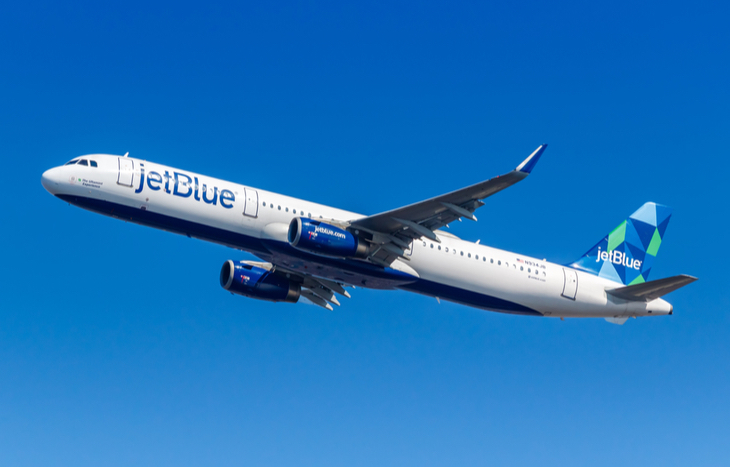 Offer to Buy Spirit Airlines
JetBlue issued a press release saying it offered $33 per share to buy Spirit. The press release noted that the bid was 50% higher than Spirit's closing stock price on the day before. If the merger closes, JetBlue stock forecast will see substantial growth, with its earnings per share growing in the first year. Also, the company thinks it can reduce the costs of the combined companies by $600 million to $700 million.
The bid is all cash to make the deal more attractive to Spirit shareholders. An all-cash offer means Spirit shareholders will receive cash instead of JetBlue shares. On top of that, JetBlue has already secured money for the bid. Also, the bid would not require a vote from JetBlue's shareholders. If Spirit's board of directors accepts the offer, the merger could happen quickly.
What makes JetBlue's bid so interesting is that Frontier Airlines (Nasdaq: ULCC) had already bid to merge with Spirit. Frontier's bid was more complex. The deal would merge the two companies. Frontier would own 51.5% of the new company, and Spirit shareholders would own the rest.
Because Frontier would control the new company, Spirit shareholders would receive 1.9126 shares of Frontier stock and $2.13 in cash. Spirit shareholders would get $25.83 per share based on the closing price of Frontier's stock on the day before the deal was announced. Spirit Airlines' board of directors said JetBlue's bid is likely superior to Frontier's.
JetBlue Stock Forecast
In January, JetBlue gave fourth-quarter 2021 results. Fourth-quarter earnings per share were -$.40 compared to $.56 per share in the fourth quarter of 2019 before the COVID-19 pandemic. Revenue also fell 9.7% since the fourth quarter of 2019. The company also reported $31 million in adjusted EBITDA (earnings before interest, taxes, depreciation and amortization).
The COVID-19 pandemic has been hard on airline companies. Still, JetBlue CEO Robin Hayes believes 2022 will be an excellent year for JetBlue stock forecast, saying "I firmly believe that 2022 will prove to be a transformational year for JetBlue's structural profitability, as we look to restore our earnings power and create value for our stakeholders. And we plan to achieve this by pulling meaningful commercial levers, keeping our relentless focus on costs and maintaining our measured approach to capital allocation."
Due to the omicron variant early in 2022, the company thinks sales will decrease between 11% and 16% in the first quarter. JetBlue also expects to report flight capacity from -1% to 2%. The company sees progress since the variant has mostly subsided. They expect demand to increase during the year.
For the first quarter, analysts expect earnings per share of -$.87. After the first quarter, analysts' estimates grow to positive territory for the rest of the year regarding JetBlue stock forecast. On January 27, the company hosted a webcast to discuss the fourth quarter of 2021. Readers can find a replay of the webcast here.
More on JetBlue and Spirit Takeover
American Airlines, Delta Air Lines, United Airlines and Southwest Airlines rule the U.S. airline industry. A deal between Spirit and either JetBlue or Frontier would make the new company number five.
Though the bid from JetBlue may look like a better option in the short term, the Frontier bid is not bad. Both Frontier and Spirit are discount airlines giving the lowest fares to customers. Spirit's board of directors may see more value in the Frontier bid because shareholders would receive shares of the new Frontier stock.
A merger would make Frontier one of the leading discount airlines in the U.S. After the market closed on Friday, Spirit shares were $26.25, well below the $33 that JetBlue bid.
---
BJ Cook is a long-time stock nerd. He has held several roles in the equity research world and earned the right to use the CFA designation in 2014. When he's not writing for Investment U, you can find him searching for new investment ideas. Outside the investment community, BJ is a die-hard Cubs fan.