Warren Buffett is a big fan of long-term dividend stocks. In fact, his favorite holding period is forever. When he buys a great company at an undervalued price, the long-term returns can be huge.
The steady income is also great for many investors. It's a popular retirement strategy. You can build up a portfolio of dividend stocks and live off of the dividend income. Or even owning just a few dividend stocks can help offset your living expenses.
Although there is one problem with this strategy. Not all dividend stocks are a good investment. That's why I've done some deep analysis and compiled this list of the top long-term dividend stocks. Without further ado…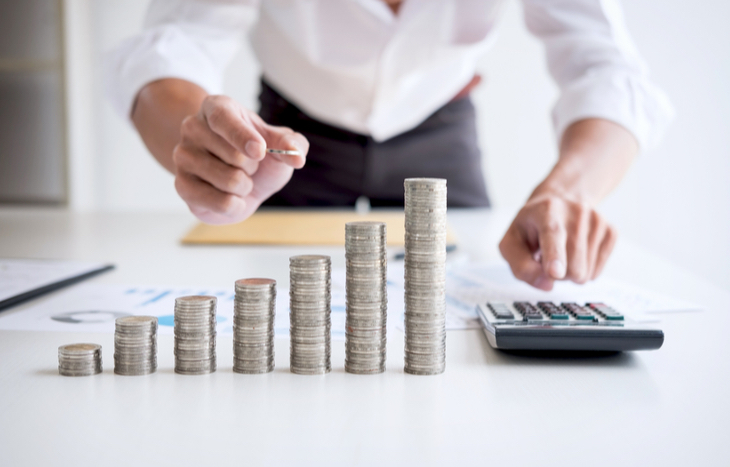 Top Long-Term Dividend Stocks
Coca-Cola (NYSE: KO)
Procter & Gamble (NYSE: PG)
Walmart (NYSE: WMT)
IBM (NYSE: IBM)
AT&T (NYSE: T)
Walgreens Boots Alliance (Nasdaq: WBA)
To make this list, the companies need a successful track record, growth potential and a reasonable valuation. One starting point I used was a list of Dividend Aristocrats. These are companies that have paid and raised their dividends for the last 25 consecutive years.
This shows cash flow consistency and growth. But it's also important to consider survivorship bias. Long-term dividend stocks come and go. So I took a closer look at each company's growth potential and dividend safety. Let's look at some of the highlights…
Also, before we do that, feel free to check out our investment calculator. I use it often when planning for the future, and you can as well. Will it take you five, 10 or 20 years to reach financial freedom?
1. Coca-Cola has increased its dividend the last 58 years. And its dividend yield is 3.3%. To support this payout, Coca-Cola is a consumer goods giant that offers more than 500 different brands. It also has global reach in more than 200 countries and territories.
This size helps it produce steady income. Many of its products also do well during downturns. So it's a defensive consumer staples stock. This is one reason Warren Buffett has invested in Coca-Cola, his third-largest holding.
From a valuation standpoint, Coca-Cola stock isn't as cheap as it's been in the past. Its price-to-earnings (P/E) ratio comes in just above 20. Although that's not really a bad price to pay in this low interest rate world. You can collect a growing 3.3% dividend yield.
To learn more about Coca-Cola stock, check out Coca-Cola's dividend history.
2. Procter & Gamble has increased its dividend the last 64 years. And its dividend yield is 2.3%. Procter & Gamble is also diversified with products sold in more than 180 countries and territories.
The company has 10 main product categories, and it grew organic sales in nine out of the 10. To go with that, total e-commerce organic sales grew 40% and are now more than 10% of total company sales. This growth should help Procter & Gamble remain a top long-term dividend stock.
From a valuation standpoint, it's also a bit higher. The P/E ratio comes in closer to 30. Although, once again, there's usually a premium to pay when investing in established leaders.
To learn more about investing in Procter & Gamble, check out Procter & Gamble's dividend safety.
3. Walmart has increased its dividend the last 47 years. And its dividend yield is 1.6%. This is the lowest on the list, but it still handily outpaces inflation. Walmart has also produced high share price appreciation over the years.
One of Walmart's biggest challenges is its transition to online sales. Amazon (Nasdaq: AMZN) has taken a big bite of e-commerce market share. Although Walmart is nipping at its heels. In quarter four 2020, its e-commerce sales grew 35%.
From a valuation standpoint, Walmart has just over a 20 P/E ratio. So it's right in line with the previous two picks. And this higher level make sense with the stock market near its all-time highs.
To learn more about Walmart as an investment, check out Walmart's dividend history.
4. IBM has increased its dividend the last 24 years. And its dividend yield is 5.3%. IBM isn't a Dividend Aristocrat, but it should be by the end of this year.
Overall, IBM has struggled to transition from its mainframe business. It's been slow to build up cloud services and other faster-growing areas. Although Big Blue isn't down for the count. It's aggressively investing in new tech and also acquired Red Hat last year for $34 billion.
From a valuation standpoint, IBM has just over a 10 P/E ratio. Investors have beaten it down, but that's why its dividend yield is on the higher end. If IBM can capitalize on some of its new innovation, it could be one of the best long-term dividend stocks to buy.
To learn more about IBM stock, check out IBM's dividend history.
5. AT&T has increased its dividend the last 35 years. And its dividend yield is 7.2%. This is the highest yield on this list, but it also comes with higher risk. AT&T has a huge pile of debt that concerns some investors.
Although the company is a cash flow machine and should continue to pay both its debt and dividend payments. AT&T has a steady subscription model and has expanded its service offerings by acquiring Time Warner for more than $80 billion.
From a valuation standpoint, AT&T has P/E ratio below 20. Due to debt concerns, investors aren't willing to pay as high of a premium for it as they are for Coca-Cola, Procter & Gamble and Walmart. Still, AT&T has a good risk-to-reward setup going forward.
To learn more about investing in AT&T stock, check out AT&T's dividend history.
6. Walgreens Boots Alliance has increased its dividend the last 44 years. And its dividend yield is 5.4%. That's a healthy yield, but, similar to AT&T, investors are worried about debt levels.
Walgreens acquired Rite Aid for $4.4 billion and is expanding through other channels as well. It's been tough during the downturn, but management is cutting costs and making the business more efficient. Overall, the healthcare industry continues to grow with America's aging population, and Walgreens should benefit.
From a valuation standpoint, Walgreens P/E ratio doesn't look great. It comes in just above 40 due to an unusual drop in short-term earnings. But if the company's management is able to deliver as promised, now could be a great time to buy for the long term.
To learn more about Walgreens stock, check out Walgreens Boots Alliance dividend history.
Final Thoughts and Resources
The six long-term dividend stocks above are some of the best deals around. They have proven track records and give you a good mix of dividend yields. Adding just a few of these to your portfolio could produce steady income.
And to see how your portfolio could grow, check out our free investment calculator. It shows the power of compounding your investment returns. Also, feel free to sign up for our e-letter below. It's packed with investing insight from market experts.
The experts at Investment U have decades of experience providing the latest market insights and analyzing the latest trends. Learn more on dividend stocks research, sign up for the Investment U newsletter or read the next article below.
---
Brian Kehm double majored in finance and accounting at Iowa State University. After graduating, he went to work for a cryptocurrency company in Beijing. Upon returning to the U.S., he started working with financial publishers and also passed the CFA exams. When Brian isn't researching and sharing ideas online, you can usually find him rock climbing or exploring the great outdoors.