A Lucid Motors IPO was announced yesterday. The electric vehicle (EV) company said it's officially in the process to offer Lucid Motors stock. Like many, this offering isn't coming via traditional IPO. But when can investors expect Lucid Motors to go public? And is it a good investment opportunity? Here's what we know…
Lucid Motors IPO: The Business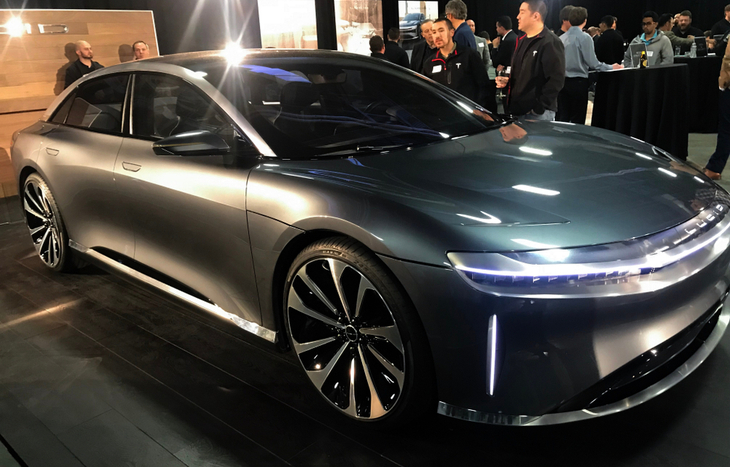 Lucid Motors is an EV company headquartered in Newark, California. Former Tesla director Bernard Tse co-founded the company in 2007 as Atieva. Its initial focus was battery packs for Chinese vehicles, but it shifted to manufacturing cars in 2014.
Lucid Motors' market is primarily U.S. with some European exports. The company is still looking at China. However, it would need a Chinese plant to produce the cars for it to be cost-effective. Currently, Lucid Motors has six studios in the U.S. with more coming in 2021. It also plans to expand its sales into the international market. This includes Europe and the Middle East in 2022 and Asia Pacific after. Lastly, Lucid Motors employs about 2,000 people and hopes to grow that number to 3,000 by the end of 2022.
Lucid Motors Stock: Company Progress
In September 2020, Lucid Motors revealed the Lucid Air, the company's first car. As a result, investors are getting a Lucid Motors IPO. The Lucid Air is currently in preproduction in Casa Grande, Arizona.
AMP-1: The First U.S. Greenfield EV Factory
Lucid Motors has a facility called AMP-1, the first greenfield EV manufacturing facility in North America. CEO Peter Rawlinson explained…
The Lucid manufacturing system embraces advanced processes, such as an aircraft-inspired riveted and bonded monocoque body structure replacing spot welds, which endows Lucid Air with state-of-the-art structural efficiency. The Arizona site was selected for a number of reasons, including infrastructure, talent, geographic location and preexisting automotive supply chain. But it also offered space for a large footprint and planned expansions as key areas of the factory were intentionally designed with this in mind. This includes a state-of-the-art, water-based paint shop designed to be future-proof with the necessary footprint and specialized infrastructure so it can be expanded to meet the needs of all future phases of the factory itself.
The AMP-1 facility is able to produce 34,000 vehicles annually. Lucid Motors has three stages planned to expand the facility until it can produce 365,000 vehicles annually.
The company also has its powertrain manufacturing plant LPM-1 a few miles away. This is where Lucid Motors manufactures battery packs, integrated drive units and its Wunderbox two-way chargers. The company claims the latter product gives an opportunity in energy-capture technology, a good note for investors interested in Lucid Motors stock.
The Lucid Air
Lucid Motors plans to expand its technology portfolio to other industries, such as aerospace and agriculture. But for now, the company has one product in the spotlight: the Lucid Air. It's the company's sedan to rival Tesla's Model S. In fact, it wasn't until Lucid Motors offered the Air for a starting price of $69,000 in October that Tesla cut the Model S price to $69,420. There are three different Air models:
Air Pure starting at $69,900 (406-mile range; 480 HP)
Air Touring starting at $87,500 (406-mile range; 620 HP)
Air Grand Touring starting at $131,500 (517-mile range; 800 HP).
The Lucid Air also offers DreamDrive, an advanced driver assistance system (ADAS). Lucid Motors claims its ADAS is the most advanced and comprehensive suite offering. It uses high-resolution 124-beam LIDAR technology. It also uses 32 sensors and cameras.
Some other facts about the Lucid Air are…
It has max HP up to 1080.
It has a 20-minute charge time (300 miles; DC Fast).
It can go from zero to 60 mph in 2.5 seconds.
It has a 168 mph top speed.
Lucid Motors is one of many EV companies to go pubic over the last year. And just like most of those companies, Lucid Motors stock is coming via SPAC IPO.
Lucid Motors SPAC: Churchill Capital IV
There are many reasons a company considers going public. And some analysts think SPAC IPOs are a safer bet than a traditional IPO listing. A SPAC is special purpose acquisition company, or blank-check company. It has no business operations and goes public to raise capital. It then uses the funds to acquire a private company, bringing it pubic. In this case, Lucid Motors is the company being acquired and Churchill Capital Corp IV IPO (NYSE: CCIV) is the SPAC.
Michael Klein, Chairman and CEO of Churchill Capital, commented about the deal…
Churchill Capital Corp IV believes that Lucid's superior and proven technology backed by clear demand for a sustainable EV makes Lucid a highly attractive investment for Churchill Capital Corp IV shareholders, many of whom have an increased focus on sustainability. We are pleased to partner with Peter and the rest of Lucid's leadership team as it delivers the highly anticipated Lucid Air to market later this year, promising significant disruption to the EV market and creating thousands of jobs across the U.S.
Rawlinson added…
Lucid is proud to be leading a new era of high-technology, high efficiency zero-emission transportation. Through a ground-up rethinking of how EVs are designed, our in-house-developed, race-proven technology and meticulous engineering have enabled industry-leading powertrain efficiency and new levels of performance. Lucid is going public to accelerate into the next phase of our growth as we work toward the launch of our new pure-electric luxury sedan, Lucid Air, in 2021 followed by our Gravity performance luxury SUV in 2023.
It's normal for investors to see a SPAC's stock jump after announcing a deal. However, that wasn't the case this time. Churchill Capital IV stock dropped from near $60 on Monday to $35 when the market opened on Tuesday. That's because rumors of the deal before it was announced had already pushed the price up.
Now, for those interested in Lucid Motors' IPO details, let's take a look at what investors can expect from the Lucid Motors SPAC deal.
Lucid Motors IPO Details
The transaction will give Lucid Motors up to $4.6 billion. Churchill Capital IV will provide $2.1 billion cash from the SPAC's trust. The remaining $2.5 billion will come from a fully committed PIPE, including an investor lock-up provision. It goes until September 1, 2021, or the date the PIPE shares are registered, whichever is later. The PIPE is $15 a share. It consists of investors such as the Public Investment Fund, BlackRock, Franklin Templeton and Fidelity.
The transaction gives Lucid Motors an equity valuation of $11.75 billion with a pro forma valuation of $24 billion at the PIPE offer price. Rawlinson said…
Financing from the transaction will also be used to support expansion of our manufacturing facility in Arizona, which is the first greenfield purpose-built EV manufacturing facility in North America and is already operational for preproduction builds of the Lucid Air. Scheduled to expand over three phases in the coming years, our Arizona facility is designed to be capable of producing approximately 365,000 units per year at scale. Lastly, this transaction further enables the realization of our vision to supply Lucid's advanced EV technologies to third parties such as other automotive manufacturers as well as offer energy storage solutions in the residential, commercial and utility segments.
If you're looking for the latest investment opportunities, sign up for our free Profit Trends e-letter! It's packed with useful insight and research from our investing experts. And if IPO investing interests you, check out our IPO calendar to stay up to date on the market's latest offerings.
The company didn't say what symbol Lucid Motors stock will trade under. Majority shareholders are voting on the transaction. According to the announcement, investors can expect the Lucid Motors IPO date to be sometime in second quarter 2021.
---
Amber Deter has researched and written about initial public offerings (IPOs) over the last few years. After starting her college career studying accounting and business, Amber decided to focus on her love of writing. Now she's able to bring that experience to Investment U readers by providing in-depth research on IPO and investing opportunities.