Crypto
Luna Classic Price Prediction: Can LUNC Hit the Highs LUNA Once Did?
We recently posed the question of whether TerraForm's Luna and stablecoin project could be salvaged. After hazarding a guess that it was headed for the trash heap, it looks like we were right. LUNA is now LUNA classic (LUNC).
But that doesn't mean that Terraform itself is kaput. TerraForm Labs' CEO Do Kwon is doing everything in his power to keep it alive. And it's coming in the form of a new blockchain, LUNA 2.0 which was just released.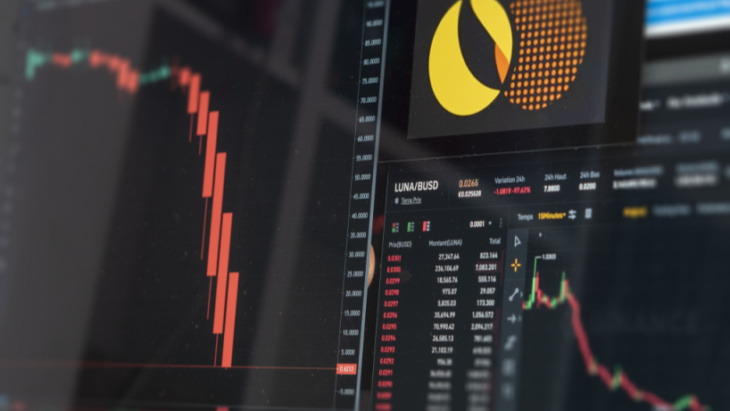 Amidst this approved restructuring, the original blockchain was renamed Terra Classic. And its native token – which was called LUNA – has been renamed LUNC. It seems a fitting name. As in, you'd have to be a lunkhead to invest in it now.
A month ago, this token was trading for near $90. Then some chinks in this experiment's armor were discovered. What appears to be a coordinated arbitrage attack on the network's stablecoin and LUNA led to the erase of an estimated $60 billion in the crypto markets. The net result was a failed experiment. And LUNA went from $90 a pop to all but worthless.
Now that Luna has a new name though, memers and YOLO traders are trying to make LUNC worth something. Really, anything will do. But they're trying to push it up to $1. This would represent a 780,540% increase in value. And there just aren't enough folks dumb enough to pile on and actually push the value that high.
So where is Luna Classic heading? If you're hoping to get rich from it, we've got some bad news for you. Our Luna Classic price prediction doesn't show much reason for optimism.
What's a Luna Classic Token Worth?
In practical terms, Luna Classic is trading for $0.0001281 at last check. But in practice, Luna Classic will soon have no reason to exist. This attempt to salvage TerraForm Labs and launch a new blockchain is a hard fork. And all projects that were hosted on the old Terra network will move to the new one.
The Terra Classic blockchain will continue to operate in some form. And it will continue to host TerraUSD (UST) – the "stablecoin" that was formerly pegged to the dollar. But LUNA2.0 will be the sole crypto usable by apps and projects using the new blockchain. And that makes LUNC just another worthless token without any use case.
Could it see a jump in value in the coming weeks? Sure. We've seen the collective internet do crazier things in recent years. Somehow Dogecoin (DOGE) is still worth more than… nothing. And Shiba Inu (SHIB) devotees still think it could claw its way up to being worth something similar to Dogecoin. Which, to be fair, could be possible if burn rates continue to accelerate.
When the hivemind of Reddit unites its collective efforts, almost anything is possible. Remember the GameStop fiasco that pushed its stock above $450 a share? Well if those same folks all miraculously agree to try and save Luna Classic, it could one day be worth more than it is now. But in all likelihood, that's extremely unlikely.
Terra's Next Go-Round
If you happen to believe in TerraForm Labs' project, you're best off waiting for LUNA2.0. And of course, beware of the scams. Attempts to fake a LUNA2.0 airdrop have been circulating. So for this, we recommend waiting until the major exchanges start listing it… Which should happen soon.
$LUNA is rising again!

Bitrue will continue our historic support of @terra_money by being the first exchange to launch LUNA V2 trading.

LUNA V1 services will be suspended May 26 13:00 UTC, while V2 services will start ~May 27

Info, & potential airdrop – https://t.co/rbW3l98c6t pic.twitter.com/28OdmclwW7

— Bitrue (@BitrueOfficial) May 25, 2022
On top of Bitrue, FTX and Binance have both announced plans to list LUNA2.0. But somewhat interestingly, Binance's CEO Changpeng Zhao isn't so jazzed about LUNA2.0. He doesn't believe it will work. In a Tweet, he wrote that forking doesn't give the new fork any value. He also saw a concern with voiding all transactions on- and off-chain after the fork. Then of course, there's the question of where all the Bitcoin went that was used as reserves.
We think Zhao is onto something there. Imagine Terra was a proper company – which it is not. What happened to its native token was more or less a bankruptcy. Luna Classic was essentially liquidated. Its value was reduced to nothing. If this weren't a decentralized finance ecosystem built out of thin air, it would have to pay off its debt. And there's plenty of this due to its stablecoin becoming unpegged. To find some better ones, you can check out this list of stablecoins.
But because Terra is simply abandoning these projects, it's able to just try again. And holders of Luna Classic and its UST stablecoin will be left holding the bag. Meanwhile, the launch of LUNA2.0 will get a bunch of press and early adopters will be in and out with the faintest whisper of a quick gain.
The Bottom Line on Luna Classic
Avoid it. If Luna Classic gains any traction on social media it will be temporary at best. There are scores of better things to do with your money. Lighting it on fire would probably make more sense. At least you'd get a temporary flicker of excitement. Heck, you'd be better off buying a pair of used Yeezys.
And we don't have the highest hopes for LUNA2.0 either. The reason Terra got so much attention in the first place was because of its experiment with a stablecoin backed by its native cryptocurrency. But this go-round, there will be no stablecoin. So LUNA2.0 will just be another average token on another average blockchain. The hype train has pulled out of the station on this one. And any Luna Classic holders left holding worthless tokens should be wise enough to steer clear of a project with a history as checkered as this one.
---