Tech Stocks
4 Microchip Stocks to Buy for High-Powered Growth
Space exploration, artificial intelligence and the metaverse. These are just three of the most interesting technological frontiers that exist today. And they all require advanced microchips to function. That's why I'm sharing some of the best microchip stocks below.
Within each of these industries, there are big stock trades that you could make. However, there's also one thing that all three of these frontiers have in common.
For microchip companies, it doesn't matter if humans ever make it to Mars or create the metaverse. That's because microchip companies are going to earn money regardless of whether these ventures are successful. Fail or succeed, they're happy to sell Elon Musk and Mark Zuckerberg the microchips to help them try. In this sense, microchip companies are essentially selling pickaxes to gold diggers.
Microchips are also used in much more than just cutting-edge technology. Even though you never see them, microchips are working behind the scenes to power the world you live in. As you read this a microchip is powering the computer or phone that you're using. Even something as simple as watching Stranger Things on Netflix requires a couple of microchips.
For these reasons and more, many investors feel that they should include at least one microchip stock in their portfolio. If you've been contemplating buying, I've selected four that you should consider.
Let's look at four of the best microchip stocks to buy.
Microchip Stocks to Buy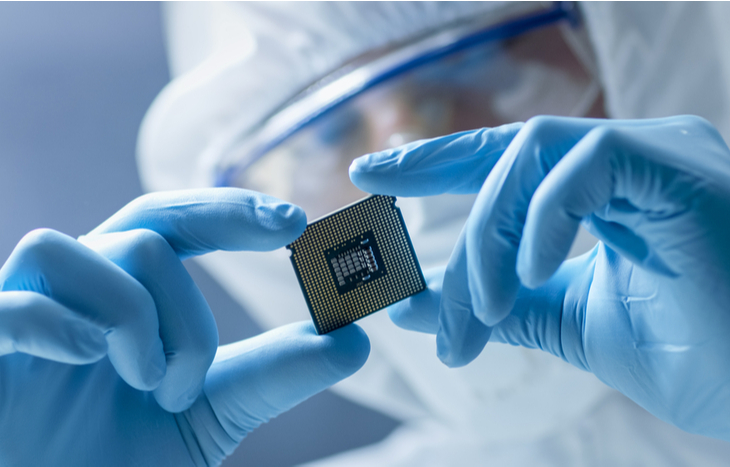 Note: I'm not a financial advisor and am just offering my own research and commentary. Please do your own due diligence before making any investment decisions.
Hottest Microchip Stock: Advanced Micro Devices
Advanced Micro Devices (Nasdaq: AMD) is an American semiconductor company based in Santa Clara, CA. It develops computer processors for both business and consumer markets.
So far in 2022, AMD's stock is down close to 50%. Although, it's up an astounding 440% over the past five years. With this type of return, it's easy to ask whether the ship has sailed for AMD. Also, we know that past returns are no indicator of future performance. However, given AMD's continued growth, it doesn't look like it's slowing down anytime soon. And the recent drop creates better buying opportunities.
One thing that has helped AMD succeed in the past few years is how quickly it started prepping its supply chain during the COVID-19 pandemic. AMD's Chief Technology Officer Mark Papermaster stated, "Everybody has had to increase their focus on the supply chain but we did so from the very beginning of the pandemic."
In terms of the global chip shortage, there are two other factors that have protected AMD. First, it focuses on more advanced chips which are less affected than mass-produced older chips. Also, AMD focuses on high-margin chips. This allows it to channel resources while also increasing its revenue.
Due to its recent earnings report, Advanced Micro Devices is currently one of the hottest microchip stocks to buy. However, the best microchip stock to buy for growth falls with another company.
Best Microchip Stock for Growth: Nvidia
Note: I own a small position in Nvidia 
Nvidia (Nasdaq: NVDA) is another incredibly exciting microchip stock. It focuses on graphics processing units that are used for gaming, mobile computing and automotive markets.
In 2021, Nvidia posted record annual revenue of close to $27 billion as well as a net income close to $10 billion. As this strong performance continues, the share price should follow suit. Although, like AMD, its shares are down this year which creates better buying opportunities.
Nvidia's chips are incredibly powerful and are currently used in 342 of the world's top 500 supercomputers (68%). In particular, Nvidia has a hand in powering autonomous vehicles and augmented reality. Notably, it works closely with Tesla. Tesla's in-house supercomputer uses 5,000 Nvidia A100 GPUs.
Autonomous vehicles and augmented reality are two exciting up-and-coming industries. Check out these top augmented reality stocks. Over the next few decades, these industries should eventually play a critical role in society. That is why Nvidia was selected as the best microchip stock for growth.
Nvidia's stock is up over 265% over the past five years.
Best Microchip Stock for Dividends: Intel
Out of all the microchip stocks to buy, Intel (Nasdaq: INTC) is the industry dinosaur. I mean this as a compliment. Intel was founded in 1968 and was instrumental in developing personal computers as we know them.
In 2021, Intel generated over $79 billion in revenue and a net income of close to $20 billion. Intel has experienced modest revenue growth over the past five years. Which isn't bad for a company of its size. However, it's safe to say that Intel's days of rapid growth are over. That said, it still may be one of the best microchip stocks for dividends.
Intel currently has a dividend yield of around 3.8%. The quarterly dividend payment is about $0.365 per share. Despite the current chip shortage and aftermath of COVID-19, Intel has stated that it's committed to paying its dividend.
Intel's stock is up about 7% in the past five years.
Finally, let's take a look at the best overall when it comes to microchip stocks…
Best Overall Microchip Stock: Taiwan Semiconductor Manufacturing
When it comes to producing microchips, most companies focus on only one part of the process. Some companies design the chips while others actually manufacture them. A company that focuses only on manufacturing is known as a pure-play semiconductor foundry. Taiwan Semiconductor Manufacturing (NYSE: TSM) is currently the world's largest pure-play semiconductor foundry. It also ranks 11th on the list of the world's largest companies by market capitalization.
The company was founded in 1987 and has a long history of ramping up production. Since 1994, it has delivered a CAGR of close to 18% in revenue. In 2021, TSM brought in $1.59 trillion (TWD) as well as $596 billion in net income.
TSM's stock is up 120% over the past five years. And like the others on this list, its recent pull back creates better buying opportunities.
What's currently exciting about TSM is that it has plans to open up a $12 billion new mega factory in Phoenix, Arizona. Over the next 10-15 years, it plans to build as many as six factories in Arizona. TSM is a little like Intel in that it's already an immense company with growth limits. However, TSM is also in a unique position right now.
Due to COVID-19, supply chain issues and rising demand, the world is experiencing a global chip shortage. TSM was already one of the world's biggest manufacturers of microchips. However, now it's has taken center stage in the global supply chain.
Many different industries are waiting with checkbooks at the ready for TSM to ramp up its production. With aggressive expansion plans already in motion, TSM seems on the right path to capitalize on the situation.
TSM has great potential for growth as well as a solid dividend payment. For this reason, it's considered one of the best overall microchip stocks.
Final Thoughts on Microchip Stocks
I hope that you've found this article valuable when it comes to learning about four high-powered microchip stocks to buy. As usual, all investment decisions should be based on your own due diligence and risk tolerance.
If you're looking for more trends to invest in, continue exploring some of the top opportunities today…
---
A University of Miami grad, Teddy studied marketing and finance while also playing four years on the football team. He's always had a passion for business and used his experience from a few personal projects to become one of the top-rated business writers on Fiverr.com. When he's not hammering words onto paper, you can find him hammering notes on the piano or traveling to some place random.