Micron (Nasdaq: MU) is a leader in the tech space. The company focuses on memory chips and data storage. The company's products fuel entire industries like big data, AI, 5G, data centers and edge computing. The industries rely on companies like Micron stock to improve customer user experience.
Every computer, regardless of shape, size, speed, or capacity, need memory and data storage to work. Micron enables computer power through its random access memory (RAM), flash memory and USB flash drives.
According to Micron's most recent annual report, the company introduced the world's most advanced memory node in high-volume production in 2021. Micron has partnered with its customers to provide value-added innovation, speed up usage of its new products and ready systems for broad adaption of its products in all its markets.
Micron's new tech enables it to diversify its products to a richer mix of high-value products to target high-growth markets and specific customer needs in data center, edge computing, and mobile.
The company has four segments:
Micron's Compute and Networking Unit includes memory products for cloud, large businesses, graphics and networking markets.
The Mobile Business Unit includes memory for smartphones and other mobile device markets.
The company's Storage Business Unit includes solid-state disk and component-level products for big business, cloud and data storage markets.
Micron's Embedded Business Unit includes memory and storage products for industrial, automotive and consumer markets.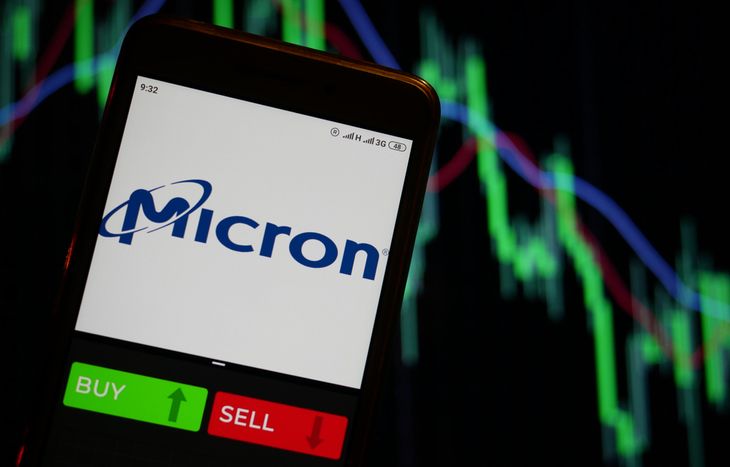 Micron Stock Forecast
The average 12-month price target for Micron Stock is $108.33. Micron's average price target is based on analysts' Micron stock forecasts over the last three months.
The analyst's 12-month price targets vary from a high of $165 to a low of $70. Micron's stock price is currently about $63. So, even the lowest price target is above the stock's current price. If the lowest price target is right, investors will earn an 11% return over the next year.
On the other hand, if the highest price target is right, investors would earn a whopping 162% return. Overall, the analysts seem to be very positive about the stock.
In March, Micron issued its business outlook for its next quarter. The business outlook said the company believes sales will be $8.7 billion-plus or minus $200 million. In addition, Micron thinks adjusted earnings per share will be $2.46 plus or minus $.10.
Regarding Micron's outlook, CEO Sanjay Mehrotra said, "We're leading the industry in technology across DRAM and NAND, and our product portfolio momentum is accelerating. With outstanding first half results, Micron is on track to deliver record revenue and robust profitability in fiscal 2022."
Analysts making forecasts for Micron's third-quarter adjusted earnings per share think the company will report $2.34, a bit below the company's forecast.
On June 30th, Micron will put out the results of its third quarter. After that, managers from Micron will host a webcast to talk about the results. When they're done talking, the managers will take questions from listeners. You can find a link to the webcast here.
Is Micron Stock a Good Buy?
Analysts making Micron stock forecasts think the stock is a 'Strong Buy.' The rating is based on 20 analysts giving forecasts over the last three months.
This year, Micron stock is down nearly 35% following a selloff of tech stocks like Micron. The stock has done much worse than other stocks. For instance, the S&P 500 stock index is down only 19% for the year.
A quick valuation of Micron stock shows it is trading at a P/E ratio of 8x. The stock's current P/E ratio is well below its five-year average P/E ratio of 12x. That may mean that Micron stock currently offers a better value than it has over the last five years. In addition, the stock pays a modest dividend yield of .64%.
On top of that, Micron is buying back its shares. When a company buys back its shares, it can grow its P/E ratio. By buying back shares, the company lowers its number of shares. When that happens, future profits are split between a smaller number of shareholders. During its second quarter, Micron paid $408 million to buy back 4.8 million shares.
Micron Stock Earnings
Last quarter Micron stock reported adjusted earnings per share of $2.14. The company's adjusted earnings per share grew by a whopping 118% over the same quarter last year when the company reported $.98.
In March, Micron put out a press release about its second-quarter 2022 results. The press release said the company grew sales by 25% to $7.69 billion. In addition, Micron reported an adjusted net income of $2.44 billion. Net income grew 117% over the same quarter last year.
In the press release, CEO Sanjay Mehrotra said, "Micron's excellent second quarter results exceeded the high end of our guidance for both revenue and margin, reflecting our strong execution."
The margins that Mehrotra referred to are gross margins and operating margins. By growing margins, Micron is making more gross and operating profit for every dollar of sales. Gross margins for the company grew from 32.9% in the second quarter of 2021 to 47.8% in the second quarter of 2022. Over the same time, operating margins for Micron grew from 20.2% to 35.3%.
After putting out the press release, managers from Micron hosted a webcast to talk about the quarter's results. When they were done talking, the managers took questions from listeners. You can find a link to a replay of the webcast here.
Micron Passes 50,000 Patents
Much of Micron's success over its long history is due to its patents. On May 11, the company put out a press release saying that it had passed 50,000 lifetime patents.
In the press release, Micron's executive vice president of tech and products, Scott DeBoer, said, "With global demand for memory and storage growing rapidly, Micron's customers are counting on us to keep advancing the pace of innovation. That pioneering spirit is still very much alive and well at Micron, especially as we pursue the next 50,000 patents that will serve as a foundation for future technological breakthroughs."
---