After disappointing second-quarter earnings, what's next for McCormick (NYSE: MKC)? For one thing, the company is lowering guidance while MKC stock continues sliding.
In fact, if MCK stock remains down throughout the year, it will be only the fourth time since 2000. The other years include 2005 (-20%), 2007 (-2%) and 2008 (-16%). Will the company turn things around in the second half?
There's no denying McCormick's critical role in the food industry. The company is a leading supplier of spices, seasonings and condiments. McCormick owns several popular brand names, including:
Frank's
French's
Lowry's
Zatarain's
McCormick Spices
More importantly, the company partners with top retailers across major industries. For example, Walmart (NYSE: WMT) and Pepsi (NYSE: PEP) are McCormick's two biggest customers.
At the same time, with a strong retail presence, will an economic slowdown put further pressure on the company? Or, can the company turn it around in the third quarter? Keep reading to discover what to expect and how it will affect MKC stock.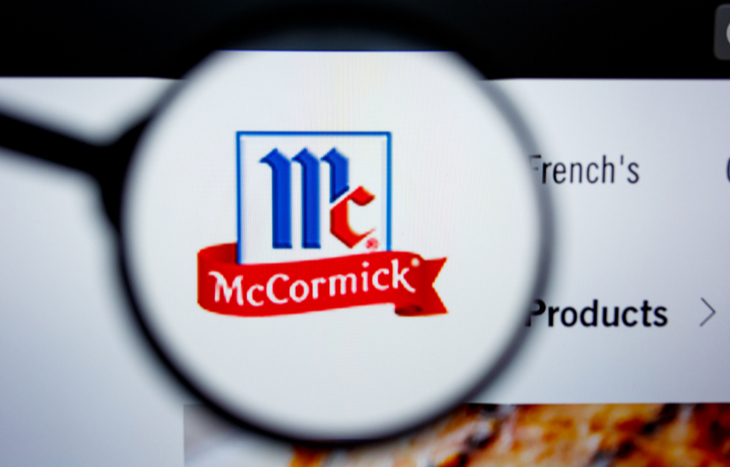 McCormick Misses Q2 Earnings
Despite industry-leading performance through the pandemic, a few factors are working against McCormick. The second-quarter earnings paints a picture most retailers are feeling. As a result, the flavoring leader missed both top and bottom-line results.
EPS: 0.48 vs .65 Exp.
Revenue: $1.54 billion vs $1.61 billion Exp.
Sales fell 1% as the company navigated the challenging environment. Furthermore, operating income slipped 33% from 2021 to $157 million.
McCormick felt the pressures multiply as the quarter went on, with margins weakening. Compared to last year, the results look especially weak as the company saw sales surge during reopenings.
Meanwhile, the company expects these challenges to continue as the year goes on. With this in mind, McCormick is lowering its guidance. Instead of 4% to 6% growth, MKC now expects between 3% and 5%.
How This Happened
Like many retailers McCormick does business with, the company is starting to feel the pressure as outside factors affect business.
Lockdowns in China.
Higher costs due to inflation.
The war in Ukraine is disrupting supply.
For one thing, China's "zero covid" policy drastically affects McCormick's business in the region. China is the company's second-largest market, and the abrupt shutdowns gave MKC little time to plan. Not only that, but when the lockdowns were lifted, it was hard to find and keep workers with shortages.
Secondly, higher costs are cutting into margins as inflations picks up faster than expected. In particular, the company did not expect freight and material costs to rise as quickly as they have.
Lastly, the war in Ukraine is impacting the business. Although only 1% of sales come from Ukraine and Russia, the war has a more significant impact on the company. For example, MKC is leaving Russia, which can be a cost to end operations.
Is There Hope for MKC Stock?
Investors were not pleased with McCormick's Q2 earnings as MKC stock quickly sold off after. CEO Lawrence Kurzius mentions the company was caught off guard by the lockdowns in China and rising inflation.
But McCormick has plans to overcome these challenges while putting the company back on track for growth. For one thing, the company plans to raise prices to help offset the higher costs.
The price hikes are expected to roll out later this quarter. As a result, management expects margins to improve as the year goes on.
Furthermore, the company plans to focus on higher-margin opportunities. For instance, McCormick bought Cholula (hot sauce) in 2020 to grow its market and build a portfolio of premium hot sauces.
In fact, the acquisition makes McCormick the largest hot sauce company in the world. Moreover, the company controls both top positions in the U.S., with franks No. 1 and Cholula currently No. 2.
Hot sauce is a growing market. Bold new flavors, cooking at home trends, and a more health-conscious market are pushing the industry to new heights. Forecasts project the market to grow at over 7% CAGR until 2029.
MKC Stock Analysis
Despite outperforming the industry through the pandemic, McCormick stock is struggling this year to keep up. For example, the Invesco Dynamic Food and Beverage ETF (NYSE: PBJ) is only down 2% in 2022 compared to MKC stock, close to 14%.
In the past three months, MKC shares have accelerated their decline as the indexes hit a bear market. Much of the fallout is due to a lower economic forecast for the rest of the year and 2023.
GDP fell in the first quarter by 1.6%. And the Atlanta Fed is forecasting negative growth in Q2. By definition, this would make it a recession.
In other words, investors are bracing for the worst. Consumers generally spend less in certain areas of the economy if this is the case. For example, retail and travel stocks are often some of the hardest hits during a recession.
What about food flavorings? McCormick's strong positioning with retailers and consumers helps reduce risk. In fact, the company grew earnings by 9% in 2008, crossing $3 billion in sales for the first time.
At the same time, MKC stock fell close to 16% in 2008. In comparison, the S&P 500 (SPX) fell 37% that year. So, even though MKC shares lost value, they held up better than the market average.
Is MKC Stock a Buy?
McCormick's brand power and partnerships with top retailers should help the company bounce back. The company expects a return to normal margin levels, with price raises coming later this year.
Furthermore, McCormick focuses on delivering top-line growth while providing value for shareholders. The company has a rich history of rewarding shareholders. With this in mind, MKC stock has a dividend yield of 1.79%.
McCormick is a solid value stock with a stable cash position, relatively strong cash flow, and a history of delivering returns. The company has shown its products remain in demand during slowdowns.
At the same time, if a recession does happen, expect more pressure ahead for MKC stock. Although the company offers some downside protection, there may be better growth opportunities.
For one thing, McCormick stock trades at a premium compared to its peers. On top of this, several competitors offer higher yields than MCK. For this reason, investors may look elsewhere to protect their returns. To help protect your portfolio during a downturn, check out the top stocks that do well in a recession.
---